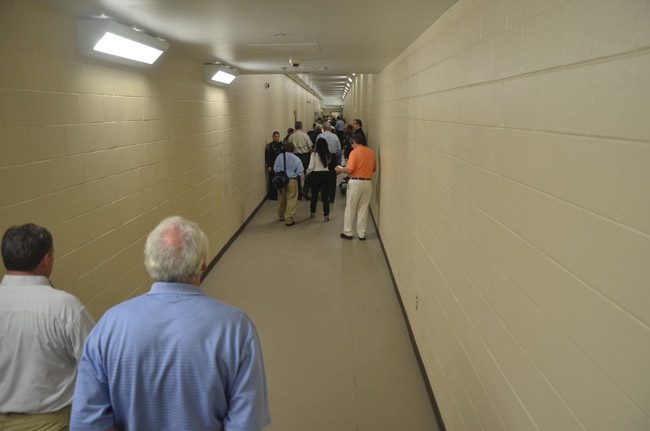 As any homeowner knows, a new house is no guarantee of freedom from hassles. Flagler County's new $17.4 million jail, which opened (so to speak: there's no such thing as an "open" jail) last July, sprang a gas leak Tuesday morning and had to be locked down.
The leak was reported just before 11 a.m. as one of the corrections deputies smelled the telltale odor of gas, prompting the emergency response. The leak was pinpointed to a water heater, though the precise nature of the problem was not discovered.
"The water heaters are located in a room off the long corridor separating the old building from the new housing unit," Cmdr. Bob Weber explained in an email. "The inmates were never in any danger. They were perfectly safe. The repair company came out and they were unable to find a problem with the system. They believe that the pilot light may have gone out. They are going to monitor it." Flagler County Fire Rescue firefighters also responded along with the gas company supplier of and the equipment manufacturer.
The company did not bill the sheriff's office for the response.
The inmates remained in lockdown for about two hours, according to a release the sheriff's office issued Tuesday. The long corridor in question is lined with two large classroom spaces for inmates and a laundry facility.
Sheriff Staly described the location of the incident as "in an area that's removed from the general inmate population" and added, in the release, that "We have systems in place to make sure everyone remains safe."
The jail housed 139 inmates at the time of the incident, a number that continues a trend going back to last year, when–even before the move to the new, 53,450 square foot portion of the jail–the inmate population has been relatively stable. The old portion of the jail had a capacity of 132 beds, though the jail population often exceeded the number. The new jail has a capacity of 272 beds, with the old portion of the jail converted to a women's jail.