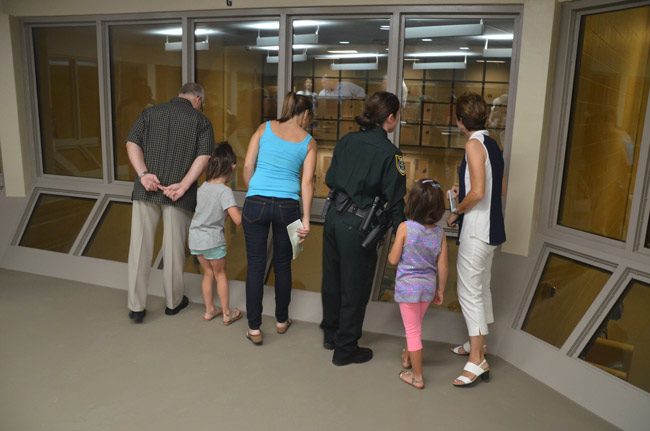 From the outside, and no matter how much this morning's oddly celebratory ribbon-cutting may have made it seem, there's nothing impressive about the new Flagler County jail extension, which nearly triples the bed space there. The green-trimmed white, squat block building isn't meant to be impressive. If anything, it's as architecturally nondescript and ugly as a jail ought to be, and it's thankfully out of sight of any road or path.
But it's in the internal designs, the innumerable details and attention to logic, efficiency and security for inmates, guards and visitors that the jail impresses, and that its $17.3 million cost shows its value.
Take what Sheriff Jim Manfre never tired of speaking of as "classification," a different way of referring to the way inmates are sorted out between the non-violent and the violent, the suicidal or the drunk, the sex offenders and less predatory offenders, the pot-heads from the head-knockers.
In the old section of the jail, there were only so many ways the inmates could be sorted between the 132 available beds, women included. Dangerous felons and accused felons could be separated from non-violent misdemeanor offenders, and corrections officers could use a couple of other creative ways to isolate some inmates when necessary, or keep known rivals apart, but only so much. For the women, there was only one way: they were (and still are) all stashed together in the same dorm, so an accused murderer (even though she is almost an octogenarian) could be sharing space with a check-bouncer.
The new jail, connected to the old through a long corridor lined with two large classroom spaces for inmates and a laundry facility, provides for 12 separate "pods," or cell blocks, enabling 12 different classifications. And that's just for the men. The women will eventually occupy the old section of the jail, split into three classifications, with still some room for additional measures if necessary. That alone, Manfre said, will make it safer for the inmates and a lot more manageable—which also means safer—for corrections deputies, reducing tensions and making life, in so far as it can be made so, easier for all inside.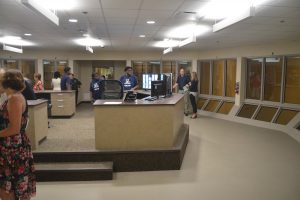 Inmates can have video visitations with friends and family from their cell blocks. Their visitors don't come to the new structure. Rather, the visitation center now occupies the front portion of the old administrative operations center. Visitors can spend up to 55 minutes, twice a week, visiting by video. The sheriff considered creating a system that would enable friends and family to have video visitations from home, but that proved too expensive. All video visits are recorded and monitored.
The cell blocks, some of them communal dorms, some of them subdivided into two-person cells with a communal area, are self-contained, with their own shower and rest room areas (which are focused more on rest than room, the concept of "room" being nonexistent for inmates). Every three cell blocks have their own recreation yard. Inmates can order up to $60 a week's worth of commissary items from a list of 125 goods, all from what Sgt. Timothy Abruzzo, giving a tour to visitors today, described as a kiosk.
"It'll be easier I think in the sense that most everything they need is going to be self-contained," Abruzzo, a 12-year veteran sergeant in corrections, said of inmates. "They're not going to really need to come out for anything as much as they used to with the exception of programs. It will cut down on staffing for sure." Inmates may still see their lawyers individually, respecting their attorney-client privilege, and of course they'll still be taken to court. First appearances may be done by video, but not subsequent appearances.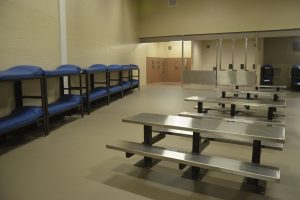 The physical gravitational center of the 53,450 square foot operation is a control-tower-like hub, normally staffed by just two guards, that provides a nearly complete perspective on every one of the 12 new cell blocks, which spread out in a circle like spokes from the hub. The hub sits above the 12 blocks, with large, tinted windows slanting down on the arrays below in addition to the closed-circuit surveillance that covers the entire structure. The hub-and-spokes system is actually a late 18th century invention of Jeremy Bentham, the English philosopher, who conceptualized the first such panopticon. The concept was to reduce the number of people necessary to control a large inmate population, and to make it impossible for the inmates to know whether they were being watched. Surveillance cameras had achieved the latter, but total, visual surveillance was never possible at the old Flagler jail.
The booking area will be larger and give corrections deputies more triage options as well. It also includes a law enforcement officer work station. It's one of those key features in newer jails whose importance most lay people would not think about. It prevents law enforcement officers from coming into the jail past that point, keeping them from further interacting with the individual they've just arrested. The reason? As Abruzzo explains it, it cuts down on tension as individuals might be very angry with whoever would have arrested them, enabling corrections deputies to take over with full autonomy and disassociating the arresting officer from the situation.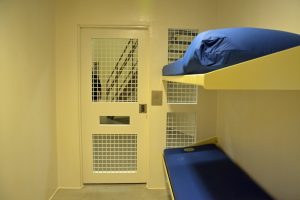 Not that corrections deputies aren't themselves ready to confront threats: Abruzzo is a member of the Corrections Special Operations Team, a SWAT team for corrections. He walked around today, as several team members did, armored in an arsenal of weaponry and Kevlar, immediately conversant with the many means at deputies' disposal to take control of wayward inmates. The restraining chair, no less medieval than it was 10 centuries ago, was also still there, in the booking zone, ready for use if necessary. The words "state of the art" were used liberally today by official after official to describe the new jail, but the brutal certainty of control methods is unchanging, modernized though its alloys and leather straps may be. Deputies' training, however, has become more rigorous and disciplined, one of the factors behind the sheriff's goal to have the new jail accredited to national standards.
"The most important thing is that this is a much safer facility for our corrections deputies, and it's also much safer for the inmates," Manfre said. "It's much more efficient building as well in terms of where the command and control situation is and the video visitation, so it provides us a lot of efficiencies." Even the electric and heating costs have been made more efficient, with a gas line now providing much less expensive energy to the building.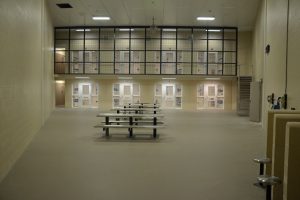 Manfre, though, could have been charged with at least a misdemeanor himself this morning as he kept the 120-odd guests who attended the ribbon-cutting standing in 90-degree swelters, on the pavement between the old and new jail blocks, half of them spilling out of the small tented space put up for the occasion, as county and Bunnell officials spoke reverently of the new structure, and as Manfre himself spoke the longest. Several officials were present from Bunnell and Flagler Beach, and the entire county commission was there. Strangely, only one Palm Coast official—Jason DeLorenzo, who is running for a county commission seat—was there, even though Palm Coast is the chief beneficiary of the jail.
Almost all of those who attended, including a few children, were given tours of the new portion of the jail, which has yet to see its first inmate. They're still in the old section, waiting for their transfer possibly next week. Throughout, Stan Drescher, Flagler Beach's poet laureate, kept penning semi-satirical epigrams about the occasion, including this little criminal attempt: "If I do commit a crime/And had to be in jail/Incarcerate me here/And forget about the bail." No one saw fit to arrest him, however.