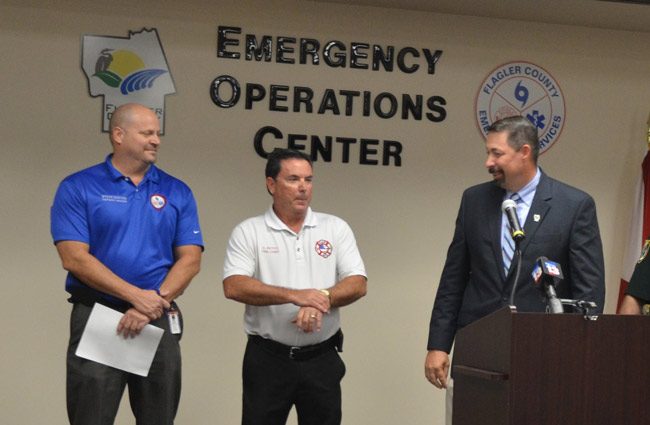 In August County Administrator Craig Coffey called Steven Garten, the emergency services manager, to his office, and told him he had until January to find another job. The relationship wasn't working—for either side: Garten felt handcuffed by Coffey, and Coffey felt Garten wasn't doing the job.
Then Hurricane Irma struck. The preparation and response to the emergency was smoother than it had been for Hurricane Matthew last year. But Garten got a call from Flagler Beach City Commissioner Kim Carney, asking him about a rumor that he was leaving in December. She told him she heard it from Nate McLaughlin, the county commissioner. Garten was again summoned to Coffey's office, who asked him why word was spreading about his departure.
"Why don't you ask yourself that question because Nate McLaughlin is telling everybody," Garten said he told Coffey. ("If Kim says I mentioned it to her then I must have, but I don't know a whole lot about the situation," McLaughlin said this morning, adding that he can't think of other people he might have mentioned the situation to.)
Garten continued: "So I went home that night, made some phone calls, and to make a long story short, I gave him my resignation on Monday. I don't want to work some place where somebody doesn't want me to work." Garten hand-delivered his resignation letter to Coffey just before a county commission meeting, saying in the letter that he wanted to "speed up the process you discussed that would be required of me in January 2018."
"I think he was surprised, I think he thought I was going to wait until the end, when he wanted me to, but ultimately when I realized there was no hope I decided to do what's best for my family," Garten said this morning, noting that he has a job lined up with FEMA, the Federal Emergency Management Administration, the agency where he worked previously. But he stressed: "I'm not resigning on my own, I'm being forced to resign."
He is the fifth emergency services manager to resign or be pushed out from that unsettled department in a little over 10 years, three months shy of two years on the job. "I gave two weeks, we'll see how it goes," he said in an interview this morning.
He did not get that much: in a rapid unraveling of a volcanic situation that had built up since before Hurricane Matthew last year, he was escorted out of his office less than half an hour later this morning, after county officials found out he had spoken with a reporter about his resignation—and made a series of serious allegations about Coffey and Don Petito, the fire chief, both of whom had been interviewed immediately after Garten was. It appears that Garten was asked to leave the property during the phone interview with Coffey. He was then escorted back in and allowed to clear his office, after Coffey made it down to the emergency management office.
"Emergency Management is a team sport," Coffey said. "We tried. We needed a leader in emergency management, and we've had all kinds of plans and preparations that needed to be made that just weren't being made. We've got a lot of feedback from a lot of folks that didn't appreciate Mr. Garten's style. We tried to work through the shortcomings outside of FEMA funding, and I've had concerns raised by two different sheriffs, a number of department heads and staffing, and anger issues. We tried to work through those quietly in a professional manner, and at some point we reached the point where we couldn't fix them."
Coffey said the January deadline was offered as a way to avoid "loading up" his personnel file with actionable documentation that would lead to a firing, and to give him time to find another job. But he was dismayed by Garten's decision not only to speed up the process, but to make allegations about him or others. "I think it's unfortunate the route he's taken," Coffey said. "I think he has some good skills in some areas, I think he could be a better person, but I think the way he approaches some issues and the way he's approaching this issue when we're trying to help him is unfortunate and shows some lack of growth."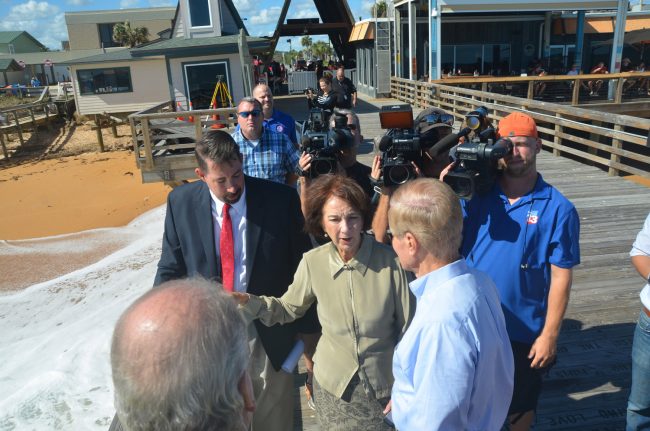 Garten said he's never been given the room to be an emergency manager—or a director, as his title should read, he says, according to state law. "It's never going to change," Garten said. "Craig Coffey is the emergency management director. He wants all the glory of emergency management but none of the responsibility, that's why he brings an emergency manager, but he doesn't understand that Florida statute requires an EM director at each county, not a manager, a director." He described himself as "a puppet," and that as in the past, "anybody in the emergency management position is a puppet to whatever Craig wants."
Garten said the approach will have consequences because, he claimed, Coffey is not following state and federal rules: "One day he'll get to caught up in all of that, he has to follow the law like everybody else, he doesn't," he said, citing a process that keeps Flagler in line with FEMA and state emergency management regulations.
In some regards, Garten's criticism echoes more pointed criticism from Kevin Guthrie, his predecessor at emergency management and one of the more highly regarded directors to work in any department in local government in recent years. Guthrie found Coffey to be a micromanager who would not let him do his work as effectively as it should be done. He, too, felt handcuffed, and he, too, said the micromanagement of emergency management could have serious consequences in a catastrophe.
Coffey, however, never criticized Guthrie's job performance as he does Garten's, and he acknowledged his own limitations. In Guthrie's case, Coffey said, "Guthrie wanted to be a deputy county administrator like he is in Pasco County," he said, wanting to be in charge of all the county's public safety divisions. "I wasn't confident to move that quickly with the things he wanted." Guthrie had done a lot for the county and was "definitely better at emergency response," Coffey said, but there were issues. "I would argue I have my own strengths and weaknesses too, I'm not perfect, but we're still trying to get to a different level in emergency management."
There's no question that during both Hurricane Matthew and Hurricane Irma, the county's emergency manager was, in effect, Coffey. Coffey doesn't dispute the fact that he's been much more involved in the division—nor does he dispute Garten's claim that he is not always following regulations "chapter and verse."
"I'm not going to sit by while someone quotes FEMA regulations while people suffer," Coffey said. "I'm going to take action." That, he said, is what local law enforcement, public safety agencies and residents expect.
"I do get more involved in departments that are weak and then I back away," he continued. "I had to do that in various areas." He cited the IT department, which had horrendous problems before the arrival of Jarrod Shupe last year, and the county airport before the arrival of Roy Sieger. It is true that both those departments have since been largely out of the news and functioning well, with neither Sieger nor Shupe fitting the description of "puppets" by any means.
Coffey noted that the Hurricane Matthew after-action report was an example of Garten falling behind for months, and turning in a product that was less constructive than critical. Garten at the time of the report's production had been displeased, as was at least one member of his staff, with what they considered an overly optimistic report that sought to veil serious issues. "That's just not the way they go about business in Flagler County," Coffey said. "There's constructive criticism, you look in the mirror, and you try to point deficiencies, but you don't throw everybody under the bus in the process."
Regarding his resignation, Garten directed some of his criticism at Don Petito, the county's long-time fire chief who in the past was considered as a possible emergency management director as well. "It's all about Don, keeping Don happy, keeping Sally happy," Garten said, referring as well to Sally Sherman, the deputy county administrator. "She's a great worker, but Don is untouchable."
More specifically, he said emergency management staff has always been responsible for tracking Flagler County Fire Flight's medical trips, even though Fire Flight is under Petito's departmental authority. The tracking is required by the Federal Aviation Authority and consists of documenting the helicopter's locations from hangar to emergency scene to hospital and back, in real time. Fire Flight's medical trips generate hundreds of thousands of dollars for the county, but Garten says the money flows to Petito's department, not to his, while his staff must provide the work hours, even on weekends, for the task. "So why are we doing all the work while the fire department gets all the funding?" he said.
The reason the tracking is set up that way is because "you could do it right from your desk as you're doing what else you're doing," Petito said of Fire Flight. "It's not a burden. Basically what he proved was that he was not a team player, he wanted to do less than he could do." Whenever Fire Rescue is asked to contribute manpower to any department in or out of the county, Petito said, it does so.
He bristled at the charge of being "untouchable," and was clearly unsettled during an interview when told of the charge, and that Garten had claimed he had not been as hard working during the latest emergency. "The only reason I'm unfirable is I do my work, I show up to work, I do my job, and do what I'm supposed to do," Petito said. "If I didn't do that then I'm fireable. That's kind of takes me aback that you say that." He described Garten's charge that he hadn't worked as hard as "cry-baby stuff," and said of the Irma emergency: "First of all I was on worker's comp, I wasn't even supposed to be here, second of all I was coordinating fire rescue stuff and we were deploying units all over the state as part of the state's emergency management plan, and I participated in most of the meetings." He described Garten as "a total, non-team player, doesn't want to do the work."
Garten's departure is the second personnel crisis at emergency management in a year. Last October Garten sought to fire Jennifer Stagg, a senior planner for preparedness who'd worked at the division since 2010, weeks after trying to fire another employee and getting rebuffed by the human resources director. That director had counseled Garten to tone down his approach with employees, which was considered abrasive. The move against Stagg unraveled into a public spectacle. Stagg fought the firing and won after a hearing, staying at the division several more months before taking a job in Guthrie's department, in Pasco.
Coffey said he anticipates some "restructuring" at emergency management, where he is unlikely to be hands off until the division is built back up—not because he wants the glory, he said, but because the department needs it. "I don't know what the glory he's referring to," Coffey said of Garten's charge, "I think he does deserve some credit but I think there's a lot of people that deserve glory. Emergency Management is a team sport, I think there's enough credit to go around. I believe I helped the process and I believe I'm definitely—I feel comfortable in our capabilities. We have such dedicated people in the county. I have department heads that have been with me the full time. I've been here over a decade, and some that have been here many years, and they know I try to stay out of issues but they know if there's an issue I need to be involved in because it's key financial issue, I will."