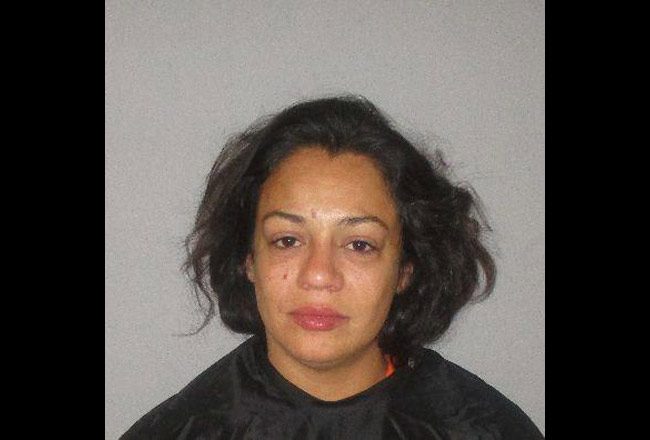 Justin Andrew Campbell and Monique Garcia have been a volatile mix for a while. Both have domestic battery convictions on their record. Both were only recently cleared or almost cleared of probation terms resulting from past violence. One of those incidents involved Campbell and another woman. Another involved Campbell and Garcia.
On Monday, Garcia was jailed again after allegedly stabbing Campbell in the neck and in the back, causing serious injuries that required him to be taken to Halifax hospital's trauma unit.
In September 2016, Campbell had been dating Garcia for just a few months after breaking up with another woman he'd beaten up (in an incident that would land him in jail and brand him a felon; see below). In this case, it was Garcia who attacked him. He'd been making dinner, they argued, she threw a gallon of milk then a glass of wine at him then grabbed a lamp and beat him with it, according to his account to cops at the time. They wrestled, there was biting, she grabbed a knife and tried to kick in the bedroom door where Campbell had barricaded himself. Failing that, she cut holes in his truck's tires, then chased him with the knife when he came out of his room.
Garcia was initially charged with aggravated assault with a deadly weapon, a felony, and domestic battery, a misdemeanor. In a plea agreement the charges were reduced to domestic battery. She pleaded guilty and Judge R. Lee Smith sentenced her to a month in jail. The state was seeking two years' probation (on an additional charge of introducing contraband at the jail) and no violent contact with Campbell. That did not make it into the final sentence.
Monday, Garcia, 35, and Campbell, 43, got in an argument over sexual issues, according to her arrest report. As was their previous pattern, the fight became physical. She allegedly slapped him. He tried to walk out the door to avoid further conflict. As he did so, he felt a knife stab in his lower back.
Campbell "then turned around and attempted to evade and disarm Ms. Garcia," the arrest report states. "He then stated that he finally disarmed her and threw the knife outside in the detached lanai area. [Campbell] received defensive wounds to his left hand as well as several 'slice' marks to his upper torso."
He left the house at 11 Wood Clift Lane, called 911 and was met by deputies, a trail of bloody footprints stretching nearly 800 feet behind him.
Garcia told deputies Campbell had kicked her in the head with his boot–she had a wound in the back of the head–though Campbell was not wearing boots when he left the house. Garcia said Campbell inflicted stab wounds to his stomach on himself, though he did not have stab wounds to the stomach. Both Campbell and Garcia told deputies that they have a history of domestic violence between them, "though each stated not all have been reported," according to the arrest report.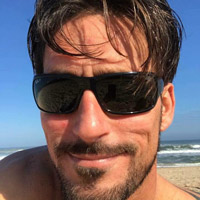 In June 2016, Campbell was charged with battery, felony battery and false imprisonment after he got into an argument with his then-girlfriend, a 43-year-old P-Section resident, on her birthday. The couple and four friends had rented a limo to celebrate in St. Augustine. Returning to Palm Coast, the couple got into an argument in the car. One of the witnesses told deputies that Campbell punched the victim, head-butted her, threw a bottle of alcohol at her and threw her cell phone out the window.
The couple continued fighting at Campbell's F-Section house on Flamingo Drive. The victim told a deputy Campbell "beat her in the head and face with his fists and kicked her numerous times with his feet to the chest and upper body," then choked her and prevented her from leaving. At the time, Campbell and the woman had been living together two years. The woman was hospitalized.
Campbell was jailed, and subsequently jailed again for violating a judge's no-contact order with the victim. In March 2017 he pleaded guilty to battery, a first-degree misdemeanor, and to false imprisonment, a third-degree felony. He was sentenced to six months in jail and three years' probation (and given a 15-day furlough to prepare for his jail sentence: he owns Campbell Exterior, a paint company, and had asked the judge for preparation time. He authorized Garcia to run his business.) He sought to lessen his sentence to community control. Judge Dennis Craig denied the motion. In June, he asked for early termination of his probation, a routine and permissible act for probationers who can show that they have met all conditions of their probation until that time. Judge Terence Perkins granted it at the end of August–just nine weeks ago.
He'd been living with Garcia for 13 months.
Garcia was booked at the Flagler County jail Tuesday morning, and remains there, her bond not yet set.
"This couple has a history of domestic violence and it progressed to another level last night," Sheriff Rick Staly, who's made domestic-violence awareness and prevention a cornerstone of his administration, said. "This shows the danger of staying in a violent relationship – slowly the strength of these fights increases until someone gets seriously injured or killed. Luckily, this time, no lives were lost. Violence is not the answer."
For the past several years, and with rare exceptions, murder and attempted murder cases in Flagler have been the result of domestic violence–between spouses, between father and son, between cousins, between boyfriends and girlfriends, between son and mother.