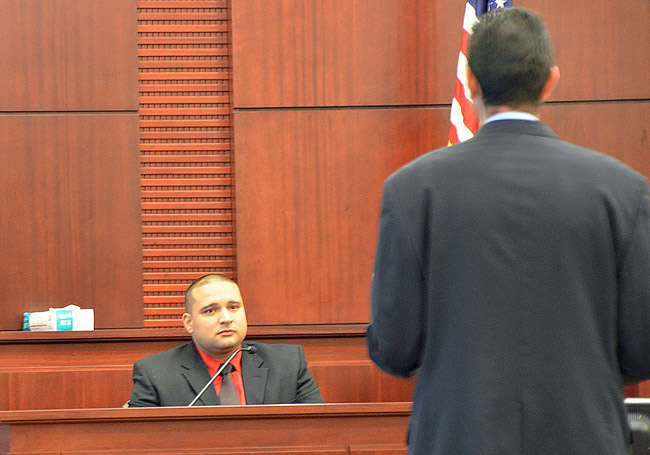 Frank Gamarra was a Bunnell Police Department cop from October 2008 to August 2010, and was twice named Officer of the Year along the way.
In 2010, he cooperated extensively with a State Attorney's Office investigation of the department and some of its cops' relationship with then-City Commissioner Jimmy Flynt, whose wrecker business the report showed benefited of favoritism. The investigation uncovered a pattern of shoddy police work, including poor record and evidence-keeping, and illegal fees imposed by the city on people whose cars were seized at cop stops. Shortly after the state attorney ended its investigation, Gamarra was laid off. He says he was fired as a result of speaking out. The city says it was purely a budgetary decision. But when, in early 2011, the city sought to hire officers again, Gamarra was turned down.
Last June 6 he sued, saying his termination was a violation of the Whistle-Blower's Act. On April 4, he and the city, through its insurer–Preferred Governmental Insurance Trust, with Brown and Brown as the city's underwriter–held a mediation session. Gamarra initially wanted $250,000. The insurer offered $100,000. Gamarra appeared ready to accept the settlement.
"I'm happy to be out of debt," he said last week. "I'll be debt-free after this, and hopefully my wife and I can move on. It's been a rough two years." Gamarra said he had to move three times, had to sell a home and a car and contend with his wife's and son's illnesses and a foreclosure. "This was never about money for me, it was about getting a clean slate and moving on."
But there was word this week that Gamarra may not accept the $100,000 offer after all, and seek to go to trial. (He was in court testifying in a related case in February, when, John Murray and Lisa Murray, the two ex-Bunnell cops who, according to the state attorney's report, had shown favoritism to Flynt, were on trial on various charges. Both ex-cops pleaded out to lesser charges before the end of the trial, and avoided jail time.) The Bunnell City Commission is meeting behind closed doors to discuss the Gamarra case Tuesday morning at 9 1.m. The commission may hold closed-door sessions to discuss pending or ongoing litigation, though minutes and recordings are kept and made public once the litigation is over.
City officials, including City Manager Armando Martinez, said last week that the settlement offer was not an admission of guilt. It was what the insurer wanted. "That's not something that the city of Bunnell has any control over," Martinez said. "We wanted to go to court. It's the insurance carrier." He added: "The city has done nothing wrong."
"My position is that the city of Bunnell, I continue to reiterate that the motivation for Gamarra to be let go was strictly budgetary." Martinez said that at the time, the city was laying off other employees, including, he said, a distant relative of Flynt's.
It was not the city's decision to settle, Martinez stressed. "What I've been telling the attorney is we've ready to fight," he said. "We stand behind the reason behind our decision."
If that's the case, and Gamarra–who could not be reached Monday–is, in fact, unhappy with the settlement, then it's the first thing the two sides agree on: to go to court.
Sid Nowell, Bunnell's attorney, said last week that while the city is not absolutely bound by the insurer's settlement offer, it carries a lot of weight, and is usually respected. But commissioners could well decide to go against the offer and press on, though that ends up being costly.
Arthur Jones, the outgoing Bunnell police chief who officially made the decision to lay off Gamarra, spoke in almost identical terms as Martinez. "There was no malice there intended at all," Jones said of the layoff. "What happened at the time was the most appropriate thing to do."
Last week Gamarra was reluctant to speak about the case, disclosing none of its substance, including what amounts had been offered or what he had accepted. He said it would all be available once the settlement papers were finalized. "I'm very skeptical of what they may try to do," he said. But word of the settlement had quickly circulated among Bunnell city officials.
Following the 9 a.m. closed-door session, the Bunnell City Commission was to convene an emergency meeting to discuss the sale of two Caterpillar tractors, and to appoint a city representative to a countywide task force discussing the renewal of the half-cent sales tax that benefits county and city governments. That meeting was cancelled this morning.