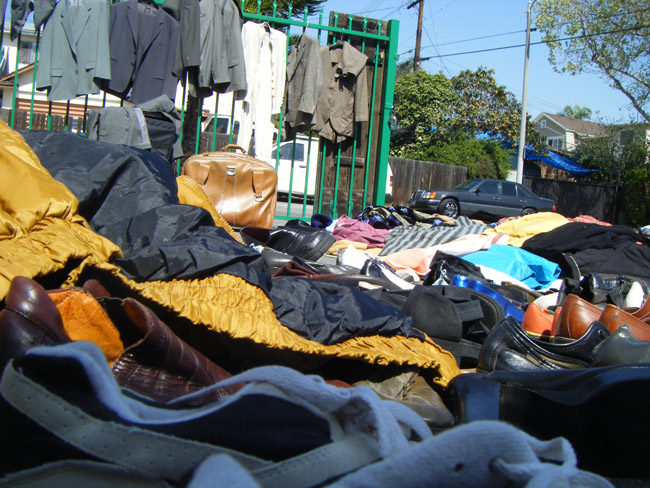 There will be no $5 fee for your next garage sale in Palm Coast. But you'll still be required to get a permit to hold a weekend-garage sale, and you'll be limited to two sales per year from any one location.
The Palm Coast City Council voted 4-1 Tuesday evening to impose a more rigorous permitting and tracking system for garage sales. It will use the next six months as a test period and re-evaluate the matter then, possibly increasing the allowance of annual garage sales to three.
Council member Jason DeLorenzo, a P-Section resident,  had proposed the new regulations in answer to what he and the city administration perceived as a nagging problem: proliferating and illegal garage sale signs throughout the city, "a few bad apples" holding repeated sales in contravention of the city's limit of two per year, cars tearing up neighbors' lawns by parking on residential streets for their treasure hunts.
"I'll take the heat," DeLorenzo said. "This was my idea. I had a number of phone calls, one gentleman called me, he wouldn't even give me his name because he didn't want to start an argument with his neighbor, but they had had seven garage sales this year. Our code enforcement is reactive, and he didn't want to start that feud with his neighbor, but he wanted it to be enforced. All my suggestion is, is that we have a registration so that we can better enforce this to protect our neighborhoods."
But DeLorenzo and the administration had no hard data to back up their claims. DeLorenzo referred to code enforcement picking up 500 illegal signs a month, which would imply that the city's rough average of 35 garage sales per weekend—according to David Dixon, a Woodlands resident who goes to more than 50 of them a month and tracks them through the Pennysaver—would generate three to four illegal signs each. And when asked for any code enforcement data that would point to an issue, the administration again was unable to provide it.
"How many people are cited by code enforcement for violating the city's code on garage sales?" council member Bill McGuire asked Nestor Abreu, the community development director.
"Very few, that's part of the difficulties," Abreu said. "If we don't track it, you get a complaint and some neighbor will tell you well, there's been five, we haven't documented any, we haven't seen any, so you start with a deficit. So, not very many."
Council member Frank Meeker, the lone dissenter in the 4-1 vote, had also asked for data about people who abuse the two-sales-per-year limit. There was none. "There are a few bad apples that are abusing the system and they're causing the concern," Jim Landon, the city manager, said. "Most people don't have that many garage sales, and most people aren't the problem, but if that resident lives next to you, they expect us to solve the problem."
In its new system, the city will require residents to register and permit their garage sales online or by phone. In turn, the city will identify through its website where garage sales would be held, their length (one or two days: they may not be held for longer than that), providing addresses and mapping, and giving people holding garage sales the opportunity to list some of the items they'll have on sale. The city would recommend, but not require, emails and phone numbers.
Meeker had no objection to a voluntary registration and advertising system through the website. He objected to the fee, and to the mandatory permitting system, especially in light of the absence of a pronounced problem and the alternatives he was proposing. Acknowledging the bad apples Landon was referring to, Meeker said: "We notify code enforcement, code enforcement starts an active file, keeps it on record, checks it, we get a phone call back, they're having another yard sale, code enforcement knows the location. We can monitor it now. I can see how having the permit helps you do your job, but I also see how code enforcement can handle this on their own with a notepad and a piece of paper and a minor database in Excel on their computer at work. Like I said, I like government small, I don't like government collecting information on citizens, I don't like collecting permits for things I'm doing on my property. I do believe we have much bigger things to fret over than this."
Eleven people addressed the council on the matter, almost all of them opposed to the mandatory nature of the system, or its strict limits, or to the fee, though there was much less resistance to the free advertising and mapping on the city's website. Still, some opponents noted that the Pennysaver is a free publication dropped on people's driveways: it, too, is free (to readers, anyway), though Jon Netts, the mayor, said it costs money to advertise a garage sale in the publication. One resident mentioned the pharmaceuticals and guns that get sold at garage sales. Another worried about the potential security breach if the city's database containing residents' addresses and garage sale information was hacked (though the city's databases have far more information on residents than any garage sale database would ever collect).
"I've lived in Palm coast for 19 years, I've lived in Flagler County for 21 years. I've never seen a problem on my street or in my neighborhood," one resident told the council, saying, too, that she has no computer and could not track garage sales through the city's website. "I live in the F Section, of people having too many garage sales—I've  never complained, I don't see that as a big problem so I think it's kind of overkill right now."
Another F-Section resident said: "Whether or not someone has a few garage sales a year, that doesn't concern me as much as what is happening to our homes, our homes are being broken into, they're being vandalized, there's mailboxes being knocked down almost every single day."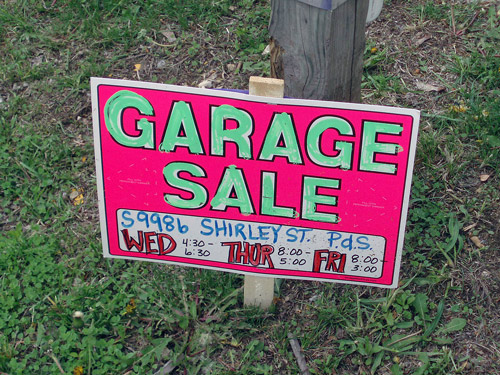 (Allen C)