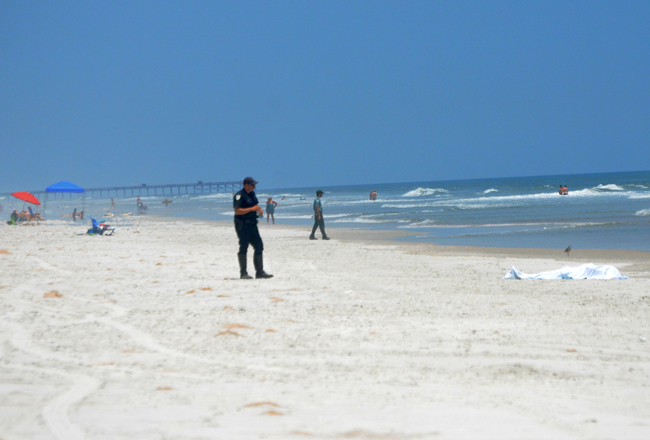 A little before 11 this morning a woman walking along the beach in the area of Gamble Rogers State Recreation Area, in Flagler Beach, noticed the body of the man on the sands or in the surf and called authorities. What had initially been termed a water rescue turned into the investigation of a death, likely a suicide: the man, Thomas Hoagland, 60, had lacerations on his wrists.
Hoagland is from St. Augustine.
Flagler Beach police was still investigating in early afternoon, and the body was still on the beach, covered with a light-blue covering, as the medical examiner had not yet arrived. The beach was closed from the area around Snack Jack's to the north, to just south of Gamble Rogers's limits. Later in the day, authorities were casting doubt on the suicide theory, telling the News-Journal that an autopsy would have to be conducted before ascertaining the actual cause of death.
The case was not affecting traffic on State Road A1A, nor were sunbathers and swimmers stopping their activities north and south of the closed off zone.