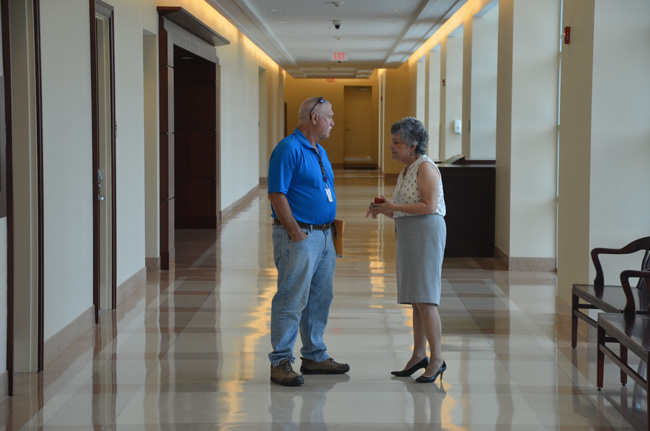 It's a natural question, and Flagler County Clerk of Court Gail Wadsworth has been hearing it frequently lately: will she run for the Florida House seat Travis Hutson is expected to resign in order to run for the Senate?
Wadsworth's father, grandfather and great-grandfather have all served in the Legislature, two of the three representing Flagler. Wadsworth is now in the second half of her last term as Clerk of Court. She used to work for her father at the Legislature, as a high school student and a freshman at Florida State University. And she does have her eyes on a seat there some day.
But not yet.
"I'm not ready to run that fast but don't count me out for the future," Wadsworth said. "Not now, because I have a pretty hefty commitment to Tom—to the people I work with. We've got promises to keep." Tom Bexley is Wadsworth's deputy who is expected to run for the clerk's position in two years. Wadsworth has been in office since 2000, when she beat Syd Crosby.
Wadsworth would have been among the few Flagler County politicians (and possibly the only one) capable of winning a House seat and returning representation to Flagler–which Flagler has not had since Wadsworth's father was last there. Her father Billy Wadsworth served his last term in in Tallahassee in 1965 after a decade there. His father, Louis Wadsworth, served in the House before him. His father, Burton Daniel Wadsworth, served as the Senator from Madison County. In 2012, Wadsworth won the Republican primary with 66 percent of the vote and was unopposed in the general election.
Thrasher is resigning the Senate seat to take up his post as president of Florida State University (Wadsworth's alma mater). Hutson is expected to announce his intention to run for the Senate soon, opening his seat for that special election. Rep. Ronald Renuart, the St. Johns Republican, is expected to resign his seat to run for the Senate, bringing to three the number of seats that'll be part of the special election. Republican Derek Hankerson is also expected to run either for the Senate seat or a House seat.
Flagler County Republican Executive Committee Chairman Dave Sullivan has already announced he intends to run for Hutson's seat. Others are expected to join the fray.
"I hope this does not become a feeding frenzy," Wadsworth said. In two years, she'll look at the job the House incumbent will have done and decide then whether to make a run for the office. It won't matter if it's a Republican or a Democrat, Wadsworth–the Queen Elizabeth of all things Republican in Flagler–said. What will matter is the quality of the incumbent. "If somebody is there and they're doing a grand job, why would I do that?" Wadsworth said.
Meanwhile, Wadsworth intends to carry through significant changes at the clerk's office that are streamlining electronic access to documents district-wide (the 7th Judicial District includes Flagler, Volusia, St. Johns and Putnam counties), first for all judges, and later for the public.
"I love, love, love that my office was chosen to be first in the circuit to bring it up," Wadsworth said of a system called Judicial Viewer. "It's a testimony to a great team and I just don't want to walk away from this team when we're doing absolutely what I want to see done. I would be abandoning something really good." The system enables judges to see all court documents throughout the district by accessing any of the district's systems the same way. Judicial Viewer essentially eliminates any barriers between the content management systems of each county. The system is due to go live on Nov. 17 and to be fully operational within 49 days.
That's not for public access. That will come next. The Supreme Court has had an order in place to broaden public access, in line with open record laws. But the judicial systems across the state have had difficulties figuring out how to make that possible while redacting information that's exempt from public disclosure. Systems have been developed to do just that.
Judicial Viewer "is in a way a first step, because it will give judiciary and judicial partners access to what they may have access to which is pretty much 100 percent," Wadsworth said, "but it gives us the opportunity to start working on that Supreme Court order for other partners and the public. We will get there. We'll get there before Gail retires, which is up and coming too."