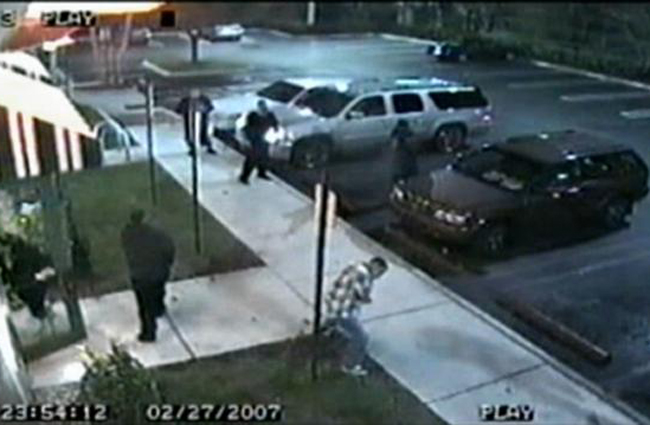 A divided appeals court on Thursday threw out second-degree murder charges against a man who fatally shot two others outside a Chili's restaurant in a case that could renew debate on the state's "stand your ground" law.
The 3rd District Court of Appeals ruling, which overturned a decision by a lower court, could once again put Florida's first-in-the nation "stand your ground" law and its meaning before the Florida Supreme Court.
In Thursday's 2-1 decision, a three-judge panel found that Gabriel Mobley should be immune from charges in the 2008 deaths of Jason Gonzalez and Rolando "Roly" Carranza in Opa-locka. The two men were later found to be unarmed, though two knives were found near one of their bodies.
Mobley argued that the shootings were justified under the "stand your ground" law, which grants immunity from prosecution to people who use deadly force if they reasonably believe their lives are in danger.
The self-defense law has been a flashpoint since the 2012 death of Trayvon Martin, who was shot by neighborhood watch volunteer George Zimmerman. While Zimmerman did not ask for "stand your ground" legal immunity, much of the debate following the shooting centered on the law. Zimmerman said he shot the unarmed black teenager in self-defense and was later acquitted of second-degree murder charges in Martin's death.
The Opa-locka shootings outside Chili's happened shortly after Gonzalez punched Jose "Chico" Correa, a friend of Mobley's, while Correa and Mobley were smoking outside. Correa, Gonzalez and Carranza had gotten into an argument earlier in the restaurant.
After Mobley waved off Gonzalez, Carranza approached and, according to Mobley, appeared to reach under his shirt to draw a weapon. Mobley opened fire.
Judge Linda Ann Wells, writing for herself and Chief Judge Frank Shepherd, said Mobley had reason enough to believe that he was in danger.
"The shooting at issue did not occur in a vacuum," she wrote. "Mobley did not shoot two innocent bystanders who just happened upon him on a sidewalk. … It may have been more prudent for Mobley and Chico to skitter to their cars and hightail it out of there when they had the chance; however, as even the State concedes and the court below recognized, Mobley and Chico had every right to be where they were, doing what they were doing and they did nothing to precipitate this violent attack."
But in his dissent, Judge Vance Salter noted that Mobley had to go back to his car to grab his gun when he and Correa went out to smoke. Salter also noted that Mobley didn't get the gun when he and Correa had left the restaurant for two earlier smoking breaks, and that it wasn't clear that Carranza was reaching into his clothes during the fight.
Given that, the court should have deferred to the judge who held the "stand your ground" hearing, Salter wrote.
"The fact-intensive determination of whether a reasonable and prudent person in the defendant's shoes might have perceived that Mr. Carrazana was reaching for a deadly weapon turned on the court's assessment of the defendant's credibility," he said. "The defendant and his friend of 17 years were the only living eyewitnesses to that important fact. The video and freeze-frame images did not definitively prove or disprove the reasonableness of that alleged perception — an alleged perception which turned out to be erroneous."
A spokeswoman said Thursday afternoon that Attorney General Pam Bondi's office was still reviewing the ruling. But relying on local prosecutors, The Miami Herald reported that the appeals court would be asked to hear the case again, potentially paving the way for the case to go to the Supreme Court.
–Brandon Larrabee, News Service of Florida

Mobley vs. State: Stand Your Ground Appeal, Third District Court of Appeal Decision