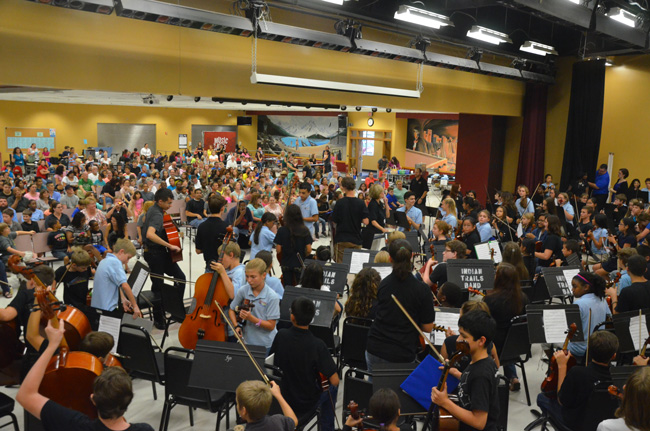 Note: To help meet the FYO's fund-raising goal this year, go here.
"Good luck everybody. Have fun."
That was Artistic Director Sue Cryan at 2:50 this afternoon, speaking to the staff of the Flagler Youth Orchestra just before each of the four teachers headed to their class. She was understating the circumstances. The onslaught hadn't quite begun: the three o'clock hour has its considerable share of students (89, actually), but it's the 4 and 5 o'clock classes that bring a surge of musicians, this year more than any before, as they converged on Indian Trails Middle School from 3 to 6 p.m.
At the opening of the 10th anniversary season of the Flagler Youth Orchestra, enrollment has swelled to nearly 400, by far a record in the program's history. Returning students had already put in a few classes, but today was the first day for all students, beginners included. There were moments when the corridor of Indian Trails's southernmost entrance, near where the classes are held, looked like a little touch of Shanghai at rush hour: a mass of students checking in, a mass checking out, many of them with parents, all of them navigating the tiny strait at the same time.
Not a bad way to underscore Arts in Education Week.
By day's end, a slightly spent Cryan summed it up: "If it were smaller we'd be disappointed, if it remained the same we'd have been doing something wrong, it grew, we have to be happy about it, we'll make adjustments." It wasn't quite the end of the day for Cryan: an hour later she was at the Flagler Auditorium, leading a youth orchestra quartet in one of many performances at the evenings' free concert celebrating the performing arts in Flagler schools.
In the youth orchestra, every school in the district is represented, charter schools included, as are home-schooled students. This year's enrollment adds to an estimated 2,000 students who have been part of the strings program at one point or another in Flagler over the past decade. Their word of mouth makes a difference with each year's enrollment, but the orchestra's outreach has developed significantly in 10 years, with smaller ensembles. The group's quartet has been in demand, appearing at more than a dozen events in the community throughout the year–not including seven or eight performances during a grueling two-day recruiting tour in late August through the district's elementary schools.
---
The free program grew through the Great Recession with unwavering support from the School Board.
---
The school-district supported program was created by ex-Superintendent Bill Delbrugge in 2005 with a couple of principles in mind: it would be free, and no student would be turned away even if the student couldn't afford the cost of an instrument. The program has held to that principle, at times against occasional pressures—from budget cuts or the odd elitist strain—to charge a fee. It's done so in spite of the Great Recession and its difficult aftermath, with what has been unwavering support from the Flagler County School Board.
The district underwrites the cost of most teachers and a director, providing $54,000 a year—less than the cost of a beginning teacher, when benefits are included. The program itself raised $18,000 last year to pay for an additional teacher, to continue enlarging the FYO's music library, and to provide instrument scholarships to innumerable students. A basic violin costs $150, a cello $500. This year alone, some 140 students are on full instrument scholarships (they're eligible as long as they are demonstrably in the free-lunch program). It's a reflection of the county's economic stress, but also of its capacity to sustain a free program as large and diverse as the FYO.
You can't argue with the results.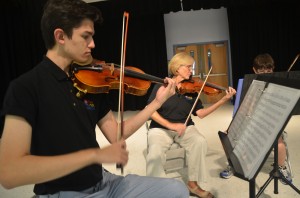 Take Daniel Masbad. Six years ago he was a gangly 12 year old who'd never held a violin. His parents gave him a choice: karate or strings. He picked strings. "Orchestra," he remembers, "seemed like I could, I don't know, sit in the back and not have to participate I guess." Today, Masbad is the upper orchestra's concert master—always front and center at every concert–he's a leader of the youth orchestra's quartet, and he's a member of the Jacksonville Symphony Youth Orchestra, where he logs weekly three-hour rehearsals every Sunday.
He remembered his first day in orchestra class six years ago, when Jack Jeffe was his teacher, learning about the instrument, the shoulder rest, the basic principles of form. "Pretty much after the first class I was interested." But it was a few weeks later when the epiphany struck, as he was practicing a segment from Beethoven's Ode to Joy no less. He had until then no idea how the notes on a page corresponded to what he had to do with the violin. Then it struck him in a single moment of clarity. "That's probably when you could say I was hooked," he says. "The most important thing about this program to me is, it's hard to describe but it's kind of this sense of place. I feel like even from the very beginning I had a place, and I think it might have been the first time I felt like that. That was a very large part of the appeal."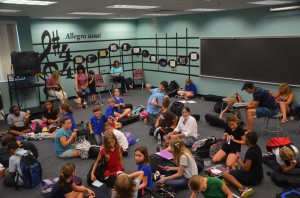 In addition to that slew of beginners there were more than 200 returning students today, some of them rediscovering that sense of place, and one of them, Garret Hunter, now 14, returning after an absence of four years, when he learned bluegrass and focused on piano. "But everybody would say when are you going to play your violin for us?" he says.
And some students had to contend with their new place in the various orchestras: some had moved up, as every student auditions twice a year to gauge his or her skill level, some had not. "Some kids who wanted to move up to a different level but didn't were disappointed," Cryan said, but they'd also talk about what to do to move up at the next opportunity.
For beginners, it's a significant new challenge. "I find that attitude, more than any other gift, is the most important piece to success at doing most anything," El Gervasio, who'll be teaching fundamentals, says. "I actually talk about developing attitudes for successful learning. Personal attributes like positive attitudes, attitudes of gratitude, self talk, 'can do' mentality that I believe can be taught. Many students also need management instruction, how to juggle all this stuff–instruments, cases, rosin, cleaning cloth, not to mention tons of paper,music, instructions, guidelines."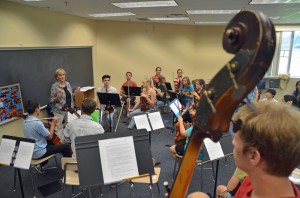 Naturally, there's attrition. The program won;t hold on to all 400 students all year. By spring the outdoors will beckon again with all sorts of competing activities, and between now and then many students will, without commitment or a certain degree of the management Gervasio referred to, feel overwhelmed, and quit.
"As one of the beginner class teachers, I see I lot of students who don't stick with the program long term," Maggie Snively, one of the teachers, says. "I don't think they always really understand what they are signing up for. Sometimes playing a string instrument just isn't the activity for them, but often I think they just don't realize how much work is involved in learning to play a stringed instrument. They don't put in the practice time at home and then they aren't able to keep up in class, which usually causes them to eventually give up. I really try to emphasize the importance practice right off the bat, just as they would need to do for a sport. For students who are really struggling, though, I do offer individual help before and after classes as needed. All I ask is that they really try."
Most of course do: they'll be at the youth orchestra's first major concert at the Flagler Auditorium come Dec. 10, when the auditorium routinely sells out. They'll be there again for the winter and spring concerts, too.