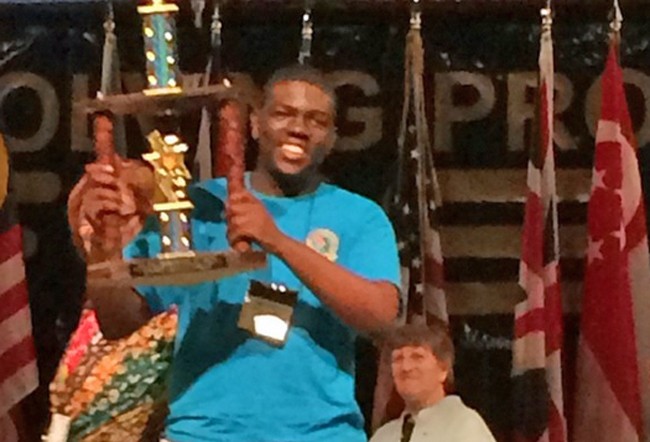 The 2015 edition of the  Future Problem Solvers International Conference competition concluded today on the campus of the Iowa State University in Ames, and Flagler County's public school students have shined again, as they've made a habit of doing so at such competitions year after year.  The winners include two first-place trophies.
Flagler School Board member Andy Dance, who's led fundraising and cheer-leading for the Future Problem Solvers throughout winter and spring–though he was not able to travel to Iowa this week–circulated the following summary of competition winners this evening:
First Place – Project Sense It – FPC Student Daniel Thomas was awarded first place for his Community Problem Solvers individual project.
First Place – ESOL 8 – CmPS Jr. Division – The Rymfire Elementary 6th grade Community Problem Solvers group, ESOL 8 , came in 1st place in the junior education division. Group members are: Emma Brito, Serena Daley, Bridgett Dubena, Nikki Gannett, Shannon Golmayo, Yana Goldshteyn, & Nicole Seetaram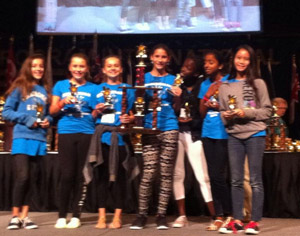 Second Place – Let's Get Drown To Business – FPC CmPS project that focused on water safety received 2nd place in the CmPS Senior Division.
Third Place – Don't Stress; Beat That Test – Buddy Taylor Middle School project that focused on reducing test stress and anxiety for students received third place in CmPS Junior Division.
Third Place – Group Scenario Writing  – Buddy Taylor student Daniela Sbordone was awarded third place in the group scenario writing category.
"Let's thank all our students who participated in the International conference and represented Flagler Schools at the elementary, middle and high school levels," this evening's message read. "We are so proud of all our students that were invited to participate this year.  Let's also give those students above a big round of congratulations on their awards, and for placing internationally against the strongest competition from all over the world!"
"Outstanding!" was the response of School Board Chair Colleen Conklin this evening. "Congratulations to all involved! Thanks Andy for the updates and your leadership!"
You can see all the 2015 International conference pictures and more news at the Future Solving Program of Flagler County website and on Facebook.
"Let's not forget," the evening message concluded, "our wonderful teacher [and] coaches for all their hard work preparing the students and taking their personal time to travel with the students to the conference! You are the BEST! And last but not least, special thanks to the School Board and the district and school administration for your support of the FPS program!"