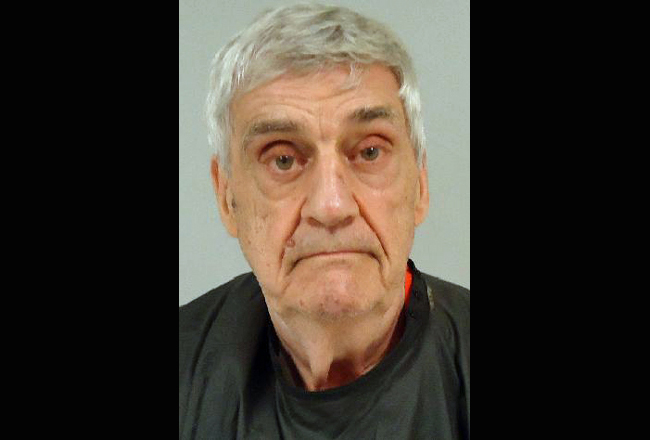 Frederick Sell, an 83-year-old resident of 70 Town Court in Palm, Coast, was jailed over the weekend on charges of driving drunk and leaving the scene of an accident with property damage after driving the wrong way on State Road 100 and crashing his car into a Flagler County Sheriff's deputy's. The deputy was injured.
Deputy George Hristakopoulos, in his second year with the sheriff's office–he used to be with the Bunnell Police Department–was patrolling and driving west on State Road 100 at 2 a.m. Friday, just east of Bunnell. Sell was driving east on S.R. 100, his lights off and in the westbound lanes, according to his arrest report.
Hristakopoulos steered his cruiser to the right to try to avoid Sell's car but couldn't do so entirely. The left side of Sell's car collided with the left side of Hristakopoulos's cruiser. After the collision, Sell fled, the report states. Hristakopoulos activated his emergency lights and set chase. But his vehicle was damaged enough that it "became disabled." He notified dispatch, and was able to inform dispatch that Sell made a right turn onto Aviation Drive, the entrance road to the Flagler County Airport. Two other deputies arrived at the scene and located Sell's car at Aviation Drive and Airport Road.
Sell stopped his vehicle and remained in the driver's seat. When the deputies approached him, "they immediately smelled an odor of an alcoholic beverage coming from his facial area, noticed he was slow to respond to questions, and they also noticed he urinated himself," the report states.
Sell was taken to Florida Hospital Flagler, as was Hristakopoulos. The deputy was evaluated and released with "possible injuries" the report does not detail, other than stating that Hristakopoulos had some soreness. Sell, when he spoke to an investigator at the hospital, slurred his speech and had bloodshot eyes, the report states. No field-sobriety exam was conducted since Sell was lying in a hospital bed. The investigator, based on what evidence he observed, charged Sell with DUI, a first-degree misdemeanor, and leaving the scene of an accident with damage, a second-degree misdemeanor. Sell was then taken to the Flagler County jail and booked a there just after 4 a.m.
Five hours after the crash, Sell consented to a breathalizer test, which registered 0.033 percent blood-alcohol level. The legal limit in Florida is 0.08. He had his first appearance before County Judge Melissa Moore-Stens later that morning and released on his own recognizance. His arraignment is scheduled for July 1 at 8:45 a.m. before Moore-Stens.
The sheriff's office said the cruiser suffered "probably a couple thousand dollars in damage." The "rear front tire and wheel were destroyed and the left side mirror was knocked off. There are also scrape marks down the left side of the car. George was treated and released at the hospital following the incident and is back to work."