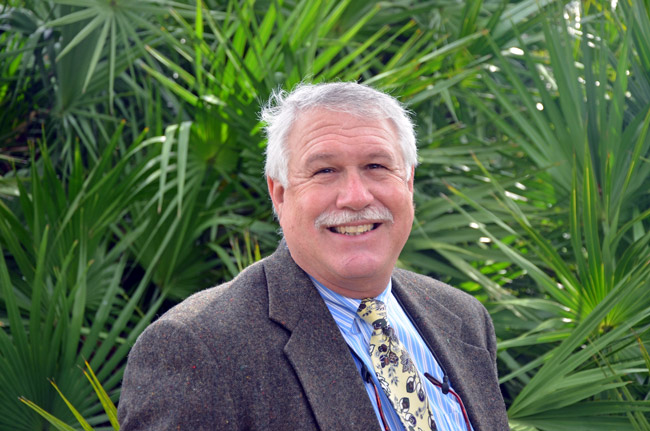 Frank Meeker, a Republican, is a candidate for the Flagler County Commission from District 2. He's facing Independent Abby Romaine.
Three commission seats were up this year. In August, Charlie Ericksen defeated incumbent Alan Peterson in the District 1 race. County Commissioner Milissa Holland had two years to go in her term, but she elected to resign on Nov. 6 and run for the newly drawn Florida House seat that, for the first time in two generations, includes all of Flagler County. That opened up the District 2 seat. Meeker just resigned his seat on the Palm Coast City Council, which he'd held since 2007.
In District 5, Republican Herb Whitaker is challenging five-term incumbent Democrat George Hanns. Whitaker and Hanns faced off four years ago, with Hanns winning by four points.
In both races, all registered Flagler County voters may cast a ballot, whatever their party, whatever their address: Commissioners represent specific districts, but they are elected by all Flagler County voters, including every city's voters.
A county commissioner is paid $48,061 a year. The salary is set by state law, based on county population, but paid out of local dollars.
FlaglerLive submitted 14 identical questions to all four commission candidates, who replied in writing, with the understanding that some follow-up questions may be asked, and that all exchanges would be on the record. Each candidate was also given the opportunity to ask his or her opponent three questions, which appear following the FlaglerLive questions. Follow-up questions, when necessary, appear in italics, and may be awaiting answers.

The Questions in Summary: Quick Links

Place and Date of Birth: Newport, Rhode Island, 1955.
Current job: Senior Regulatory Scientist, St. Johns River Water Management District, $85,000 a year.
Party Affiliation: Republican.
Website: Frank Meeker for Flagler County Commission
1. What makes you qualified to be a county commissioner?
a. Because nothing prepares you better for serving Flagler County's future than having served Flagler County's past. I've lived in Palm Coast for over 25 years. Debbie and I raised two children here, dodged numerous hurricanes, dealt with two county wide fires, a sleet storm, high gas prices, the burst of the "bubble" and drought conditions like many of you.
b. I've devoted those same years to making the county a better place through establishing or working in a number of volunteer organizations.
i. Charter member of the Palm Coast Jaycees (5 years)
ii. President of Flagler United Youth Soccer (10 years), AYSO Coach (4 years), Flagler Premier Soccer Coach (2 years)
iii. Judging Science fairs at FPC HS and the Middle schools. Lectured numerous times at Old Kings Elementary on diverse subjects such as Oceanography, Poisonous Snakes and Space Science.
iv. River Cleanups, A1A cleanups, dune restorations, wetland creations, economic development expansion, I've been there for all of it and permitted most of it.
v. I've been helping and working in and around Flagler County Government gaining knowledge and first hand experience for over 20 years. Flagler County Landfill Selection Committee, Palm Coast Utility Advisory Committee, Palm Coast Community Service Corporation, Palm Coast Planning and Land Use Regulation Board (Chairman twice),
c. Strong Florida based education in environmental sciences and coastal zone management.
i. Bachelors Degree from the Florida Institute of Technology in Environmental Sciences,
ii. Masters Degree from the Florida Institute of Technology in Coastal Resources Management,
iii. Graduate of the Advanced Institute for Elected Municipal Offices from the Florida League of Cities.
d. Broad work experience, Environmental Data Collection, Permit Reviewer, Sr. Environmental Manager, Ombudsman, Sr. Regulatory Scientist. Has worked both sides of the fence, private and public. City Councilman in Palm Coast for the last five years.
e. I have strong contacts within state government. I have also served on numerous state committees' such as the Senate and Natural Resources Wetland Action Committee, Senate and Natural Resources Solid Waste Management Committee, Senate Wetland Action Committee.
f. Having served on the Palm Coast City Council, I understand how local governments work, how budgets are set up under governmental and financial accounting standards, and more importantly, why. I will be able to offer a solid bridge for discussion of initiatives that benefit both the city and the county having established strong working relationships with the Palm Coast City Council members and the current Commission. In a similar vein, I've developed strong personal relationships with the remaining cities within the county and will be able to off support and dialogue based on those relationships to work for improvements that benefit all.
g. VCARD Citizen of the Year in 2010, Graduate in the Advanced Course in City Management from the League of Cities. Significant experience in permit acquisition, regulations, compliance, budget prep and capital projects. Well published on a number of permitting and environmental issues.
h. When I see something I believe is wrong, I stand up and try to fix it.
i. African American Cultural Center Grant denial about four years ago,
ii. An unworkable stormwater ordinance with fees being charged creating inequities that would send us to court against land owners and cost hundreds of thousands of dollars ending with a losing battle in court.
i. Pushed for taking important contracts outside for competitive bidding such as the solid waste contract. Result was lower cost and better environmental protections.
j. In short, knowledge and proven experience to help Flagler County move forward.

2. Would you have supported the county's impact fee moratorium? If so, what is your evidence that such a moratorium can create a substantial number of jobs, and how do you explain to those who have paid impact fees that current builders and home-buyers won't have to?
Yes, I would have supported the impact fee moratorium. I don't believe there is any specific data yet available to support that a moratorium creates substantial jobs. This is because the conditions of the "test" changes when they are turned on (impact fees) or off (no impact fees). At night, when you flip a light switch on, you see with clarity what is in the room. You can count the number of chairs, dishes, pots and pans, etc. At night in the dark, those references are not so easily visible. You have to make assumptions as to the location of things based on past experience or other references. With respect to impact fees being good or bad, my argument is more intuitive.
But first, I wanted to discuss my position on City Council on impact fees. It is a bit different from what my opponent has stated. I feel more qualified to represent that position as I was there at all of the workshops, and she was not. I was there at the council meetings, and she was not. While we've talked about impact fees in general, my more detailed discussions have always centered on commercial and industrial impacts. City Council member Jason DeLorenzo has been the champion of home construction reduction in impact fees although I support his position. My most recent proposal was a moratorium for two years on those impact fees we could remove in areas where we now have excess capacity. Mostly this was a road impact fee argument as with the loss of population comes an increase in previously paid up road capacity. We could therefore encourage new commercial and industrial business to relocate into these zones waiving impact fees associated to encourage infilling of existing empty building in areas with additional capacity.
The real world points to a problem where concurrency can be the impetus of sprawl instead of supporting infilling and redevelopment in older areas as discussed above. Population Growth in the State of Florida stopped in 2007 and actually reversed and trended to a loss in 2008. Projections for population growth depict very slow increases until 2015. Traffic volumes on all major corridors will therefore be expected to have a downward trend but do City and regional Traffic models contemplate such trends? No they don't. With reduced population and traffic, effective roadway capacity should be increased. Further, during high unemployment, construction costs are way down. Do we consider these revised numbers when calculating impact fees within the city? No, we don't. In short, the Economy has unfortunately changed, but fees haven't.
The current development fee structure may be cost prohibitive to kick start job growth and could be depressing tax revenue. Ever wonder why of late, every new shopping center looks just like every other shopping center when it comes to the types of stores and shopping options available? It's because impact fees along with other issues I'm not discussing here, limit the available gene pool of shopping options. Let's take a thought process example and compare the new Carrabba's to a mom and pop restaurant of similar size. Carrabba's paid over $200,000 in impact fees. They are a large chain. They can spread that cost around many stores in other locations so the impact is not as great. The mom and pop? That same $200,000 kills their dreams and once again, limits the "gene pool" of possible entities that can help improve our economic development (ED) picture in the county. In short, we're placing all of our ED eggs into a large basket, but with fewer eggs. Allow the mom and pop a shot at success (you know, life, liberty and the pursuit of happiness stuff) and the number of egg choices increases, and the changes for improvements in the local economy improve with it. Further, with high fees everywhere, how do we encourage re-development in older areas or new development in select areas where we would like to direct growth to occur?
In our current economy, with development fees, work on new projects stop. No rational business can move forward. Without development fees, capitalism takes effect, projects move forward creating increased tax revenue and jobs. At 12.4% unemployment this sounds like a good thing to me. For example:
The following numbers are from a presentation I attended up in Jacksonville. They are not my numbers, but based on the information in the presentation, up in Jacksonville, for a big box retailer: A moratorium of the $1.2M in fees will create in the first year $1.6M, and over a 20 year period $30.3M in tax revenue. For a grocery store: A moratorium of the $1.1M in fees will create in the first year $1.5M and over a 20 year period $27.6M in tax revenue. For a day care center: A moratorium of the $0.4M in fees will create in the first year $0.1M and over a 20 year period $1.0M in tax revenue. What about jobs. According to the same presentation, for a big box retailer: A moratorium of the $1.2M in fees will create total first year local wages of $5.5M and $82.5M over 20 years. For a grocery store: A moratorium of the $1.2M in fees will create total first year local wages of $6.6M and $92.1M over 20 years and for a day care: A moratorium of the $1.2M in fees will create total first year local wages of $1.5M and $18.6M over 20 years.
There is more to this issue than just the dollars involved. Let's think of the impact on Economic Development (ED), the attraction of new businesses, the construction of new projects, and look at what the competition is doing. The most recent data I have seen shows that Duval has eliminated mobility fees (their version of a transportation impact fee), Nassau county has eliminated all impact fees (maybe not school) and any concurrency fees, Clay County has also eliminated all impact fees (temporarily) and St. Johns County has reduced impact fees for commercial uses. Most Volusia municipalities have suspended their fees as well. Let's add Glades, Hardee, Hendry, Hernando, Highlands, Columbia, Putnam, Desoto and Santa Rosa for full waivers, and add Sarasota, Marion and Osceola for partials. Also keep in mind that impact fees for commercial and industrial development, the kind of projects we really need to attract to Flagler County (we have less than 1% commercial and industrial projects) to help offset taxes paid by our resident population. You've heard it before, that for every 1$ residential units pay in taxes, they take out around $1.25-$1.35 in services. This is obviously unsustainable without raising taxes. The industrial and commercial tax based pays the same $1 and only uses about 0.25-0.35 cents in services. If we can't compete on equal footing with other counties around us or within the state of Florida, we will miss out on opportunities.
As for those who have paid impact fees, they came here when growth was happening so fast, we couldn't keep up with it in taxation, and had to look elsewhere via impact fees. Let me remind some younger folks that years ago, people weren't paying any impact fees. It's a question of timing and impact. The point is when growth was rampant, we were managing growth. If nobody has noticed, growth has basically stopped here. 12.4% unemployment kind of confirms that. So instead of managing growth as during the boom, we need to find a way to encourage responsible growth. You do that by not taking yourself out of the game my making it too expensive to invest in our county.
The answer is admirable in its details, but still arguable in several points. let's take just a couple. First, you noted the absence "any specific data yet available to support that a moratorium creates substantial jobs." But there is specific evidence about the fact that moratoriums DO NOT create additional jobs, here, here and here. How do you interpret that evidence?
Second, the difference between a chain restaurant's ability to pay impact fees and a mom and pop's inability to do so appears evident–until we consider the equally evident tendency of mom and pops to go into existing facilities, of which Palm Coast and Flagler have many, and which are not subject to impact fees, rather than build from scratch. So the landscape appears primed for both: chains that can afford impact fees are obviously not deterred by them. And a city and a county rife with empty storefront and lower rents is especially inviting to mom and pop operations, which your own business assistance center is focused on.
Third, you mentioned St. Johns county's impact fee decision, which was a good point. The county lowered its commercial impact fees. But it raised its residential impact fees–and remained one of the state's healthier economies. It is also, incidentally, the state's top-performing school district, with impact fees still in place. How do you explain the contradiction?
On the first point: The Brookings paper was written when growth was rampant. Impact fees were a way to manage rampant growth. That is not the case anymore and I suggest that as discussed below, since we are not in a "management of growth" economy right now, we should be encouraging growth by offering incentives to jump-start the process. Further, I don't believe I said that impact fees were not needed to respond to growth, but rather I didn't have any specific data to support they created substantial jobs. The point is we're not growing now, and we've lost population. Therefore the available infrastructure "headroom" paid for by impact fees has expanded to some amount as the available population to use that infrastructure has contracted. In short, I believe I have a bit of excess capacity, and I'm suggesting to fill that excess capacity by encouraging re-development in those specific areas. You'll recall in my arguments before council, I suggested that certain roadway segments now had additional excess capacity due to the population drop which should correspond to less traffic. I suggested it would be reasonable to apply this "credit" by limiting fees in those areas thereby encouraging commercial and industrial redevelopment in those specific zones.
On the second point: I hate to break it to you, but until recently, moving into an existing facility generated an impact fee too. That is why I've been discussing the concept or portability of impact fees, but that's another discussion. What if the mom and pop had purchased a prime piece of property and are now ready to build their dream restaurant, "Frankie's Place." They were able to secure a loan based on the value of the property, and then run into the impact fee hurdle which I'm guessing they may not be able to be roll into the loan as they are out of "equity." The choice is to build a smaller place and try to roll the impact fees into the loan or sell to another "Carrabba's" like chain. I'd point out the smaller piece generates less taxable revenue, employs less people who spend less money, etc completing the scenario I discussed in my response. My point was, if a mom and pop "wanted" to open a restaurant of similar size to a Carrabba's the impact fee cam kill the dream.
On the third point: Could it have anything to do with the quality of their schools, their location with respect to the growth area of Jacksonville, and the draw of wealthy Ponte Vedra area? Maybe they are doing what we did in Palm Coast (which my opponent is way off in her analysis of the council's actions when we adjusted the impact fee schedules). It looks to me like they are trying to slow down residential construction, and encourage commercial. We did the same thing when we adjusted our impacts fees in the city. It makes reasonable sense to me, but….we're not them.

3. Do you think a larger jail is needed? If so, what's your evidence that it is? And if you think it is needed, do you favor a new jail or an addition to the existing jail?
Yes. When we're to the point we have to turn out inmates to make room for new ones, it would appear you may be a bit behind the curve. The current facility was built in 1991. Our population at that time was much smaller. Back then, most of our population was in unincorporated areas. The greatest city based population concentration would have been Flagler Beach followed by Bunnell. Palm Coast remained unincorporated until 2000 but was probably around 15,000 so maybe a rough estimate for the total county population would have been less than 20,000? A jail facility with the ability to house 132 inmates probably made sense at that time. Roll the clock forward. In our current times it's been reported we have been averaging over 150 inmates, we're routinely doing early release, and our population has more than quadrupled (if my estimate of 20,000 is right) since the current jail was constructed. It's only a matter of time before a legal challenge comes to town and we're forced to build something mandated by a federal judge on this issue, I'd rather we chart our own course, and deal with the problem now. As for new jail/add on to existing jail question, not enough specifics have been presented to me as of yet especially the cost options/benefits. I haven't even ruled out modulars. We have to factor in the developable footprint for a jail based on wetland/upland issues and I don't have anything on that either. Then comes funding and bonding issues. We'll need an update telling us whether we have the headroom based on our current financial picture to secure another bond and at what cost.
For all the alarmist news about turning out inmates, our crime rate has been falling. Where, then, is the issue? And once again we'll ask you what we asked other candidates: Aside from anecdotal and verbal declarations at public meetings by various officials, what hard, documented, objective and written evidence have you seen that confirms what you've heard about the need for a jail–evidence that could, for example, be shared with the public without having to rely on anecdotal testimonies?

Ah, 132 beds, 150 inmates, and judges letting some out to put more in.
The 132 bed size was picked presumably (I wasn't part of the discussion back then so I'm making a guess) based on crime states and projections along with population size. Clearly we're bigger now, and just because a crime statistic goes down doesn't mean the current jail is sized right for our current population. It was sized right for the 1991 population.
I don't have crime stats at my fingertips, I'm running for county commission, not sheriff, but I did a quick internet search, clicked on one of the first things that hit my search criteria of "crime statistics for Flagler County Florida" and found this site, RecordsPedia Beta. I don't know if it's valid data, I don't know if it's a valid site, but since we're in the hypothetical here, I'll stick with it. This is what they said:
This page contains crime numbers for Flagler County, Florida. You can take a look at the breakdown of crime by type, changes to crime figures over time, and see how Flagler County compares to similar locations. If you are interested in seeing public records information for Flagler County, Florida, you can click the Public Records tab at the top.

Total Crime

Between 2001 and 2008 there were 11,526 total crimes reported in Flagler County, Florida (1,392 of them violent). Of the 1,441 crimes that happen every year in Flagler County, nearly one-half occur less than one mile from home. On average, someone is a victim of a crime in Flagler County, Florida every 6 hours. This includes 10 murders, 81 rapes, and almost eight thousand thefts (including 713 auto thefts).

Please note that these figures do not include crime statistics for 1999 or 2000, as there were no data available for those years.
As a thought experiment assume crime was up 10 percent. 10 percent of 1441 crimes per year is 144. If they all go to jail 12 at a time, once every month, and at the start of the recording period I'm already at capacity, I'm letting out 12 for every 12 I put in. Does that sound reasonable to you? These statistics were from our big growth years so read into the data what you please.

4. What role do you think the residential construction market should play in the county's economic development? What role should tourism play?
At this point (11. 9 percent unemployment), I'll take any role from either! But I don't want to rely on construction or tourism as our sole source for the economic train in the long term. Surely by now we have learned that placing all of our eggs in one basket leaves you vulnerable to the basket falling and breaking most of the eggs when the economy goes south. A diverse economic engine for the county is what is needed. On the other hand, I don't see industrial and commercial giants knocking down the doors of city or county government to open up shop here. We do hear interest from the home builders that they believe the economy has improved enough to risk building some new units. That means hiring unemployed construction workers and the obvious benefits of getting people back to work I don't need to bore you with here. If construction is willing to pull the yeoman's share of our economic engine for now, sure, let them. As for tourism, I think the City of Palm Coast's efforts at attracting competitive sporting teams to Palm Coast, (and while it was a council initiative implemented by staff, I'll take credit for jump starting the discussions with council on that one) has been a true success story. This effort has placed heads in beds, filled up local restaurants and businesses. Sales taxes have been up meaning programs the voters have supported like ESL pull in some needed funds. These efforts have presented the county and the city in a very favorable way to our visitors. I also have to give high praise to those volunteer organizations that step up and run these things. I've done it myself, and it's not easy. Local government provided the opportunity, but the volunteer organizations of lacrosse, football and my favorite, soccer, along with a number of other important sporting organizations supporting wrestling, swimming and recently, gymnastics made it happen and the reports from those that have attended indicate they have been very pleased with our efforts. If tourism, in any form is what we can offer best at this time in the economy, offer it. Consider the dismal reports we'd be getting if neither were trying to do anything. When help is offered, take it.

5. The county has been talking about economic development since the bursting of the housing bubble, and in 2011 established its own jobs council. Those efforts have yet to bear fruit. Evaluate the jobs council's performance. What measurable outcome would point to a successful economic development effort, and what do you intend to do, as commissioner, to get to that outcome?
I think it is too early for the jobs council to be producing much. They have a very large plate of activities to accomplish from policy actions and business screening to data collection and working with the Executive Director of Economic Development. I know some of these people and have confidence that Helga van Eckert will be able to immerse herself into the job to accomplish what she can. A budget of $430,000 is pretty small for this effort. The members of the job council are knowledgeable people with good ideas and we need to give them some time to hash things out. Every report I read on economic development for some un-named city says they are going to focus on logistics, high tech, bioscience, and business services. In a global and wired economy, I'm not sure we can compete there at this time, even with Palm Coast's high tech fibernet up and running (but it certainly doesn't hurt). However, if they are to create a long term strategy, it must start with defining our internal strengths. I see a couple, Florida Hospital Flagler, the Flagler County Airport, Daytona State College, Sea Rays new boat lines, FAA Training Facility, the Lehigh Cut/Cement Plant Area, and Town Center. Next, identify those industries well matched for future growth and support them in any way possible to help them grow with focused marketing efforts. With no study to back me up, I'd say the two best bets are the airport and the hospital. Located right in-between the two is Town Center so if it benefits anything within this triangle, we need to be ready to make it happen through job based incentives. Unless the jobs are produced, the incentives are withheld has always been my belief, but again, that places us at another disadvantage with those places that can just write somebody a check. Think project Iceman and the two million dollar check Ft. Meyer's wrote that company to relocate there, plus they were provided a building to operate out of while they watched their new building go up next door. We offered two million in incentives. Ft. Meyer's wrote them a check for two million. How do we compete with that right now?
I suspect they will find out what ITT Industrial found out which was what Enterprise Florida found out which was we're just not ripe enough yet. But we're getting there. We came so close with the 2000 census to setting the bar to a new level missing the magic 100,000 population number by a couple thousand. Palm Coast's fibernet and Business Assistance Center is a plus. The county has clearly said they're open for business with their bold move on impact fees, and I'm starting to hear better news about the attitudes of governmental employees in helping people through the process. Palm Coast has the new medical offices, and Carrabba's. Last night at the Chamber business afterhours, I talked to three new businesses' coming into Bunnell and all mentioned how helpful the staff was at getting them through the process. This kind of good news moves through the internet at light speed and will only help sell Flagler County in the future.
How would I define success? Early on in the process, improving our visibility should be the first goal. Following that, seeing an increase of requests for demographic information about our area is a good measurement. Next would be number of contacts made asking for a visit to the area by site selectors or owner's representatives. When those numbers are on the rise, we will have a statistically better chance of achieving success in bringing projects to town. So to me, success isn't going to be we landed say 5 big corporate headquarters in Flagler County, but rather we're in the hunt for the possibility.
Should you be elected commissioner, will you be asking for a larger economic development budget? If so, how large would you go, and how would you fund it? And regarding your latter comments, are you suggesting that the smaller cities are doing a better job than Palm Coast within their governments to work with, and appear welcoming, to new businesses? Is there a problem with Palm Coast seeming off-putting to new businesses?
I'm not willing to ask for a larger budget until I see how we're spending what we've got. What we do know is the amount tasked at this point appears to be far less than what many other counties are throwing at the problem. However, we don't know how successful those other counties are and if they are really getting a return on their investment. We're making progress, and let's not forget that Palm Coast (and this is no slam to our sister cities) is the second largest city in Northeastern Florida. I believe as long as we don't let our finances get out of control, that we keep our quality of life standards high, and that we make every effort to demonstrate we are not only open for business, but will get you through the process in time to meet your needs, we will be just fine. It won't happen overnight. My comments on the three businesses just pointed out that within Flagler County, somebody decided to move here and was pleased with the effort. As for Palm Coast, there has always been the perception that the city makes things difficult. When you set high standards, often that is the case. I'm convinced you can maintain high standards and still be friendlier to the process. My suggested start would have been in the permitting review process as I suggested. I made that suggestion before, but there was no support for the concept. It will be up to the current council plus the new member to propose any needed changes after November 6th.

6. To what extent would you support paying for beach renourishment with county tax dollars, in Flagler Beach and elsewhere along the Flagler coast, if that's what the U.S. Army Corps of Engineers recommends?
By themselves, Flagler County tax payers will not be able to be taxed enough,… to fully implement any beach renourishment project at our current population levels. It will have to be heavily sponsored by, and paid for, with federal and state dollars which means they will have a big say in what the approved method will be, and what the "mission" of the approved project is to accomplish. For example, is the main goal the protection of A1A, or is it the creation of a broad beach with shallow slopes extending for yards out into the water?
Beach renourishment is inherently expensive. Barrier Islands, and Coastal Barriers share many things in common. They are the front line of defense for storms, they have scenic qualities, they offer recreational opportunities and they provide habitats and food for unique communities of birds, crabs and other species. They share something else in common, when miss-managed in the past, they are very expensive to maintain without allowing for some amount of loss and varying goals for success. Looking at old photographs from the 30s and 40s, it is pretty evident, Flagler County beaches have changed much since those days.
I've already made some extensive comments on beach restoration on Flaglerlive before and will not be repeating it here. What I will say is I still have many unanswered questions. The first and foremost being, "what is causing the problem?" Has long shore drift been interrupted further up the coast say at the new Summerhaven opening? Does the small groin system at Marineland have any effect on this transport? What about the coquina rock outcroppings along the foreshore in the middle of the county and northwards, what impact do those have? Does the pier in Flagler Beach re-direct waves causing more problems? Until we know what is causing the erosion, we cannot discuss the fix. If we don't know the fix, we can't estimate the cost. I am dubious of a number of possible means of restoration. I've asked for some very specific pieces of information at the TDC meeting with Mr. Homburg, but have not received any response to those questions. I've posed questions about why our beach seems to be different from almost every other beach along the east coast (a lot of coquina in the sand, not just quartz) and have no responses back. I've posed questions about the impacts of Nor'easters and hurricanes on recommended restoration methods, and have no answers yet. Any proposed fix must acknowledge the east coast is susceptible to high energy wave actions. Clark, in his book Coastal Ecosystem Management stated that it can be estimated roughly that for every 1 foot of wave height a storm produces, storm forces have the potential to scour the beach to a depth of 2 feet. Need proof this is a high wave energy coast. Go look for the missing 300 feet of the pier. With that as a given, and considering the natural process that allows a storm to overwash the barrier island isn't palatable, our options become more limited. Overwash is allowing storm surges to overflow the island depositing sand over the island rather than being eroded away and carried offshore. Whatever method is chosen, it must be able to withstand the impacts of these storms otherwise, we're just throwing money away.

7. Amendment 4 is the proposed constitutional amendment that would expand the homestead exemption to first-time home-buyers and cut in half (to 5 percent) the limit at which non-homesteaded properties may be assessed every year. The Florida League of Cities opposes the amendment, saying it will further reduce local governments' ability to raise revenue. Where do you stand on Amendment 4?
In my opinion, for this discussion, we should be including amendments 2, 9 and 11 as they all have similar impacts even though being applied for different groups in different ways. But, back to amendment 4, I don't think it can fully do what it sets out to do because it only affects one part of the governmental financing equation, that being property value remaining after exemptions. Remember the formula for the generation of funds to run government, Property Value x Millage = $ that government can spend. Local governments still control the other variable, millage rate. If the other side of the equation, the cost of providing government services, doesn't change, then I suspect many local governments will allow the millage rate to go up. If that increase in millage produces the same amount of dollars in the next year's budget as was found in this years, that would not be considered a "tax increase" by the normal definition and is called the roll back rate (and don't kill the messenger on that one, I'm just stating what everyone is told).
Here is the thing to remember about these kinds of deals. When you give something special to one, somebody else will have to make up the difference if government spending stays the same.
I suspect people will try to figure out if they personally benefit more than their neighbor, and if so, they will vote in favor of any given amendment that benefits their property. The result of that is a higher burden is placed on somebody else if the cost of government services stays the same (the roll back rate). I don't see how you can look at it any other way and this works the same if we're talking amendment 2 (homestead preference for veterans), 9 (homestead preference for surviving spouses of veterans or first responders who died in the line of duty) or 11, (age 65 or older, same residence for 25 years). I'm not saying any of these aren't nice things, but somebody will have to pay more to make up the difference if government spending isn't significantly reduced. That is my belief. By the way, impacts across the state to local governments are estimated at between 200-600 million dollars. Anybody willing to write that check?
Glad you mentioned the other amendments. And it appears you're against them, but you weren't entirely clear. Can you tell us in a few words whether you recommend against them or for them, as an elected representative?
I thought I was pretty clear. These amendments are pointed at specific special interest groups. Being that focused, other special interest groups will be left out and if spending stays the same will have to pay more. That's about all there is too it.

8. "Taxes are what we pay for a civilized society," Justice Oliver Wendell Holmes famously said. Do you agree? Do you consider local government taxes to be too high or too little? If there was one tax reform you could implement locally, what would it be?
It's a nice statement, but no, I don't necessarily agree. I think taxes are what we pay local government for services we cannot necessarily provide for ourselves. Are local government taxes too high? Some people like a manicured look and are willing to pay for it. Some don't mind looking at weeds. I'm on the side of keeping our towns and the county clean, free from unnecessary clutter, attractive, with regulations that hopefully protect values without being overly restrictive. If I thought my taxes were too high, I'd move. Would I prefer them lower? Sure, if I can maintain the same level of services I'm getting now. That's what we've been doing for four out of five years at the City of Palm Coast. I have issues with the number and cost of permits as well as the permitting process so if I wanted to make some changes, I'd start there but I wouldn't call that "tax reform". The taxing process for the county is what is allowed by the state constitution so I'm not going to argue "fair tax" or "no tax" or "flat tax" here. But when the economy is down and unemployment is high, I can't in good faith ask for more, one year to the next, while everybody is hurting. To me that means I'll be focusing on capital projects and those areas of the general fund where a percentage reduction can have a real impact on the total budget.
9. Has the county commission managed the taxpayer-funded Environmentally Sensitive Lands program well? Can you cite examples of good land acquisitions, and examples of not-so-good acquisitions? What is your definition of a good ESL acquisition?
This program, started in 1988 and reaffirmed in 2002 and 2008 has been a popular program using funding from voter approved property taxes to secure and purchase environmentally sensitive lands. It is having the same problem that all programs relying on ad valorum dollars are experiencing right now, a lack of funds due to lower property values and what I'm concerned about is having over committed on purchases based on a booming economy that doesn't exist right now, limiting what the program can now accomplish when property values are low. As to what is my definition of a good ESL acquisition? It is one that fully meets the requirements of the Environmentally Sensitive Lands Land Acquisition Manual.
The question was about actual, past acquisitions, rather than what the manual says: have they been wise, and within that framework, has the commission managed its limited dollars well?

What's done is done so I won't spend much time blasting the past. I am proud Flagler County citizens continue to support this program. That being said, I'll give you a project I wasn't impressed with from my notes I prepared at the start of the election process.
Multiple numbers are out there, but why spend 3.2 million to purchase land bought by the developer for $1.8 million which has a current land value of $1,726,637? Who do you think got the good deal here? The issue isn't as much the price, but rather the potential to ever be developed necessitating the need to purchase.
This isn't the 1960s anymore. The ability to develop that property under the currently regulatory framework and county Comp plan is as likely as me discovering the secret to warp drive because I'm a Star Trek fan.
It's not 2005 either. We are not rolling in cash. We must wisely use these funds.
I do not believe the mitigation bank opportunities will exist to any great degree, and never pay for the amount of money taken from this fund in the long term.
The estimated returns per credit of the mitigation bank I believe to be greatly exaggerated.

10. Last May the Volusia County Council approved a domestic partnership registry, granting unmarried couples, including gay couples, the same benefits as married couples. That means partners can visit each other in hospitals and jails and can make funeral arrangements for each other. Would you be supportive of such a registry in Flagler County? If not, why not? If yes, would you be willing to lead the initiative from the commission?
Not having read the registry documentation myself, I would have to take you at face value in your description of the initiative. It if is designed to accomplish what you present and nothing more, I can't imagine not supporting it.

11. Evaluate the performance of County Administrator Craig Coffee, listing strengths, weaknesses and areas of concern.
To be fair, while I've developed a good working relationship with Mr. Coffee during the time he's been here, I do not as of yet have enough inside the office workings to give a detailed review as I would with Mr. Landon, the mayor, or my other friends on council. What I have seen is he represents the commission well in public meetings, is responsive in calling back when requested, has been polite and as factual as he could be with the information available at the time, and represents the position of his commission even if it places himself at the pointy end of the spear. That's what a good manager does. If I would have any concern, it would be the same one I have with any manager and that would be charging off in some direction without securing a buy in from the commission. I also have a concern with committing significant funds to design projects without having an approved buy in from those that will have to pay for it down the road, especially if we're talking about the creation of a special taxing district (STD). I'd rather have the buy in from the STD first, and then go spend the tax payer's dollars on the fix, not the other way around. Lastly, I'd like to see the professional staff do more design work taking less projects out for bid. If you have a professional staff, they should be providing this kind of professional service for our citizens, not merely project management work. We have a good staff with a lot of knowledge. Let's turn them loose to see what they can accomplish.

12. Evaluate the workings of the county commission: do you consider it an effective local government? Can you cite specific examples of its effectiveness—or areas of concern that you would deal with differently? Are you satisfied with the way the commission and its administration relate to the public?
Overall, I'd say that the Flagler County Commission has done a very good job in trying to provide an effective local government during very difficult economic times, even considering the issues with the budget this year. They, like me know that once you've been there, you know how difficult it is to accomplish that task and believe me, I've been there with the City of Palm Coast. Balancing concerns, adhering to land development codes and the law, providing services as needs become apparent, are all challenges, especially with the reduction in property values we've all experienced over the last four years. For example, it was a difficult task to free up some funds just to build a fence in the "R" section when the people on Richardson Drive were complaining about kids cutting through their yards from Ralph Carter Park. Many didn't feel safe. It took some prodding, we were told we didn't have the money, but I, and the others heard their call, and took appropriate action. It's the ability to know about the problem, find a way to resolve the problem, and then fund the fix. That makes for good government to me, and to do so without blowing the budget is an added plus. The dog park repairs were similar. Unbudgeted, but a need was present. Being unbudgeted, we were being told we just couldn't do it. Working with the manager, we found a way to do it anyway.
One effective area was the joint private/public workings on the initiative to get a well out to the Daytona North area. I thought Commissioner McLaughlin's efforts on this project, coupled with the help of Mr. Coffee and his staff, provided the kind of service to our citizens that government should provide, in this case, a safe and reliable source of drinking water.
One area of concern was the result of staff's recommendations for Marineland Acres Special Stormwater Treatment overlay zone. It requires on site, by each individual parcel stormwater detention for all new impervious areas capable of handling the volume of stormwater from a 2.5 inch rainfall. Individual stormwater systems for individual lots look great on paper, and rarely work in application. Typical problems with this approach happen when the property is sold. A new owner comes into play, doesn't like the depression in the back or front yard, fills it in, or places a shed, swing set and bird feeder there reducing storage volume. Often, this leads to unnecessary "Hatfield/McCoy" type arguments between neighbors with agencies brought in to prove who is right and slap the other with a fine or remedial action. I would have liked more discussion on other options are available to provide relief in the area starting with actions for dropping the water level quickly after a storm event such as re-establishing the backbone of the system and using portable pumps to quickly drop the water table providing more storage.
As for how they relate to the public. Like all public officials, they are respected by some and denigrated by others. I think they appropriately, fairly and enthusiastically represent Flagler County bringing a diverse set of skills together looking for solutions to equally diverse problems.

13. Who, on the current commission, would you most closely model yourself after and why?
I don't try to model myself after anybody. My life history experiences, the places I've lived, my family both extended and near have all had an impact on who I am and what I do. Everybody's life experiences are different and for that reason, commissions are comprised by multiple personalities with different experiences all brought together for the common good of Flagler County.
Let's rephrase the question: whose policies on the existing commission do you feel best align with yours?
I'll play along and paraphrase it back to you. Anybody who has fiscally conservative policies and is willing to adjust the budget to meet our needs and responsibilities with no fluff best aligns with my policies. The difficulty is finding where the fluff is.

14. Describe your temperament, including your best qualities as a member of a collegial group, and what's likely to irritate or frustrate your colleagues most about you?
I find my temperament even, with a slightly humorous side. I like research and digging into the variety of issues that come before local governments. I prefer mediation to confrontation; I prefer building relationships as opposed to tearing them down. Sometimes I ask the uncomfortable questions others are thinking but won't ask themselves just to get some feedback. I get disappointed if in asking leading questions trying to solicit discussion, silence still remains supreme. Often I'll motion to move a controversial project just to see if there is a willing second in order to get to a decision instead of sitting there looking at each other in silence. Doesn't mean I like the project, I'm just tired of waiting for somebody to say something. I prefer working from notes instead of extemporaneous speaking as I prefer speaking from my research instead of winging it. I like to think things over instead of shooting from the hip. I'm harder on myself than I am on others having been brought up with the concept that "good enough, never is". One can always do more and I find it a hard stick to measure up to at times.

15. The following questions were submitted by Frank Meeker's opponent, Abby Romaine:
i) Have you complied with the requirements of the Hatch Act, the federal law that requires that an individual who, in the course of their employment, works with federal funds, resign to run in a partisan race? If so, will you immediately produce the advisory opinion from the Office of Special Counsel which expressly states that you are compliant with federal law?
As you know having had to leave your local government experience with Flagler County after four months because of the Hatch Act, it only applies to employees of the state, who are more than casually funded through federal grants, and those in senior select service. I'm neither and it is my belief that I too have complied with my understanding of the spirit and intent of the Act. The Office of Special Counsel has not yet produced their findings. Of course if it existed, yes I'd produce it. But as of right now, as I'm responding to this, it does not exist, and therefore I accede to your request.
ii) Why did you accept a majority of your campaign funds from developers and other special interests (such as the entire executive team of the international forestry and development company, Rayonier) that have significant business before local government and your current employer, St Johns River Water Management?
There is some interesting irony here. Much of your campaign contributions have come from the Über-wealthy on the east side of the Intracoastal (Hammock Dunes, Island Estates, Hammock Beach). Does that mean you will not try to represent the middle and lower class folks on the west side of the Intracoastal here in Palm Coast? Of course not. We both would be working for what we believe is best for all of Flagler County.
If you have reviewed my resume, you'll note I have in combination over 34 years of private, public and local government experience considered by many to be very extensive. During some ten years of my private work, I was employed by ITT Community Development Corporation (ITTCDC). During that time, our sister company was ITT Rayonier. ITTCDC does not technically exist anymore, and Rayonier is not an ITT subsidiary anymore. Personal relationships last years and when you have developed your career to this length of time, you too will have the same opportunities to network like I have. When I decided to run for county commission, I naturally went to those I have known in the past. This included consultants, professionals, engineers, hydrologists, geologists, land planners and environmental consultants from Orlando, Daytona, Gainesville, and Jacksonville as well as Georgia, North Carolina and Pennsylvania to name a few. Some of those people are still at the same locations and companies, some have moved on to other companies and due to the kind of economic times we're in, some not only moved to a new company, but also located out of state. Many are now executives in their new firms. I asked for their support. They said yes, and some even asked their friends in their new locations to support me based on their statement of my character, knowledge and experience. Some, based on that recommendation, sent campaign contributions not even knowing who I am but trusted their co-worker's opinion. I have no contact with Rayonier at the District and their relationship to local government so far has been the generation of a large scale development in a conceptual stage which was reviewed by numerous state agencies and local governments and with respect to the City of Palm Coast was approved 5-0.
iii) With respect to conservation lands owned by one of your supporters, why did you vote recently to rezone such lands to commercial zoning?
I am not aware the person representing Grand Living was one of my supporters as I have not asked him about that, but I have known Mr. Cullis for a number of years during his tenure with the Grand Haven Development.
That being said, there is some vagueness and a number of errors in this question. You seem to be confusing areas within the overall plan where changes were made and I'll try to clarify the actions of the council. I'm trying not to go over everything we covered but I don't remember you being present at either the Public Hearing/Business Meetings or our workshops, so I'll just give a brief summary and see if there is a follow up.
During the two public hearings on the Grand Living Project, it was pointed out that lands along Colbert Lane already had a commercial designation which came in as a vested right going back to when the county was running land use planning issues for the Palm Coast Development (we weren't a city at that time). This vested right also included a higher, more intense commercial use on that property, which included taller buildings. That vested right runs with the land and when Palm Coast became a city back in 2000, we adopted our own land development codes some years later, and based on those codes, we needed to clean up some outstanding planning issues for these lands.
Basically, what the council approved was a down zoning to a less intensive, lower level of commercial use, and lower building heights along Colbert Lane. From a land use and zoning stand point, down zoning usually is preferred over more intense uses. We also took steps to eliminate a connection to Blare Drive and allowed only a very, very small wetland impact over the entire project.
The other area I believe you may be discussing, about 16 acres in size, was not originally zoned conservation. That area was originally zoned Green Belt. The Green Belt designation allows for the construction of one unit (a single family home for example) to the acre. Also, we did not change this areas designation from Green Belt to commercial as you allude in the question. The Council, again in a 5-0 vote, changed the land use designation of these 16 acres from Green Belt to Conservation. Doing this removes these lands from the possibility of being split into 16 large lots with single family homes sometime in the future. This also secured some access for drainage maintenance in the area. We as a council believed the change from Green Belt to a Conservation designation, along with a conservation easement in favor of the city, would lock this land down preserving it in its current natural state in perpetuity. I'm convinced this was the right thing to do for these 16 acres and the decision was consistent with our land use policies and regulations as well as other conservation efforts pushed for by this council.