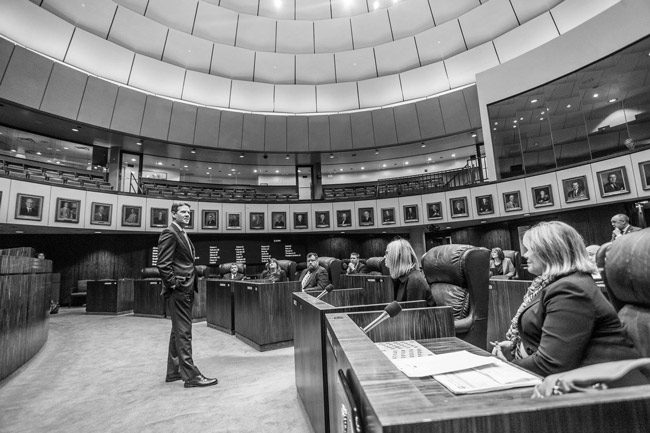 A philosophical schism is plaguing a fractured Republican Party leading up to what insiders characterize as potentially one of the most contentious legislative sessions in modern history.
Gov. Rick Scott, the "jobs, jobs, jobs" politician in the middle of his second term, and House Speaker Richard Corcoran, a GOP firebrand who's turned the capital city establishment upside down, have engaged in a public war in advance of the 2017 session that kicks off next Tuesday.
"I'm doing this 44 years. This is as adversarial as I think I remember ever seeing it," veteran lobbyist Ron Book said in a recent interview.
The duel between Scott and Corcoran is rooted in state spending on economic incentives and tourism marketing, issues the governor — first elected in 2010 as a Tallahassee outsider — has established as a cornerstone of his legislative agenda this year.
Scott is pushing for $85 million for Enterprise Florida for business incentives and $76 million for Visit Florida. Corcoran opposes the funding and has gone so far as to back abolishing the public-private agencies, though the House has offered a bill that would keep alive Visit Florida with changes and leave a question mark about funding.
Scott has taken the unprecedented approach — at least for nearly four decades — of targeting, with robo-calls and speeches Republican lawmakers who've crossed him.
"I'm never going to understand politicians," Scott said Monday in an interview with The News Service of Florida from Washington, where the governor's schedule included a private visit with President Donald Trump.
"As I go around the state and explain how House members are voting, their constituents are shocked," Scott continued. "I look at this as we've got a whole bunch of politicians in Tallahassee that, I don't know why they do what they do. I know how I was brought up. I know that I've revamped both Visit Florida and Enterprise Florida. I know I've brought in leadership that is focused on doing the right thing. So my job is to keep doing what I got elected to do. I can never understand why somebody would take the position they are taking."
Along with his attack on Enterprise Florida and Visit Florida, Corcoran has upset the Tallahassee establishment with what he calls an effort to shine a light on relationships between lobbyists and lawmakers.
And he's alienated not only the lobbying corps and the governor but Senate leaders by changing the House's budget process regarding local projects, sometimes called "turkeys."
Corcoran, a Land O' Lakes Republican, characterizes Scott's sought-after tax incentives as "corporate welfare" undeserving of money from working-class Floridians.
"What we're saying, from a House standpoint is these are our principles. We've laid them out for you guys over and over and over. These are our principles. This is what we believe. This is our philosophy. And we're going to govern according to that philosophy. That's what we're going to do," Corcoran said in a recent interview.
Corcoran, a lawyer, recently credited Scott with hiring him after what the speaker referred to as a crushing defeat in a state Senate race years ago. He blamed the antipathy between the two leaders on perception, rather than reality.
"It's a perception that creates a view that somehow this is going to be a difficult session. I don't think it is. I think we're on pace to have an easier session. Getting along with the Senate, getting along with the governor, those are relationships. And those relationships take cultivating," Corcoran said. "Knowing the rules of the game, and having all of the participants play according to those rules, always ends up a more enjoyable game, a more peaceful game, and the outcome's always going to be good."
The animosity between the two GOP leaders has reached proportions that have involved dueling videos, including one in which the governor blasts Corcoran as a "career politician" and a lawsuit filed by the speaker against Scott's administration over a lottery contract.
"I wouldn't be honest if didn't say that it's disappointing to hear the governor use that kind of rhetoric, that he's going to go after principled conservatives who are following what they firmly believe are their principles and they're doing it in the way that was afforded to them by the people who sent them, and for the reasons they were sent. So it is disconcerting," said Rep. Jose Oliva, a Miami Lakes Republican who is Corcoran's chief lieutenant and who is scheduled to become speaker after the 2018 elections. "I wish some of the reactions would get toned down, I expect that at some point they will."
While Scott, widely rumored to be eyeing a run for the U.S. Senate in 2018, seems to have planted his flag around the incentives issue, Corcoran — who is considering a bid for governor next year — is on an ideological crusade, a contrast to leaders' typical agendas that rely on legislative horse-trading during the 60-day session.
"Cleaning out the garage is not the sexiest thing to do. It is much sexier to build a bridge or name a road or do something. But I can tell you cleaning out the garage is the most necessary function. Government grows, and if the only thing you add to it is further growth, even in a macro sense, you're part of an ongoing problem," Oliva said.
Oliva painted what he referred to as the "current enthusiasms" as "healthy," but some insiders, including longtime lawmakers, remain skeptical, even while acknowledging that the Legislature's only constitutional job is to pass a balanced budget.
The Senate remains almost on the sidelines as the row between Scott and Corcoran takes center stage, something Senate President Joe Negron's allies view as a positive.
"This isn't a reality TV show. We're here to do the people's business, not to make splashy headlines," Sen. Rob Bradley, R-Fleming Island, said recently. "The Senate's approach is modest and simple. That is, we're going to do the people's business. We're going to exhibit fidelity to the Constitution. We're going to get our work done on time. And then we're going to go back home to our jobs."
A successful and timely conclusion to the 2017 session will require the Senate and Scott to recognize that "it is not a productive use of time" to try to persuade the House to concede on philosophically grounded issues, Book advised.
"To them, compromising on those principled things is just not part of their vocabulary," he said.
Staking out an ideological position early on while not having a legislative agenda "is a very powerful posture" for Corcoran to be in, according to Jim Eaton, a longtime lobbyist who, like Book, once served as an aide to former Gov. Bob Graham.
"The speaker here is occupying high ground because he doesn't want anything," Eaton said. "But the governor needs to learn how to get what he wants done and what he thinks is a priority of the state and maybe occasionally accede to the wishes of the speaker or the president or the other members (of the Legislature)."
The Senate president also suggested that what might matter in the end is not what divides himself, Scott and Corcoran, but one of their commonalities: All three are lawyers.
"We all realize there's a time and place for debate, there's a time and place for trying to make your point in a colorful, persuasive way, and then there's a time to get job done — a time to do what the people sent us here to do," Negron, R-Stuart, said.
–Dara Kam and Brandon Larrabee, News Service of Florida