Living up to an early-summer ritual, Flagler County students are returning from the annual Future Problem Solvers' international competition big winners again. Competition ended Sunday at the University of Wisconsin in Lacrosse, where some 50 students competed from Flagler Palm Coast High School, Bunnell Elementary, Rymfire Elementary and Indian Trails Middle School.
Two teams from FPC won big: just as they had at state competition in Orlando earlier this year, Sierra Bice, Nicole Perilli, Kayla Colandrea, Mia Scarcella, Ethan Bellinger and Rida Muneer were named Grand Champions for their project, "Reaching for Relief." The project, put in practice at Halifax hospital in Daytona Beach, consisted of packaging comfort goods and guides about the lay of the land for families and friends of the sick–families and friends who spend long hours in waiting rooms with little to do, and often with little knowledge, should they be visiting from elsewhere, of where to go to dine or to take a break. The goods are positioned in the pediatric and neo-natal intensive care units.
All the goods and materials for "Reaching for Relief" are acquired or purchased through donations, and renewed on a regular basis–with 50 personally embroidered tote bags every month (the members of the group embroider them themselves). "We did our own fund-raising for this," Muneer said in April, while raising money for a different purpose–to get to Lacrosse, noting that the group also partnered with NASCAR. "Fund-raising wasn't really an issue because pour community was very generous with us."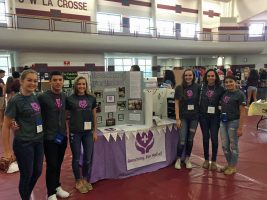 A few members of the group had personal experiences that inspired them to put the project together.
The second team that won big was that of Janine Jao, Jayson Dwyer, Aaron Carll, Michael Pierre, Zach Verdi and Sarah Main, who won first place in the human services category for a project called Pandemic. They built and positioned bat houses in various spots around the county, getting private property owners to volunteer to have bat houses in their yards. The goal: to find a natural way to fight the Zika virus in the county, without using pesticides. Since bats devour mosquitoes at the rate of 3,000 per bat per night, and since Zika is carried by mosquitoes (a very specific sort of mosquito), the bat houses are like a mosquito suppression team.
And Bunnell Elementary's Project A.C.T.E.D., a grand champion winner at state competition, won second place in Lacrosse in its category. The acronym stands for Adolescents Coping Through Effects of Divorce. The project was the work of Jack Gilvary, Chloe Long, Zachary Bennett, Josephine D'Elia and Grant McMillan.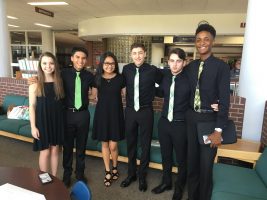 There were other team and individual winners, including from Bunnell Matthew Nevod, Tristan Skinner, Veronica King and Lucy Noble, who won 5th place for a project on global issues that competed against 63 junior teams, and Daniella Fernandez, who won in an individual competition. But the list of winners is still incomplete and will be updated here as the names are confirmed.
School Board member Andy Dance, who usually goes to international competition (his daughter Kayla, a veteran competitor, graduated high school this year but is planning to be an evaluator at state and international competitions, as have been previous graduates from Flagler), had too many upcoming commitments this time.
"I would have loved to have been there I had all intentions of going but I had a whirlwind of events all compiling at the same time and I had to stay home and take care of things here," Dance said. But he put in his usual salt-mine duties, raising money for the teams through his pink-flamingo yard flocking operation, and today he set himself up at home with three devices to watch the live webcast of the awards and closing ceremonies, and to keep his social media audiences updated to the minute through Twitter and Facebook.
It was going very well until the webcast feed died, so he ended up having to catch up through the teams' individual Facebook pages and later direct reports from members. Since Dance is the official record-keeper of all things FPS, the official list of winners will await his updates.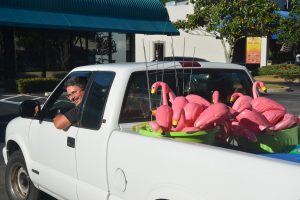 Meanwhile, he termed himself "very proud of the students. We had some amazing projects, even those who didn't place can be proud of what they did." For example, one project that appears not to have won (and very surprisingly so, as it had been Grand Champion in Orlando) was Rymfire Elementary's Project THINK, a mentoring program created by elementary students for new students at the school who may feel disoriented. The program assigns students to new arrivals and has them shadow them as needed for months, to put them at ease in their new school. Former Superintendent jacob Oliva was so impressed that he wanted the program adapted in other schools. It was the work of Ben Kopach, Jake Blumengarten, Jack Petocz, Cameron Driggers, Victoria Ganung, Madison Murphy, Cadyn Herndon, Maken Harding and David Trajillo.
Dance said all the projects' value can be measured by the direct benefits they had in the community, essentially living up to what Future Problem Solvers' projects are meant to do: solve problems in pragmatic, adaptable situations. Dance called the projects' benefits "astounding."