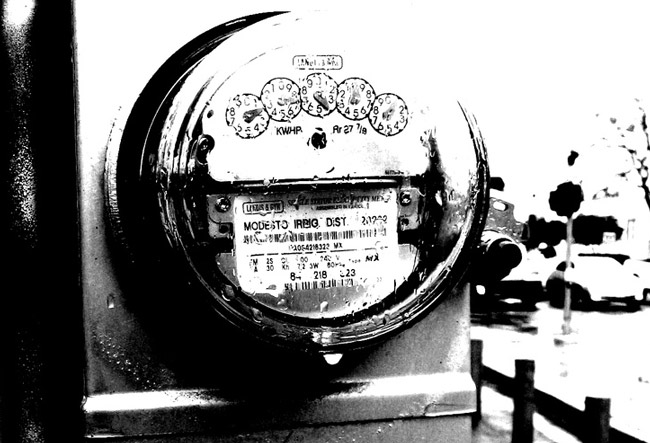 The smart meters are coming.
Florida Power & Light, which has installed the controversial meters in about half the state so far in its $800 million upgrade, is beginning to install the meters in Flagler County this month, and will continue to do so through the end of summer, fitting almost all its 50,000 customers with the new devices.
Coincidentally, the Florida Public Service Commission staff on Thursday is devoting a daylong workshop to smart meters and some of the controversies they've generated, in hopes of answering questions about the device's health effects, privacy matters, data security and smart meter alternatives, according to a brief agenda circulated by the PSC.
The workshop will be televised through the web on the PSC's website (at www.Floridapsc.com) and through Flagler County's website and cable TV channel, as well as through the Florida Channel, which is also available on the web.
FPL's Honeywell subcontractor technicians will be installing smart meters at all its customer sites, but FPL is giving customers the option of refusing installation by contacting FPL first. Those customers' meters will remain unchanged until the middle of 2013, DFPL spokeswoman Elaine Hinsdale said today, when FPL will then decide how to proceed. By then, the Public Service Commission will presumably have clarified the matter. Meanwhile, installations will go on, although FPL doesn't have a precise route mapped out.
"We're moving from the southern area to the north," Hinsdale said, "so one could surmise that our meter installation will begin coming up from Volusia County into Flagler with our team, but it really depends on where they are staging the meters and where the contractors are coming from, because we use contractors to install these meters."
Hinsdale recommends that homeowners and other FPL customers ask meter installers for proper Honeywell identification, which the contractors should have on their vehicles and on their person. "If they have any question they can simply call FPL, that's why we sent the fliers to our customers, they can call us, they can go on fpl.com," Hinsdale said.
A small but loud group of Flagler County residents, with a sympathetic following among tea party and like-minded groups, lobbied the Flagler County Commission to adopt a resolution similar to one passed in Port Orange earlier this month asking the PSC to make smart meter installation the choice of the home-owner. FPL says it already is. But home-owners have to actively op-out of the program in order to not have a smart meter installed at their home or business. Port Orange is asking the PSC to require customers who want a smart meter to opt in instead. That would mean that no customer would be on the smart meter list except for those who actively seek out the meters. If the PSC agrees, FPL fears that far fewer people would end up with smart meters.
The Port Orange resolution, of course, is mostly moot, pending action by the PSC: meters are the property of FPL, and FPL customers are essentially in a contract with the utility company, agreeing to  the company's rules–and technology. Since electric utilities are monopolies in places (FPL customers can't drop FPL and choose a different provider), the PSC serves as a regulator, speaking on consumers' behalf (when the Legislature or the governor, who appoint PSC members, don't game the PSC board in favor of the industry, as they have on occasion in the recent past).
Flagler County Commissioner Nate McLaughlin, who sympathizes with the opponents of smart meters, brought up the issue of opt-outs and opt-ins at a commission meeting in  May, when 3.3 million smart meters had already been installed on FPL customers' walls, and tens of millions more across the country.  His fellow commissioners rejected his suggestion that the commission send a resolution to the PSC asking for an opt-in provision. The commission agreed to an opt-out instead, which was already in place. (Read the account of that meeting here.)
So far, about 14,000 customers, or 0.3 percent of FPL's total customer base, have refused smart meter installation. FPL is asking the PSC to allow it to charge customers more, should they decide to stick with the old meters. "Assuming a modest number of customers maintain refusal to allow FPL to install smart meters," FPL states in its presentation to the commission on Thursday, "the FPSC should assert jurisdiction to implement a program in which FPL will be authorized to recover all costs associated with maintaining an alternative metering process." FPL adds: "It would be unfair to ask all customers to subsidize the costs incurred as a result of other customers' decisions." (See FPL's full presentation to the PSC here.)
It was the Public Service Commission that approved the use of smart meters in 2009, and directed FPL to begin installing them.
Smart meters are part of the modernization of the nation's electric grid. They send signals to the utility company, streaming data about power usage in the home or the business. They allow quicker detection of power outages. They provide daily or hourly summaries of energy use, and allow a home to know when it's using electricity at peak time versus non-peak time, eventually allowing customers to calibrate their use of electricity accordingly–and save money, because utilities could charge more for peak time use. For the utilities, that sort of more efficient use of electricity would reduce wholesale consumption of power, and reduce the need for additional power plants. One survey found that utilities are generally not prepared to handle the flood of data smart meters produce.
In the earliest roll-out of smart meters in California, in 2008 and 2009, many complaints had to do with the accuracy of the meters, not their health effects or their impact on privacy, Customer after customer documented sudden surges in their monthly electrical usage that contrasted sharply with their historical usage.  Dozens such customers turned up at hearings organized by state or local lawmakers. The state legislature in California convinced utilities to bring in independent auditors to ensure that the devices were measuring electrical use properly. Eventually, claims of inaccuracy evaporated, especially after the release of an independent study affirming the accuracy of the devices by a Houston-based energy consultancy.
Opposition then mobilized around the potential health hazards of the smart meters. While the bulk of the opposition was formed of conservative and tea party adherents, greens usually associated with the left have also been among the opponents. That opposition cites fears that the electromagnetic radio frequencies emitted by the smart meters are dangerous, and a health hazard. No serious studies have shown that to be the case. But no serious studies have entirely ruled out the possibility of health hazards from any form of electromagnetic radio frequencies, either. The bulk of available studies, however, endorse the safety of smart meters.
In that regard, the smart meter controversy is similar to the "controversy" surrounding global warming: the scientific community overwhelmingly agrees that man-made global warming is real, that it's affecting the atmosphere and the environment, and that it is resulting in dire consequences. (On Wednesday, for example, scientists revealed, according to the Times, that "The amount of sea ice in the Arctic has fallen to the lowest level on record, a confirmation of the drastic warming in the region and a likely harbinger of larger changes to come.") Yet there remains a staunch minority of global warming deniers who still claim considerable hold on media and the public. Smart meter opponents and global warming deniers likely intersect more than not.
The California Council on Science and Technology in April 2011 released one of the few studies focused on smart meters. It concluded that "smart meters, when installed and properly maintained, result in much smaller levels of radio frequency (RF) exposure than many existing common household electronic devices, particularly cell phones and microwave ovens." Also, that "to date, scientific studies have not identified or confirmed negative health effects from potential non-thermal impacts of RF emissions such as those produced by existing common household electronic devices and smart meters." But the study notes that not enough is known about such radio frequency emissions "to identify or recommend additional standards for such impacts." (See the full study below.)
Several communities, especially in California, have passed laws opposing the meters. Those include the towns of Fairfax and Watsonville, Santa Cruz County and Marin County. (Read Marin County's Ordinance opposing smart meters here.)
In California, the meters cost about $220 apiece, including the cost of installation. But the savings, to utilities and presumably to customers, should be immediate: utilities estimated three years ago that it cost 50 cents a month to read each old meter–likely more with the rising cost of gas. In Flagler County alone, that would mean the monthly cost of meter reading was $25,000, or at least $300,000 for the year. Replicated over the state, FPL stands to immediately save millions of dollars a year in meter-reading costs. Also, shutting off a customer's electricity will also be done by remote control, further saving the utility manpower, therefore money.

The California Council on Science and Technology on Smart Meters Safety and Health Hazards
The California Council on Science and Technology on Smart Meters Safety and Health Hazards