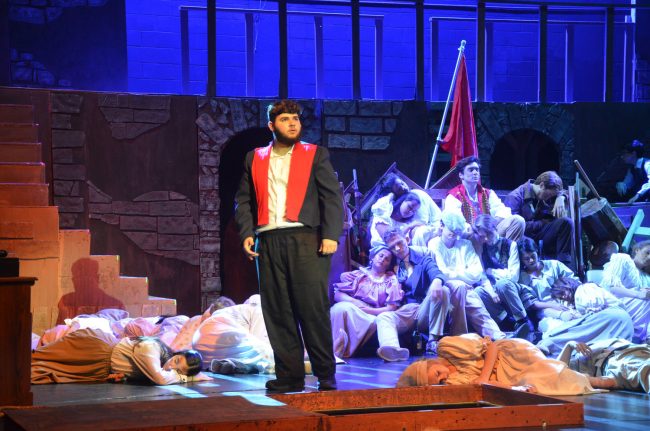 It's sheer energy, constant singing, wrenching, evading, loving, dying, laughing, shooting, marrying and more singing: "Les Misérables"–or "Les Miz," as it's been known since Alain Boublil and Claude-Michel Schonberg in 1985 turned one of the most famous novels of all times into one of the most famous musicals of all times–is opening tonight at the Flagler Auditorium, staged by no fewer than 57 Flagler Palm Coast High School drama students under the equally energetic direction of Kelly Rivera.
It doesn't look it from the lavish sets and wardrobe that immerse you in early 19th century Paris, but the $17,000 production was still stitching up a few of its countless costumes this week (one of the orders didn't deliver on time so Costume Designer Jan Kinnaly went into improv overdrive). Wednesday's final rehearsal seemed more like a performance the students have had in full command for weeks, even though all they got, all told, was five weeks of preparation.
"I used to joke that I would never direct 'Les Misérables' with a High School cast, because I would never get that many skilled singers at once," said Rivera, who saw her first Miz on Broadway when she was 16: it was her second-ever Broadway show. "I was wrong. I have always loved the show, and every year I look at not only what I would enjoy directing, but what is castable. I knew for the first time I finally had enough to build a base potential cast, then decided to go with the 'if you build it, they will come' concept. I'm so glad I trusted that, because performers came out of the woodwork, and every single actor really brought their all to the auditions. Our program has built to the point that we have ensemble members in the cast who could easily handle a lead role, we just ran out of them."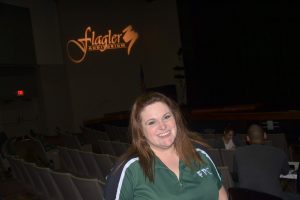 You could hear Rivera's enthusiasm as she watched the show Wednesday, taking notes without once interrupting the flow, reveling in her actors' performances with laughs enough for the whole theater or with equally telling silences: "I have been moved to tears during our tech runs, just standing in awe of what they are capable of," she says, an echo of Hugo's line in the book: "Those who do not weep, do not see."
She credits Jack Neiberlein's "indispensable" technical direction and set and light designs, and for a role that explains the seeming flawlessness and student-led self-sufficiency of Wednesday's rehearsal: "Our shows would not look this professional without his artistic eye and expertise, and he has taught his students to be completely self sufficient when running tech for our productions," Rivera says. "His new assistant, Cole Sever has been a joy to work with on sound, ramping up the level of what we are able to accomplish in the space. And of course, Sara Horton, is an amazing assistant Vocal Coach." (Horton calls Rivera her mentor, though both have their master's in vocal performance.) The musical is the student version, a little more than an hour shorter than the three-hour original that premiered in 1985 and that's undergone a few refreshers since. It dispenses with any spoken dialogue, diving straight into the Schonberg score and Herbert Kretzmer's lyrics, to the performers' delight. " I grew up loving this show and this role," says 16-year-old junior Isabella Scarcella, who plays Fantine. "I would walk around my house singing 'I Dreamed a Dream' constantly, so this is a dream come true for me."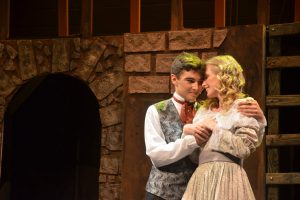 There's a sublot in play here: "I started acting when Mrs. Rivera actually invited me to be the only 2nd grader in her production of 'The Jungle Book' at Bunnell Elementary School," Scarcella says. She's been in shows ever since, and in every show at FPC. She plans to study PR and theater possibly at the University of Central Florida or Florida State (she has time to decide).
Rivera calls her Bella. "I have taught her since Elementary school, and she is a class act and a leader all the way. She is also a stunning Fantine," Rivera says.
Other leading actors echo Scarcella: " I have always loved music and acting ever since I was a little boy and when I started performing I fell in love with being on stage and entertaining people," says Nick Aiello, the 17-year-old junior who plays the fulgurant Jean Valjean, a role he says he used "personal struggles" to get into and relate to "his journey from nothing to something."
Jean Valjean is the heart of Hugo's story. He is a romanticized criminal: he stole bread to feed his sister's children, was imprisoned, then tried to escape. He's finally paroled, violates his parole with a new theft, but has an epiphanic turn-around when a priest protects and forgives him. Exemplary as he tries to be–and is–Jean Valjean spends two decades living a double life and trying to escape his fate, and to escape Inspector Javert, who doesn't believe in redemption or rehabilitation. Valjean becomes the archetype of dignity and honor, saving lives, inspiring loves, personifying revolutions of hearts and minds.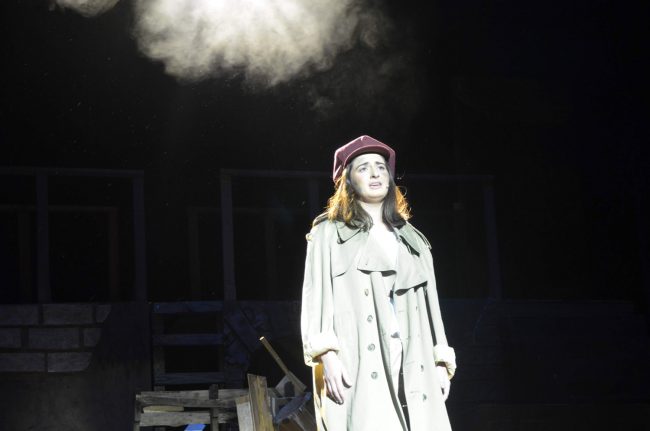 "What I see in Valjean is a very misunderstood man who has a heart as big as the sun and he cares more about others than himself. And I want the audience to see how much others around him influenced him for the better," Aiello says. (He's planning on a master's in theater.)
But Javert, whose fundamentalist DNA is in the blood of every strict constructionist, thinks of Valjean as one thing and one thing alone: once a criminal, always a criminal. Law and order for Javert is dogma, an inviolable system where goodness is irrelevant.
Javert is played by the naturally ramrod Tj Hawkins, a 17-year-old senior who's been acting since he was 6 ("I have had a few too many roles to count," he says with Gerard Depardieu-like modesty), citing a Shakespearean role as his favorite. His entire family is in the performing arts. "It's a part of me, it's in my blood," he says. He needs that blood for his Javert role opposite Jean Valjean, one of the great dramatic duels of all duels.
"I do not see Javert as simple antithesis," Hawkins says. He's clearly contended with his character. "The way i see Javert is a man who truly believes what he is doing is right. I don't think he is evil or a bad person, i think he is misunderstood and extremely stubborn. In the original broadway track of Confrontation Javert says he was born in a jail and raised among 'scum like Valjean,' so imagine how that would alter a person's developmental upbringing."
So when Jean Valjean extends Javert a lifeline, literally saving his life when he could have taken it, Javert is not grateful so much as shattered: his infallible world view has failed. He's experienced the grayness of a man both good and bad. He can't bear it. He jumps in the Seine.
"The way I interpret his suicide is Javert is having a complete cognitive meltdown," Hawkins says. "Everything he has ever known or told to himself to get out of bed in the morning and put on that very large police hat on is being tested and in his entire life nothing has ever tested him like this. He cannot comprehend the fact he is wrong and everything he's ever known might be wrong and it scares him. He is so scared by the fact his world is about to completely change that he makes the decision to end his own life rather than face the truth." (Hawkins's seriousness begs an answer to a question he was also posed: to what Palm Coast restaurant would he take Victor Hugo? He said Zaxby's.)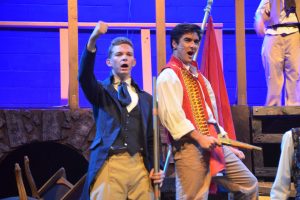 The Jean Valjean-Javert story is the nave of Hugo's cathedral-like story, with that of Fantine and Cosette its transept and an innumerable number of characters that form the surrounding buttresses: Fantine, a character as French and as romanticized as Joan of Arc, is the orphaned girl forced into prostitution to support her daughter Cosette: she is mother, whore, saint and martyr all in one–basically, what Joan of Arc would have become had she not burned, considering the sort of society she was living in, a society not much changed a few centuries later.
"Fantine has so much depth to her. I personally find her quite inspiring. It's amazing to see all the lengths she would go to for her daughter," Scarcella says of her character. "She is poor but still honest, which juxtaposes others like the Thenardiers, who are also poor." (The Thenardiers are secondary antagonists who reflect the cruelty and vindictiveness of working class envy, in a bit of a caricature that also works to lighten the mood.)
"This kind of represents that poverty doesn't always mean resorting to greed and crudeness," Scarcella continues. "Fantine is a representation of beauty and hope, and the audience has to watch her deteriorate before their eyes. As she deteriorates, so does her youth, innocence, and hope. This compels the audience to feel sympathetic for her because she didn't really do anything wrong, yet she suffers greatly. So I wouldn't say she is overly romanticized, but she is to an extent and that's why we sympathize with her. There's not many characters out there with a similar story like Fantine's. I'd say that she's very unique in her desolation, alienation, and loss of hope."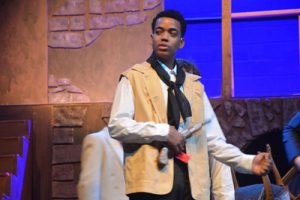 Cosette is victimized in turn until rescued by Valjean, who takes her as his daughter while hiding his identity to her, out of protection. Of course there's a love interest: it was a 19th century novel, Hugo had knew how to sell a story. So Cosette falls in love with Marius the revolutionary hearthrob though Eponine is also in love with Marius, which enables one of the great and sappiest moments in all of French literature: the dying breaths of Eponine from a gunshot at the barricades, in Marius's arms, as she tells concedes to Cosette.
As with many musicals, our modern-day operas, the story is almost irrelevant, or at least tertiary to the music (recorded in this case, not live, though Rivera is mulling a live pit orchestra for next year's "Pirates of Penzance"). But there's particular resonance in "Les Misérables" with this age, or any age, as there usually is with timeless works of art: "Throughout history, basic human rights have always been relevant," Rivera says. "All of us have things we are willing to fight for. This play is about love, life, death, and most importantly hope for the future. Essentially, the human condition. My favorite lyric in the show is 'To love another person is to see the face of God.'"
Or this from Hugo: ""It is nothing to die. It is frightful not to live." Or not see a good musical when you have the chance.

"Les Misérables," a production by Flagler Palm Coast High School's thespians under the direction of Kelly Rivera, technical direction by Jack Neiberlein, a musical by Alain Boublil and Claude-Michel Schonberg, based on the book b y Victor Hugo, lyrics by Herbert Kretzmer. At the Flagler Auditorium May 9, 10 and 11 at 7 p.m., and May 11 also at 2 p.m. Adults, $15, students, $10. Book your tickets here.
Starring: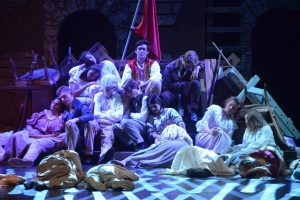 Jean Valjean: Nick Aiello
Inspector Javert: Timothy Hawkins
The Bishop of Digne/Fauchelevent/Jean Prouvaire: Hunter Wentz
The Factory Foreman/Lesgles: Ryan Paine
Fantine: Isabella Scarcella
Batambois/Courfeyrac: Aidan Wise
Young Cosette (on Thursday and Saturday evening): Molly Maresca
Young Cosette (on Friday evening and the Saturday matinee): Landen Looker
Madame Thénardier: Lora Thompson
Young Éponine: Emma Schwen
Thénardier: Isaac Jordan
Gavroche: Tyler Giblin
Enjolras: Chris Sepe
Marius Pontmercy: Gabriel Auletti
Éponine: Elana Sobhani
Cosette: Hannah Hick
Brujon: Angela Snider
Babet: Sarah Main
Claquesous: Alex Sylvester
Montparnasse: Ian Besoux
Combeferre: Jarod Araujo
Feuilly: Brian "Matt" Skipper
Joly: Sebastian Meindl
Grantaire/Pimp: Seth Kirk
With Abby Franklin, Alyssa Nesbitt, Alexander Helman, Alexandra Khoriakov, Alex Sylvester, Alexandra Velazquez-Valle, Alexia Barb, Alysa Dresner, Amy Raleigh, Andrea Skeie, Angela Snider, Angelina Skeie, August Cheney, Brinley Cassady, Carmen Holcy, Catherine Richburg, Charlotte Souza, Ele Barnaby, Ellie Wolcott, Emma Schwen, Landen Looker, Grace O'Reilly, Ian Besoux, Jaynisi Guzman-Davila, Jessica Bishop, Kacilynn Mahoney, Lauren Mitchell, Makenna Miller, Malachi Washington, Martha Lopez, Mary Delic, Molly Maresca, Paige Ward, Patricia Figueroa, Quintin Barretto, RayAnn Raymond, Sarah Main, Sarah Metscher, Savanna Dacosta, Trinity Hilton, and Zoe Jakaj.
Crew:
Director/Music Director: Kelly Rivera
Technical Director: Jack Neiberlein
Assistant Technical Director: Cole Sever
Costumes: Jan Kinnaly
Stage Manager: Dalton Rice
Assistant Stage Managers: AJ Behler, Dane Montell
Sound: Jameel Cruz, Danielle Zumwalt
Master Electrician/Design Asst/Board Op: David Diebold
Props: Sean Hahn
Deck Crew: Anna Calloway, John Rizzutto, Sarah Westbrook, Xaan Williams
Spot Op: Elizabeth DeAndrade
Costume Assistants: Joanne Whaley, Amanda Gumbs
Scenic Artists: Zachary Hall, Mallory Smalley, Viktoria McGowan, Serenity Goldberg
Gate Built and Designed by: Bruce Brady
Assistant Vocal Coach: Sarah Horton
Assistant to the Director: Nando Rivera