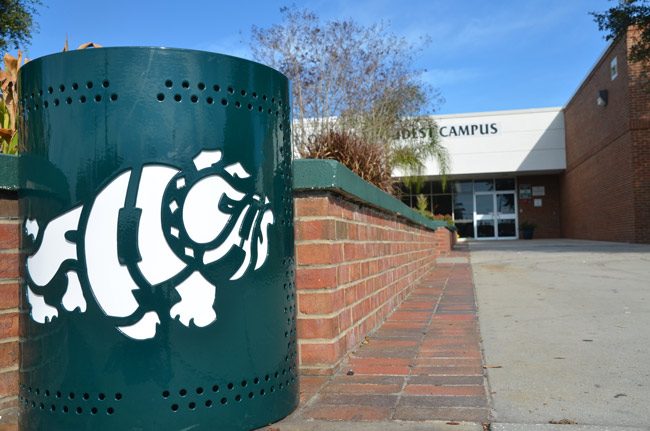 The Flagler Palm Coast High School campus is on edge, with extra police presence and heightened absenteeism, after the discovery of a vague threat of violence scrawled with a Sharpie-type pen on a boys' bathroom wall Thursday.
School and sheriff's authorities are as always taking the threat seriously, but also putting it in the context of a spate of similar threats discovered at schools in the past few days in Orlando, in Palm Bay, in Okeechobee County and in Los Angeles. The Palm Bay threat was made on Snapchat against a middle school there and was found to be not credible. Last week social media postings led to a lockdown at an Orlando high school, and again the threats were found not to be credible. In Los Angeles a high school freshman was arrested Tuesday after allegedly making threats of violence targeting four schools, supposedly today.
The overwhelming majority of the time, threats against schools, like bomb threats everywhere, prove to be unfounded, the work of pranksters taking advantage of the ease of making such threats and seeking to profit from the disproportionate security response, whether through hoped-for school closures or disrupted schedules. Officials find themselves having to balance taking every threat seriously without giving in to the aim of disrupting school for everyone.
Last week Matanzas High School was the site of a false report of a gun on campus made by a student, who was later disciplined and charged with making a false report.
There was clear hesitation among school and sheriff's officials Thursday over how and to what extent they should inform the community about the threat discovered at Flagler Palm Coast High School. Officials were hoping to have identified the perpetrator before day's end. That did not happen. In the end, officials decided not to release information except through an automated call by FPC Principal Dusty Sims, which went out only to parents of students at FPC sometime between 7 and 8 p.m. Thursday.
"They called all their parents and informed them that a threat was found on campus and that they were investigating," a sheriff's spokesperson said this morning.
Sheriff's and school officials are continuing to review video security footage, including footage from outside the bathroom where the threat was found. But no student has been apprehended.
"Could they be pranks, absolutely, could they be real, absolutely, we're still taking it seriously," the Sheriff's Office's Mark Strobridge said. "It's probably a prankster trying to get an extra day out of school," next week being a full week off for Thanksgiving. "All these events take an extraordinary amount of resources because the safety of children is paramount in these situations, there's only a finite amount of resources, so when you pull resources from one place you take away from the other. It's just the way it tends to work out."
An image of the alleged threat was not made available absent the discovery of the person who'd done it. Jason Wheeler, the school, district's chief spokesman, said this morning that the threat told students not to show up to school today.
"Parents are on edge we understand that, and student safety is our utmost concern," Wheeler said. "We want to find who did this, they may have thought it was a joke but we're not laughing."