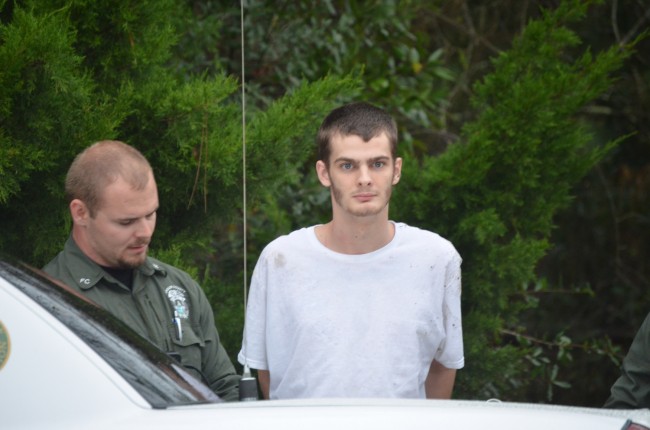 Last Updated: Dec. 13, 9:48 a.m.
Will Gerald Hofer, the 20-year-old man the Flagler County Sheriff's office had been hunting since this morning, was caught and apprehended on John Anderson Highway moments ago, at 2:25 p.m.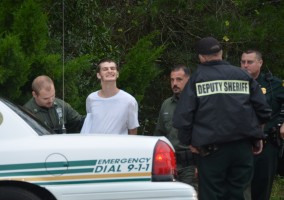 Hofer was unharmed, in a white t-shirt, and at one point was heard urging on a photographer to shoot more pictures of him. A Flagler County sheriff's deputy reminded him that that wasn't the smartest thing to say just then. It isn;t clear whether he was caught with weapons, though earlier in the day there'd been reports that he had a semi-automatic weapon with him. He'd posted several images of himself with weaponry.
One reason for his decision to issue threat, reportedly, is that other people had been making fun of him for grieving effusively over the loss of a friend, shot dead recently.
Members of the SWAT team and other sheriff's deputies were clearly relieved after the arrest, having spent the majority of the day on the hunt for a man they feared was intent on causing harm in one of the schools. Hofer had threatened to attack students at one of the two high schools, and shoot them, until he was shot by a cop–a suicide by cop desire he'd advertised on his Facebook page.
Authorities were able to ascertain quickly who he was, and that he was not anywhere in any of the schools. They established lock-downs to ensure that anyone entering the schools did not, obviously, fit his description, and were able to let school authorities know that they were not in danger. But as long as Hofer remained at large, a threat remained, keeping police and school officials on edge.
Exactly 30 minutes after the arrest on John Anderson, a school bus from an elementary school dropped off at child one house down.
Hofer was charged with making written threats to kill, and violation of probation. He is at the Flagler County jail on $101,500 bond.
2:55 p.m. update: Fire Flight, Flagler County's emergency helicopter, has launched and is circling over the northern edge of John Anderson Highway in Flagler Beach in search of the 20-year-old would-be gunman the sheriff's office has been hunting since morning. The sherif's SWAT team is deployed on the ground in that area, where K-9 units and several heavily armed men are searching woods and lots in the area of the 700 block of John Anderson Highway. The search is not affecting traffic.
Will Gerald Hofer, the 20-year-old, who had once been in honors clases at FPC, is reportedly upset over the death of his friend, Rick Harper, who was shot and killed on Dec. 9. during a home invasion in which Harper is alleged to have been a suspect. That shooting took place in Palatka.Hofer had lived on Zaun Trail, but was thrown out of his house a few months ago. Both of his parents are local residents.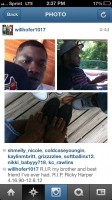 Hofer had memorialized his friend in an Instagram post. (See to the right.)
The high schools have released their students.
Earlier: Three unrelated wrecks in the space of two and a half hours at two locations–Palm Coast Parkway and I-95, and U.S. 1, just north of Old Dixie Highway–stretched emergency responders this Wednesday morning, starting at 6:30 a.m.
But as two of the latter wrecks unfolded, Flagler Palm Coast High School and Matanzas High School were ordered on lockdown, after school authorities were told of Facebook comments that had the sheriff's office concerned. No actual incidents have been reported, suggesting that the lockdowns are precautionary measures. Little further information is known about the lockdown, which is ongoing.
More information about the wrecks will follow.
Daytona State College's Palm Coast campus was also locked down, the sheriff's office reported later in the morning, heightening the severity of the situation. The sheriff's office had originally reported that Imagine School at Town Center was part of the lockdown. Lisa O'Grady, the principal at Imagine, said that was not the case: the school had a normal day, and was never on lock-down.
"We're just taking precautionary measures," School Superintendent Janet Valentine said a little after 10 a.m. Traffic was coming in and out of FPC at around 10 a.m., and students changed classes at the bell, suggesting a modified rather than strict lockdown. People entering the school were being checked at the gate. Otherwise, campus looked calm.
Valentine said the lockdown was the result of "a threat of what was going to on at the school," detected on an individual's Facebook page. She did not have further information. It wasn't clear whether Matanzas was, in fact, on lockdown, though authorities reported it as such.
Valentine was on the road this morning, on her way to a meeting with Gov. Rick Scott in Tampa, with other school authorities from around the state.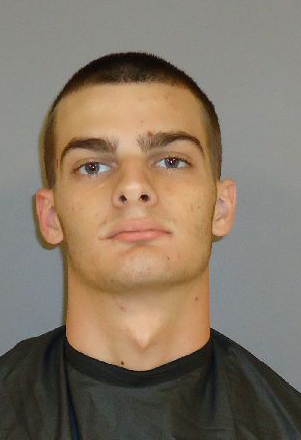 The Facebook threat was reportedly carried out by a former student at FPC (he graduated there in 2011), who now may be attending Daytona State College. The student was later identified as Gerald Hofer, who was on Nov. 2 arrested in Flagler County on a probation violation charge.
He is still at large. Anyone with information on his whereabouts is asked to call the Sheriff's Office at (386) 313-4911.
He allegedly posted images of guns and threatened to attack students, possibly at FPC, until cops stopped him. He is not at either school, but may have been in contact with students at one of the schools. The situation at FPC is reported under control, with no danger posed to the students or staff. Traffic, including school buses, continued to move in and out of the school at 11 a.m.
Unlike the trigger of previous lock-downs, this one is not related to fights or gang activity or the spill-over effect of issues in the community. Rather, the 20-year-old is believed to be personally distraught, possibly over the loss of his own brother.
Jacob Oliva, the district's deputy superintendent, said the sheriff's office contacted the district this morning to report the concerns about the Facebook comments, and recommend a "perimeter lockdown."
That means people entering and leaving the school are checked more carefully, and anyone entering the school has to have proof of belonging there, or reason to be there, Oliva said. Also, students are being disallowed from taking part in activities outside the school buildings themselves, as a precaution. The district sent out an automated call to parents, "to let them know our kids are safe," Oliva said.
"We're running our classes as usual, in fact I think they're even doing end-of-course exams in some of the classes," Oliva said.
At the U.S. 1 wreck, Ashley Blackburn, 23, was at the wheel of her car when she lost control on the slick pavement just north of Korona, and ended up striking the woods. Her 5-month-old child, Brantley, was in the car. Both were taken to Florida Hospital Flagler, the child with minor injuries. Blackburn had to be extricated from the car, but her injuries are non-life-threatening.
An older woman at the wheel of an older-model, two-door Mustang was also involved, crashing her Mustang about 300 feet further south. She was not injured and refused medical attention. Authorities are treating the two wrecks, which took place at 8:40 a.m., as separate incidents. Two hours earlier at the same location, but in the media, a pick-up truck overturned, resulting in minor injuries to the driver.
On Palm Coast Parkway just after 8 a.m., two vehicles were involved in a minor wreck at the off ramp from I-95, into the westbound lanes of Palm Coast Parkway. One patient was taken to Florida Hospital Flagler, several others refused treatment at the scene. One of the two westbound lanes was shut down for close to an hour. At the same time as these incidents were unfolding on the roads, Flagler County Fire Rescue paramedics had to respond to an incident involving a burn to a very young child, and another medical issue on Corporate Drive in Palm Coast.