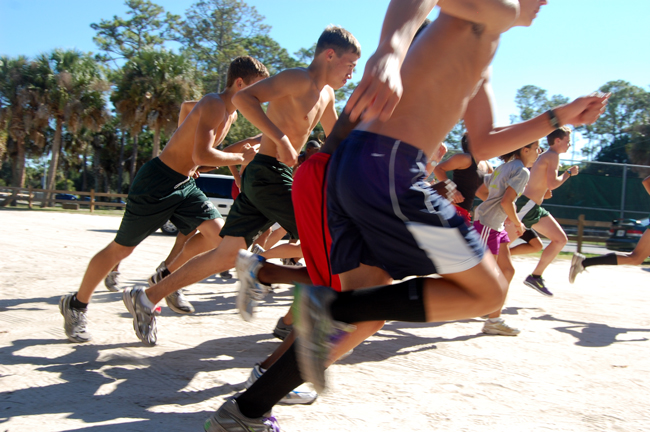 While you were slumbering or battling with the snooze button this morning, around 4 a.m., 12 members of the Flagler Palm Coast High School cross-country team were on their way to the airport for a flight to New York City and a place in the country's largest meet of its kind–the 38th annual Manhattan College High School Cross Country Invitational at famed Van Cortlandt Park in The Bronx (yes, it's the Manhattan invitational spilling into the borough to the north). More than 10,000 runners from 14 states will be competing.
---
Put Yourself In the Mood As You Read: NY State of Mind

[media id=90 width=250 height=100]
Coach David Halliday, a history teacher at FPC, last took a team to the Manhattan Invitational in 2007, when several of the current team's members were dreamy freshmen who could only wish to tag along–as several members on the team today are: merit (not seniority) decides who would go and who wouldn't, as does the meet's rules. Teams are limited to seven per race.
But Brad Walbert, a freshman on the team, is part of the 12. Walbert's speed has a habit of bailing out his team when they need it most, though he spent most of the summer injured.
"The race itself has a pretty storied history," says Halliday, who's also the executive vice president of the USA Track & Field/Florida Association. He's taken by the history of Van Cortlandt Park, a 1,150-acre spread with roots going back to the Dutch's days in the 17th century and George Washington's and the Marquis de Lafayette's treading in the late 18th. "That park has been there forever. It actually dates back to the Revolutionary Wars."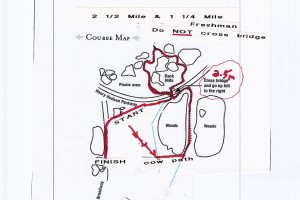 Tradition decides it all in the Manhattan Invitational. Unlike all other cross-country meets, it's not a 5K run, but a 2.5-mile, 4K run. Organizers decided to keep it that way when the standard moved to 5K so that more recent races' times could still be compared with older races. And to keep the tradition going. The course itself is pretty famous, running along an old cow path, the Henry Hudson Parkway and the park's Black Hills. This year runners and coaches will have to contend with a massive construction project going on inside the park.
"It's the first time any of us have run a 4K competitively," Alex Giorgianni, who runs a 5:12 mile, says. "Not even in practice: we've never actually run a timed 4K."
Confidence didn't seem to be an issue for the 12 boys and girls putting in their last training session at Wadsworth Park Thursday afternoon, along with the rest of the team (including Halliday's 8th grade daughter, Darien, who trains alongside the taller stick figures). For the boys, wearing shirts in training appears to be a sacrilege. They prefer to show off their runners' ribbed and spiry architecture. The girls by necessity are more modest: a few of them still defer to t-shirts when not adopting the Brandi Chastain look. They've earned whatever look they choose: the team's best runners met at the park every morning at 6:30 all summer, logging more than 800 miles each in preparation for their season, injuries permitting.
And they raised $5,000 to make it to New York–candy sales, rummage sales, car washes, running concessions at PAL games. "You name it, we've done it," Halliday says.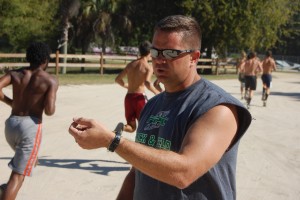 Thursday afternoon, mere hours before their middle-of-the-night wake-up call, they were doing four single-mile repeats–run the mile, rest three minutes, run it again. The fastest on the team? Ali Sayed, who runs a 5:09. With his teammates he described the routine of getting ready for a competition, training aside: "We get together and try and get our minds prepared for a race mentally." They "link-up," all hands joined, they pray, and when they're done praying they look at their coach who talks to them. "It's not like Dear God," Alex says, "We just ask, like, to keep us safe and run our best times and have fun."
The team has an excellent history: state champs in 2001, 2002 and 2005, and runners-up in 2003 and 2006.
It won't be just about the race in New York. Halliday will take the team to Times Square, Battery Park at the foot of Manhattan, the World Trade Center site, Wall Street, Trinity Church–and, for dinner tonight, Little Italy. What else? Pasta is every runner's best friend.
Halliday is keeping the very best for last: "Sunday," he says, "a run in Central Park. Just because we can."

See the chart of the team members' best times, below the team shot.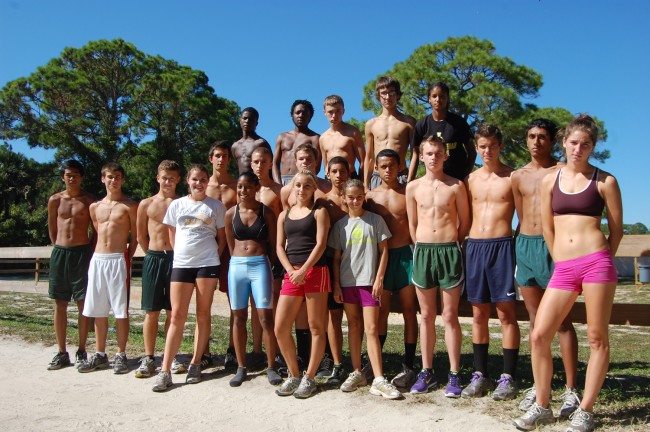 The Flagler-Palm Coast Cross Country team (with thanks to Alex Giorgianni for providing the names):
Back Row: Josiah Wright, Malcom Morrow, Greg Pomp, Ben Koenig, Toni Brown. Middle Row: Thomas Carroll, Kevin Duffy, Joe Alter, David Acevedo, Roger Romero, Alex Giorgianni, Brad Walbert, Ali Sayed, Megan Walbert. Front Row: Kayleigh Fallon, Danielle Hagins, Julia Schorner, Darien Halliday (8th grade).

FPC Cross Country Runners: Best Times So Far
Time
Runner
Meet
Girls
21:02.38
Julia Schorner
Bale n' Trail Cross Country Original (10/2/2010)
21:16.60
Danielle Hagins
Bale n' Trail Cross Country Original (10/2/2010)
22:48.00
Toni Brown
Buchholz XC Jamboree
22:57.71
Kayleigh Fallon
Bale n' Trail Cross Country Original (10/2/2010)
22:58.36
Megan Walbert
Bale n' Trail Cross Country Original (10/2/2010)
27:00.64
Kerry Norberg
Bale n' Trail Cross Country Original (10/2/2010)
28:16.26
Shannon Jacobs
Bale n' Trail Cross Country Original (10/2/2010)
30:29.87
Amanda Berry
Bale n' Trail Cross Country Original (10/2/2010)
35:17.45
Kaitlyn Holmes
Bale n' Trail Cross Country Original (10/2/2010)
Boys
16:47.00
Ali Sayed
Buchholz XC Jamboree
17:15.72
Alex Giorgianni
Bale n' Trail Cross Country Original (10/2/2010)
17:25.56
David Acevedo
Bale n' Trail Cross Country Original (10/2/2010)
17:32.31
Kevin Duffy
Ponte Vedra XC Invitational
17:56.08
Brad Walbert
Bale n' Trail Cross Country Original (10/2/2010)
18:31.02
Joseph Alter
Bale n' Trail Cross Country Original (10/2/2010)
18:31.79
Roger Romero
Bale n' Trail Cross Country Original (10/2/2010)
19:56.00
Simon Ep
Buchholz XC Jamboree
20:49.23
Dimitri Draskovic
Bale n' Trail Cross Country Original (10/2/2010)
20:50.34
Greg Pomp
Bale n' Trail Cross Country Original (10/2/2010)
22:08.32
Josiah Wright
Bale n' Trail Cross Country Original (10/2/2010)
22:08.59
Korey Bryl
Bale n' Trail Cross Country Original (10/2/2010)
22:59.39
Ben Koenig
Bale n' Trail Cross Country Original (10/2/2010)
24:33.00
Matt Chumaciero
Ponte Vedra XC Invitational
Source: FPC/David Halliday