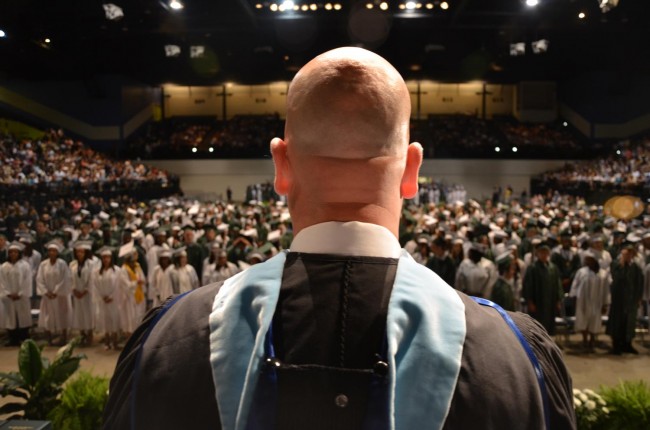 With their principal recalling their journey from Barney to 911 to a globalized world of conflict craving "a loving attitude," to quotes from Confucius, Harry Potter and Vladimir Jean-Pierre–the class president–and to the now standard-issue screams of a few thousand lungs filled with pride, Flagler Palm Coast High School's Class of 2011 graduated tonight at the Ocean Center in Daytona Beach, to begin, in Jacob Oliva's words, "competing for jobs that haven't yet been invented."
Jean-Pierre credited the faculty, made appeals to his generation to define its own future, and turned personal only to evoke the story of his grandfather as the man who'd shaped his outlook and commitments. "Growing up in Haiti," Jean-Pierre said of his grandfather, "he didn't have the same opportunities we do when it came to education or really anything else for that matter. He didn't graduate from high school, and he never had the privilege of being part of a commencement ceremony such as this one. Despite that, he never let his descendants take for granted the value of an education, and he tried to impress this upon all of us with his actions."
The 509 graduates, Principal Oliva said, represent a generation of millenialls whose abilities to take on the world has been doubted by experts. "I disagree," he said, before enumerating this class' achievements so far: 21 graduating cum laude, 52 magna cum laude, 30 suma cum laude, eight graduating with an associates degree from Daytona State College already secured. The class as a whole recorded 267 IB exams, some 200 Advanced Placement exams, and collected half a million dollars in scholarships.
For all that, their principal had this bit of advice: ""If you don't know how to chill out, you'll burn out."
There were no valedictorian and salutatorian speeches this year–no valedictorian or salutatorian: this district, like many others, has done away with the distinction, which was proving contentious (if not litigious). So Kaci Ellis offered the welcome, and Vladimir Jean-Pierre, class president, delivered the commencement address.
"Now," Jean-Pierre said in an address virtually free of references to himself or his own accomplishments, "it is our responsibility to take all that we have learned and apply it in the real world, where we can make a positive impact for ourselves and for those around us. Giving back to the community around us should not be secondary to our pursuit of personal success, popularity or self-advancement, but rather a devotion to a far greater purpose–the improvement of our communities, both local and otherwise."
Jean-Pierre finished on a simile he termed "geographically and culturally relevant," comparing the evening to "the final countdown to the shuttle mission that is the rest of your life." And presumably a mission more enduring than the shuttle program, which is being grounded after next month's final flight.
After the long, ceremonial awarding of the diplomas, Superintendent Janet Valentine took to the stage and declared the graduates "our tickets to a better world" before punctuating the evening with her final duty, so far as the Class of 2011 is concerned: "By virtue of the power vested upon me as the superintendent of Flagler County schools, I hereby declare you graduates. Please move your tassel from the right to the left. Congratulations, and have a safe evening."
The caps went airborne.
FPC Commencement 2011: The Photo Gallery
[nggallery id=59]