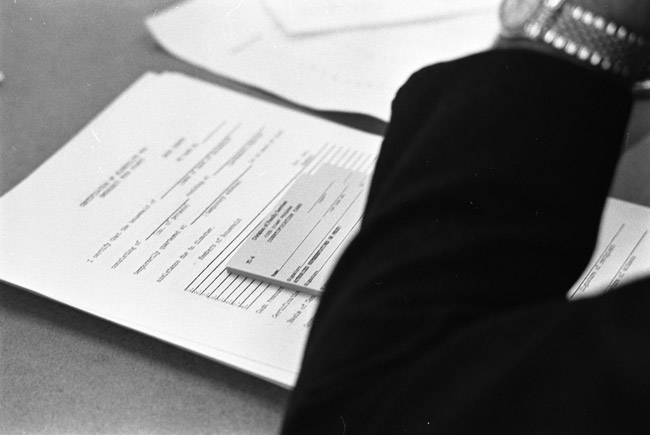 A little over two years ago local non-profits teamed up with the Flagler County Chamber of Commerce and Second Harvest North Florida to bring the innovative "Mobile Benefits Program" to Flagler County. The program finds and enrolls people eligible for food stamps who otherwise, for whatever reason, have not enrolled on their own.
The program has two immediate benefits. It puts food on tables of families that need it most. And it channels federal dollars into local food stores, by the hundreds of thousands every month. The more eligible people participate, the more money re-circulates in the local economy. The Department of Children and Families is supposed to enroll eligible recipients, and does, but it doesn't catch them all.
In 2010, Mobile Benefits Program organizers said, 3,300 households were eligible for enrollment but weren't receiving food stamps. Monday morning, Bruce Ganger, executive director of Second Harvest North Florida, appeared before the Flagler County Commission to report that in two years, the mobile program, had enrolled 932 of those households, 73 percent of which were first-time food stamps participants, resulting in $1.8 million new food stamps dollars for the local economy.
Ganger was making the presentation to commissioners because county government is footing a significant portion of the mobile benefit program's $57,000 annual cost.
The program was supposed to be funded by grants and donations even two years ago. But it fell short. After contributions from the United Way, the Department of Children and Families and individual and corporate donors, the program was still short about $20,000. Its organizers sought that amount, pledged for two years—or $40,000—from the county commission.
"When this issue first came to light the community was supposed to come together and raise the funds," then-Commissioner Milissa Holland said in a commission meeting. "I sat in meetings where that was supposed to occur. I think often times it's very easy to revert back to government and to kind of look for these funds for them to supply this program."
But promises and assurances were made.
"They have guaranteed that after two years that they will have the grant money to support this full time in Flagler County, alone, just in Flagler County," Doug Baxter, at the time the president of the Chamber of Commerce and the point person for the program, promised commissioners. "So we will have a full time person, moving forward, after two years, or sooner than that if we can get this money together. But they will take it over completely in two years, and fund the position."
Craig Coffey, the county administrator, was supportive of the idea, and said the county could dip into its reserves to pay it, especially since it was time-limited. "Essentially I'm trying to treat this as a one-time, almost capital expenditure," Coffey said two years ago. "Second Harvest has agreed to fund the position after two years, so there is no ongoing funding requirements above this $40,000 total, $20,000 and $20,000."
The Memorandum of Understanding made that clear, too, specifying that after two years, "Second Harvest North Florida will be fully responsible for all the costs associated with operating this program."
Those repeated assurances led the county to approve the funding, with then-Commission Chairman Alan specifying: "We will approve this as a stop-gap."
So much for promises, pledges and assurances.
Peterson, Holland and Baxter are all gone now. The chamber made no presentation this morning. The United Way is no longer funding the program. And donors who had put up to $10,000 two years ago, such as Intracoastal Bank, aren't doing so again.
Yet Second Harvest not only wants the county to continue funding the program. Ganger is asking for a doubling of the annual amount, to $40,000, and help pay for an additional part-timer.
Coffey, who has a good memory—and who began this budget season by telling commissioners that depleted reserves should be off limits, with the county facing a deficit and a long list of needs now totaling $6 million—was taken aback by Ganger's request.
"Second Harvest was supposed to fund it on an ongoing basis," after the first two years, Coffey told commissioners this morning. "I wasn't aware that they were going to ask for additional funding today."
Ganger had cleverly crafted his presentation by first speaking about the success of the program in numbers, then having Donna Mota, the benefits specialist who's the actual person in the trenches in Flagler County, describe the human side of the program, and how people on food stamps belie the stereotypes.
"I don't need to read about these stories in the paper or hear them on TV," Mota said, after referring to a family losing a home to a fire and another losing a mother to a shooting. "I hear them because those are the people that come to me for help, the people who are laid off, the people who went to work one day, showed up, and the doors of that company weren't open anymore, or families who'd suffered horrible tragedies and the person they were depending on is no longer there to help them."
There was no disagreement from commissioners, one of whom—Nate McLaughlin, whose district is the poorest in the county—spoke laudably of food stamps' help as a bridge over hardships, and of his recent  sense of inspiration from a forum on the homeless to do more for those who need help.
Only then did Ganger spring it on the commissioners.
He'd like to expand the program. Add a part-timer. And double the county's contribution to $40,000. "We would like the county to continue to invest in this because of the significant return on the investment," he said. (As an economic benefit, he said, $1 locally generates $1.8 in economic activity, so the program would have yielded a $3 million in such activity.)
Currently, the program has secured $13,000 from the Department of Children and Families for another year, and a $10,000 grant through Feeding America, leaving $27,000 unfunded to keep it at its current level of one local worker—Mota.
In an interview this afternoon,  Ganger was adamant: "This promise is not being broken," he said, referring to the agreement Second Harvest had signed two years ago to assume all costs by now.  The program has been successful, and it's generating money for the local economy, he said. "I would like to expand it because we have some good momentum, we see that the impact were having."
The county was not without its own recruiters of food stamps recipients. County officials two years ago were under the impression that Second Harvest's outreach person would be going door to door, setting up appointments with people in their homes—those hard-to-reach potential recipients who, because of transportation or other challenges, don't make it to a computer in town where they can apply. That's not what the outreach has been about. For the most part, Mota's schedule is site-specific—as, for example, at Access Flagler, the once a month community outreach event the county organized for the needy, at the county fairgrounds.
For $40,000, Coffey said in an interview this afternoon, the county could have its own outreach person. "There's some other options we can pursue if we're talking that kind of money," Coffey said.
In any case, it'll be a decision commissioners will have to make very soon—beginning tomorrow, during a budget workshop—in the face of serious challenges. They'll have to pick and choose between what programs and services to preserve and which to cut, from new vehicles for certain departments to the food stamps program to improvements at the library, Coffey said.
Ganger said he was not "holding the program hostage" to the commissioners' decision: it would continue without their funding, which he would have to find elsewhere, he said.
The matter drew an unexpected rebuke from a member of the public in the audience.
"I'm just uncomfortable with the concept of using taxpayer money to encourage people to accept more taxpayers' money," said James Ulsamer, a member of the county's economic development council. He spoke as a county resident, however, not as a member of that board. He had no doubts about the sincerity of the people involved in the program, but questioned its assumptions.
"The measurement of how effective a program like this is should not be so much how much more people are added to public assistance, but how those numbers can be reduced over time by helping the people get from a difficult place to a place where they're self-supporting," Ulsamer said. "I also challenge this concept of multiplier that $1 million in payments bestow $1.8 million in benefits to the community. I have an economics degree from a decent college and I spent 40 years trying to unlearn some of the things they taught. But the idea of $1 million produces $1.8 million supposes that the people who didn't get those benefits have something like an 80 percent savings rate, and they don't. That money would be spent by others."