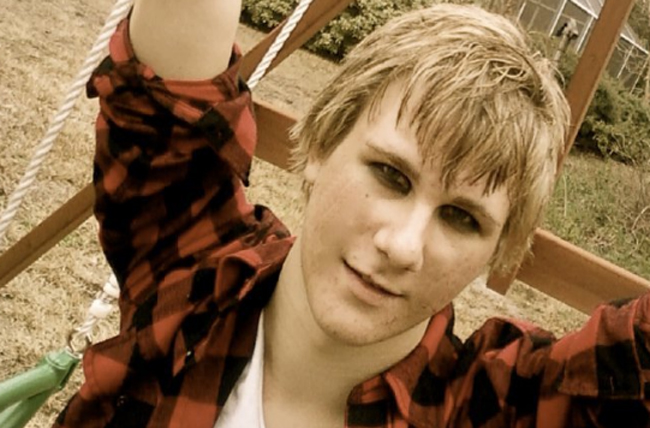 The third quarter at Flagler Palm Coast High School began in mid-January. For a third quarter elective, Luke Herbert, then a ninth grader at the school, took Floyd Binkley's shop class. By then Luke, who's gay, wasn't doing well at FPC. He was being bullied, harassed for being gay, threatened by fellow students at school and on Facebook, and was physically attacked at school by another students who'd been taunting him with anti-gay slurs. That incident was grave enough to lead to the 10-day suspension of the offending student. Luke was missing day after day, failing three classes, and feeling unwelcome.
"My breaking point came when one of my teachers started telling anti-gay jokes and mocking me in front of the entire class," Luke said.
In Binkley's class, he said the discrimination was not limited to a single incident. "For example," he wrote in an email he circulated to media in February, "the teacher sells soda and chips in his class and said out loud to the class that you can not put mountain dew and pepsi in the same fridge or they will turn gay. When he made this remark which he made several times he looked straight at me so I knew he was trying to affend [sic.] me and people in the class laughed like it was a joke." (The "joke" is said to have some currency in NASCAR circles, where Pepsi products, including Mountain Dew, are car sponsors.)
The incident, which the teacher did not deny, as well as the students' jokey response, is indicative of a school culture that has yet to take gay bashing as seriously as other forms of bigoted, demeaning or bullying behavior—from students as well as faculty or employees. Schools have a no-tolerance policy of students bullying students or using bigoted language.
After attempting unsuccessfully to change classes, Luke quit going to school two months ago. In the meantime, Luke's mother hired Phil Chanfrau, an attorney, the American Civil Liberties Union got involved, the school investigated, and earlier today, the ACLU and School Board Attorney Kristy Gavin said a settlement was reached: Binkley will publicly apologize, though Luke is not returning to FPC this year. He'll continue his work through Florida Virtual School, and will have the option of either returning to FPC next fall, transferring to Matanzas or continuing with virtual school.
School officials, according to the ACLU, acknowledged that Luke's harassment had not been handled as swiftly as it should have been and several missteps had occurred: a conference between him and a guidance counselor was also misinterpreted as a confidential conversation, rather than a call to action, which caused a delay in the school's response.
The district officially reprimanded the teacher who harassed Luke in class, in writing—but no suspension—and agreed to a series of actions to make amends for the impact the bullying had on Luke and prevent any further bullying and harassment of Flagler County School District students. The district agreed to recommend that the school board add protections for "sexual orientation" and "gender identity or expression" to the Student Code of Conduct and the school district's bullying and harassment policy.
Binkley, a 21-year veteran, has apologized privately to Luke. But the student asked that the apology, like the offense, be made publicly. That will take place by way of a video public service announcement featuring Binkley, and that will be added to the school's website. Luke was asked if his name needed be made part of the announcement. Luke said that was not necessary: only the acknowledgment, from the teacher, that an offense had taken place, and that it was directed at a student. "We have not drafted it yet but it will be stating that a student was hurt through a comment that was not intended to be harmful or hurtful to anyone," Gavin said. Gavin acknowledged that not intending to harm is not in itself an excuse for being offensive.
Before the incident took place in Binkley's class, the Gay Straight Alliance at FPC, a student club sponsored by Kevin McCarthy, one of the school's five assistant principals, had been discussing making video public service announcements that dovetailed with the kind of message that will now be crafted as a result of the Binkley incident. The messages will be focused on the inadmissibility of demeaning language toward those who are not prototypically heterosexual. Binkley's message will be "the kick-off," in Gavin's description, and is presumed to carry particular weight, coming from the teacher at the heart of one such controversy.
"We are pleased that the Flagler County School District is taking this issue seriously. While it should not take the ACLU intervening to get a school district's attention, we hope that other districts will look at Flagler's response as a good example of what schools should be doing to prevent and address bullying and harassment," said Shelbi Day, ACLU of Florida LGBT Advocacy Project Attorney (LGBT refers to lesbian, gay, bisexual, and transgender). "Bullying is a serious problem with tremendous ramifications for students. We should all be working to ensure that no student has to endure what Luke has suffered."
"It's the end of a long road," Luke said Thursday evening. "I'm happy that something came out of it, hopefully will help other people if anybody else is going through similar issues. It's something that should be heard, you know."
For Palm Coast High School, the Binkley incident takes place on the heels of a different, and differently resolved, controversy over another slur: the use of nigger in "To Kill a Mockingbird," the Harper Lee play eventually staged by the FPC Drama Club late last month. Following the first show, several students in the play spoke of the offending word's common usage in the halls, whether affectionately, jokingly, or ignorantly. Racial jokes by faculty or employees in students' presence, however, let alone the use of the word, is virtually unheard of, and would likely be cause for grave consequences if documented.
Jokes about sexual orientation, like bullying over sexual orientation—which has led to a spate of killings in recent months (see the Ellen DeGeneres video below)—have yet to have the same level of inadmissibility as racial discrimination, even in law and regulations: it's only late last year that the federal government abandoned its discriminatory don't-ask-don't-tell rule in the military, and many states, Florida among them, only recently enacted constitutional prohibitions on gay marriage. The state-sanctioned double standards have consequences: Luke's case is not isolated.
"It's a big problem, really throughout Florida and across the United States," Day said Thursday evening. "Kids who are bullied and harassed are done so at the highest rate based on sexual orientation, gender identity or physical characteristics." Media attention over the last eight months or so, resulting from a string of gay teen suicides, has gotten more people's attention. But, Day said, "it's tragic that something like a child's death has to occur before people start paying attention." Luke's actions set out other options "so that kids don't feel so desperate so they turn to something like ending their own life." Missteps aside, Day said, the school district finally "stepped up in a very meaningful way, we certainly applaud them for the comprehensive action that they're committed to taking."

Ellen DeGeneres on Bigoted Bullying:
TubeHome.com Video from everywhere!