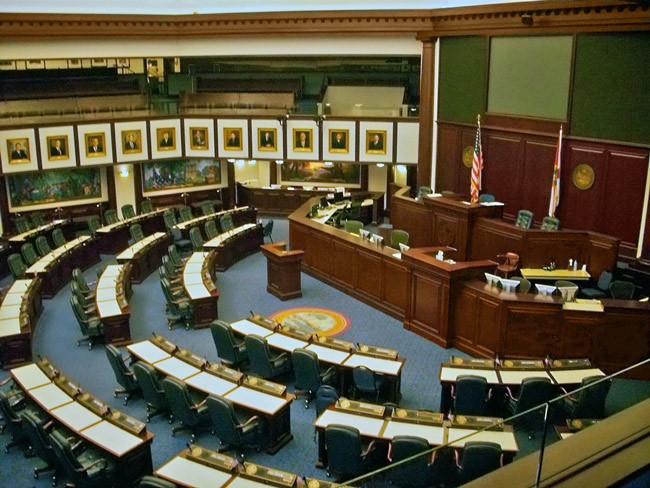 It was the year of governing messily in Florida. That is, when state officials were governing at all.
As 2015 wound down, four legislative sessions had been held; three of them ended in failure, and the fourth only succeeded with the threat of a government shutdown looming. Gov. Rick Scott spent much of the year on the road and away from the squabbling in the Legislature, but he also had to shake the biggest political crisis in his nearly five years in office.
Two of the three redistricting plans passed by the Legislature in 2012 — one of them tweaked in 2014 — were declared unconstitutional, either by the courts or by lawmakers themselves. The Department of Education wrestled with an embarrassing technology meltdown.
And in the background was a presidential race where real-estate mogul Donald Trump took the lead for the Republican nomination over a crowded pack of candidates, including two of Florida's favorite sons: former Gov. Jeb Bush and U.S. Sen. Marco Rubio.
Through it all, the denizens of the Capitol were learning new terms and trivia — the meaning of the Low Income Pool (a hospital program), the significance of Reock scores (a redistricting measurement) and an obscure provision of the Constitution that governs when lawmakers can and can't leave town. It was educational, entertaining and bizarre. It was a year unlike any other in recent memory — and many in Tallahassee hope it stays unlike any other for quite some time.
LIPSTUCK: THE BUDGET CRISIS
As lawmakers prepared for the annual legislative session that began in March, there were concerns about the Low Income Pool, or LIP, a program that had provided as much as $2.2 billion a year to Florida health-care providers. The federal government was hinting strongly that major changes were coming that could dramatically reduce how much money the state received.
No one expected the issue to make the legislative session go supernova, ending in a spasm of lawsuits and recriminations between the House, the Senate, Scott and the U.S. Department of Health and Human Services. Lawmakers failed to reach a budget deal by the end of the regular session for the first time since 2009, when a recession was ravaging the state's finances. By the end of the regular session, they couldn't even agree on what to negotiate about.
Not that the regular session ended as planned. Angered by the Senate's refusal to drop its insistence on a version of Medicaid expansion backed by federal dollars — which supporters said would help hospitals cope with the loss of LIP funding — the House went home early. The session was scheduled to end May 1, but Speaker Steve Crisafulli, R-Merritt Island, brought the gavel down on April 28.
"I made a promise to you when you elected me to be your speaker that I'd never ask you to vote for something that I wouldn't vote for myself," Crisafulli said. "Accordingly, I will not force anyone to expand Medicaid. … I do not see a need to keep you here waiting around, away from your families, away from your businesses, until the Senate decides they are ready to negotiate with us."
Senate leaders were outraged and said the maneuver violated a little-known (at least until then) provision of the Florida Constitution saying that "(n)either house shall adjourn for more than seventy-two consecutive hours except pursuant to concurrent resolution." Senate Republicans threatened legal action against the House, but Senate Democrats actually took the step, dramatically marching across the street to the Florida Supreme Court a couple of days later to ask justices to force the House back into session.
Lawmakers were not forced back to the Capitol, but a sharply divided court ruled that the House had violated the Constitution by going home early.
In the meantime, Scott had sued the federal government to try to unlink any discussion of LIP funding and Medicaid expansion. He also called for the Legislature to approve a "continuation budget," something Senate Appropriations Chairman Tom Lee, R-Brandon, called "a made-up word."
After a bit of a cooling-off period, lawmakers returned to Tallahassee for a June special session. On June 19 — one day early this time — the House and Senate voted to approve a $78.7 billion spending plan that included state money to help make up for lost LIP funding. The plan also included $300 million worth of spending initiatives that were added close to midnight on the final day of negotiations.
But there was one last reminder of how fractured the state's Republican establishment had become. Scott used his line-item veto pen to slash more than $461 million from the spending plan, which brought howls of protest from the Senate.
"While I respect the governor's authority to veto various lines within our budget, his clear disregard for the public policy merits of many legislative initiatives underscores that today's veto list is more about politics than sound fiscal policy," said Senate President Andy Gardiner, R-Orlando. "It is unfortunate that the messaging strategy needed to achieve the governor's political agenda comes at the expense of the most vulnerable people in our state."
WHOSE LINE IS IT ANYWAY?
Lawmakers had barely cleared out of town — hoping to get free of the Tallahassee bubble for at least a little while — when the Supreme Court ordered them to return. This time, it wasn't to deal with the state budget, but with the districts used to elect Florida's 27 U.S. House members.
Leon County Circuit Judge Terry Lewis had already ordered the congressional map tweaked in 2014, when he asked lawmakers to make a relatively minor change to a few districts to fix lines he found to violate the anti-gerrymandering Fair Districts standards approved by voters in 2010.
But in a July 9 ruling, a majority of the Supreme Court essentially found that Lewis was too timid in his ruling and that he deferred to lawmakers too much when deciding which districts should and shouldn't be thrown out and how drastic any changes should be.
"To do so is to offer a presumption of constitutionality to decisions that have been found to have been influenced by unconstitutional considerations," Justice Barbara Pariente wrote. "The existence of unconstitutional partisan intent is contrary to the very purpose of the Fair Districts Amendment and to this court's pronouncements regarding the state constitutional prohibition on partisan political gerrymandering."
Having lost almost every legal battle over the maps, lawmakers decided to cut their losses on a separate challenge to state Senate districts. The Legislature reached a settlement, conceding that the current Senate map would likely also be found unconstitutional.
"This appears to me to be an unprecedented admission," crowed David King, a lawyer for voting-rights organizations that fought the maps. "This is remarkable. The Florida Senate has admitted that they drew an unconstitutional map and, as a consequence of that, they now have agreed to fix the problem."
Special redistricting sessions to redraw the congressional and Senate maps were just as rocky as the regular session had been. In August, lawmakers returned to redraw the congressional districts. But a proposed set of changes to districts along the Interstate 4 corridor prompted another standoff between the House and the Senate. Once again, the session ended without an agreement.
That led to a hearing in front of Lewis, who recommended a plan proposed by the voting-rights groups. The Florida Supreme Court would later agree with Lewis' recommendation.
A special session in October and November to fix the Senate lines was no more successful. The Senate crafted one version of the lines, the House another. Eventually, Senate leaders agreed to take the House plan to their chamber, where senators voted it down. Lawmakers on both sides blamed the anti-gerrymandering standards that voters approved in 2010 for the latest collapse.
"Having been living intimately in this world, I have concluded that the amendments to our Constitution pulled the soul out of map drawing, pulled the soul out of districts," said Senate Reapportionment Chairman Bill Galvano, R-Bradenton.
At the end of the year, Leon County Circuit Judge George Reynolds was weighing whether to go with a Senate plan authored by Galvano or one of four plans that the voting-rights organizations asked the court to consider.
I FIRED THE SHERIFF
When he wasn't flying around the state to talk about jobs, Scott spent the first part of 2015 fighting off perhaps the worst political crisis he has faced since being elected. The situation centered on questions about whether Scott or his staff improperly maneuvered in late 2014 to oust former Florida Department of Law Enforcement Commissioner Gerald Bailey.
Things got curious when, following a January Cabinet meeting at which Rick Swearingen was approved as Bailey's replacement, Scott offered little insight into the former FDLE head's departure, saying merely that Bailey had "resigned."
"Commissioner Bailey did a great job. Commissioner Swearingen, he's going to do a very good job," Scott said before essentially repeating the same statement two more times.
Informed of Scott's comments, Bailey told the Tampa Bay Times that "I did not voluntarily do anything."
After that, Chief Financial Officer Jeff Atwater said he wanted to review the personnel change at FDLE. For his part, Scott said he wanted the Cabinet to discuss making additional leadership changes at the Office of Insurance Regulation, the Office of Financial Regulation and the Department of Revenue, though such changes ultimately were not made.
Outside groups started to call for investigations into Scott's role in Bailey's ouster, and media organizations and open-government advocates filed a lawsuit arguing that the handling of Bailey's departure violated the Sunshine Law.
Eventually, Scott and the Cabinet — which includes Atwater, Attorney General Pam Bondi and Agriculture Commissioner Adam Putnam — approved new steps to review the work of agencies they jointly oversee. Scott and the Cabinet also agreed to a new selection process for agency heads and to pay about $55,000 in legal fees as part of a settlement to close the Sunshine Law complaint.
TECHNICAL PROBLEMS
For years, testing had been a central part of Florida's education reform efforts. But when the state rolled out its new Florida Standards Assessments early in the year, a technical meltdown paired with parents' frustration with perceived over-testing added urgency to efforts to scale back the number of exams given to students.
In a report delivered to Scott, Education Commissioner Pam Stewart called for getting rid of an 11th-grade language-arts test that was viewed as unnecessary. Stewart recommended that Scott issue an executive order to suspend the test, with lawmakers later approving legislation to permanently scrap the assessment — all of which happened.
"I am recommending that we eliminate as much testing as we can," Stewart told reporters.
But as the new Florida Standards Assessments started being administered, horror stories started pouring out of school districts about technical problems hampering students' ability to take some of the tests online. Just as the technical problems started to taper off, state officials announced they were investigating a cyber-attack against the program.
Despite all the acrimony of the regular legislative session, the House, Senate and Scott agreed on a bill to address concerns about testing. The bill, for example, put a hold on the use of student test data for school grades, teacher evaluations and student promotion to fourth grade until the Florida Standards Assessments could be independently validated, something that happened months later. It also scrapped a law requiring school districts to come up with end-of-course tests in classes where the state doesn't administer such exams; capped the amount of time students can spend on state and school district tests at 45 hours a year; and reduced the portion of a teacher's evaluation tied to student performance from the current 50 percent to one-third.
And more changes could be on the way. By the end of the year, Sen. Don Gaetz, a Niceville Republican who chairs the Senate panel overseeing education spending, said he was crafting legislation that would allow districts to choose "brand names" in the testing world to replace the Florida Standards Assessments.
"The idea is not to take the place of the Florida Standards Assessment," said Gaetz, a former Okaloosa County schools superintendent. "The idea is to prove an alternative for districts and for students."
QUOTES OF THE YEAR:
"I think we have three political parties in Tallahassee — the Republicans, the Democrats and the Senate."—Rep. Matt Gaetz, R-Fort Walton Beach. (June)
"This is the way government should work."—House Appropriations Chairman Richard Corcoran, R-Land O' Lakes, after legislative leaders agreed in 30 minutes to 194 projects worth just over $300 million. (June)
"But all I get is squid ink when I talk to these people — a bunch of mumbo jumbo that, 'well, this is my theory.' Well, show me in some court precedent. Show me in some legal proceeding. Stop telling me what you want the answer to be and tell me what you think it is based upon the law. And I get nothing." — Sen. Tom Lee, R-Brandon, expressing frustration as lawmakers tried to redraw Senate districts. (October)
–Brandon Larrabee, News Service of Florida