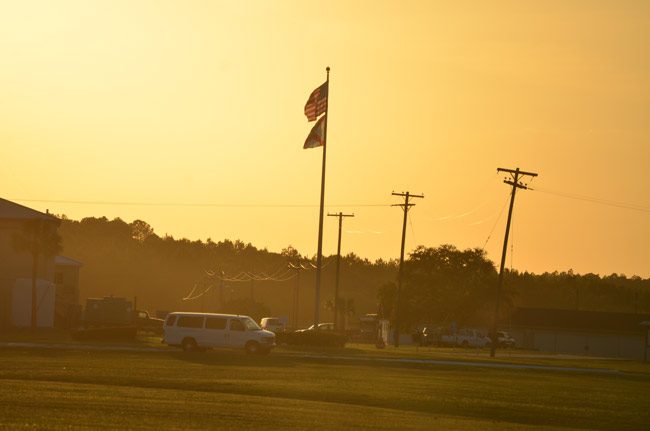 The Florida Supreme Court on Friday stopped a Clearwater judge from proceeding with a death penalty case, signaling that courts might not be able to move forward with capital trials until the Legislature changes a law that justices earlier this month struck down as unconstitutional.
In the tersely-worded, 5-2 decision Friday, the court granted a request by lawyers for convicted murderer Patrick Albert Evans to stop Judge Joseph Bulone from moving forward with a trial slated to begin Monday. Justices Charles Canady and Ricky Polston dissented without comment.
Friday's ruling is the strongest indicator yet that Florida's death penalty remains in flux in the aftermath of a pair of opinions issued by state's high court on Oct. 14. Those decisions found that a statute passed in March in response to a U.S. Supreme Court ruling in a case known as Hurst v. Florida was unconstitutional "because it requires that only 10 jurors recommend death as opposed to the constitutionally required unanimous, 12-member jury."
The majority in the decision in one of the cases, involving Death Row inmate Larry Darnell Perry, found that the law was unconstitutional because it did not require unanimous jury recommendations and "cannot be applied to pending prosecutions."
Attorney General Pam Bondi last week asked the Supreme Court to "clarify" their rulings in the Perry and Hurst cases, maintaining that trials already underway should be allowed to move forward.
In Evans' case, Bulone issued an order Wednesday saying he would begin to empanel a death-qualified jury on Monday and, if Evans is found guilty of first-degree murder, "proceed to a penalty phase consistent with" the Oct. 14 Supreme Court decisions.
"I don't think it would be all that hard to draft those (jury) instructions. I don't think it would be all that hard to come up with a verdict form," the judge told lawyers on Oct. 20, according to his order.
Bulone's decision prompted Evans' lawyers to immediately ask the Supreme Court to intervene, warning of a "jurisprudential quagmire" if the court allowed the case to go forward "without appropriate guidance."
"It is not a court's job to write the law," wrote Allison Ferber Miller and Jane McNeil, lawyers in the Sixth Judicial Circuit Public Defender's office, and Pete Mills, an assistant public defender in the Eighth Judicial Circuit, in the 137-page motion filed Wednesday. Mills is chairman of the Florida Public Defender Association's death penalty steering committee.
"There are 67 counties in the state of Florida, 20 judicial circuits and literally hundreds of judges. It simply cannot be this court's intent for each circuit judge to write his own law according to that judge's interpretation of the court's decisions in Perry and Hurst," Evans' lawyers wrote.
In Friday's order, the Supreme Court majority wrote that Evans' petition "demonstrates a preliminary basis for relief," and gave prosecutors until Nov. 14 to show why the petition should not be granted. Evans' lawyers have until Nov. 28 to respond. The order put a stay on the circuit court proceedings.
In her request for clarification, Bondi's lawyers argued that death penalty prosecutions can continue without a change in the law, so long as trial courts require unanimous jury recommendations.
But Evans' lawyers argued this week that the Florida Supreme Court majority "said it could not rewrite the act to make it constitutional."
"If that was what the court thought it could do in a constitutional manner, it could have done so. Instead, the court said the act as a whole could NOT be applied to pending prosecutions," they wrote.
Prosecutors, judges, defense lawyers and lawmakers are divided about whether death penalty prosecutions should proceed. An Ocala judge last week put on hold the penalty portion of a murder trial, saying the court needed direction from the Legislature before proceeding.
Some judges and prosecutors have proposed moving forward with the guilt phases of cases in which prosecutors are seeking the death penalty, and holding off on the penalty portions of trials until the law is rewritten.
But defense lawyers maintain that empanelling new juries to handle sentencing would result in an expensive and prolonged quagmire that could be even more problematic.
Mills said in a telephone interview that Friday's order could have far-reaching implications, especially for trials in which judges intend to proceed to the penalty phase before the statute is amended.
"If the court doesn't formulate a remedy on its own, which they have said in the past they would not do, it is now up to the Legislature to fix the statute that the court found to be unconstitutional," he said.
The state's death penalty has been in limbo since January, when the U.S. Supreme Court ruled that Florida's sentencing system was unconstitutional because it gave too much power to judges, instead of juries. Following that decision, the Florida Supreme Court indefinitely put on hold two executions, which are still pending.
Of the 31 states with the death penalty, Florida is one of just three — including Alabama and Delaware — that have not required unanimous jury recommendations for death to be imposed. Delaware's high court has halted that state's death penalty following the U.S. Supreme Court's decision in January in the Hurst case.
The Hurst ruling did not address the issue of unanimity, which became a flashpoint during this year's legislative session as Florida lawmakers sought to repair the state's death penalty sentencing process to comply with the U.S. Supreme Court decision.
Echoing concerns expressed by other defense lawyers, Evans' attorneys argued that allowing individual judges to craft their own rules or procedures in death sentences would be catastrophic.
"To allow for such chaos is the essence of what the Eighth Amendment of the United States Constitution aims to prevent: the arbitrary and capricious application of the death penalty," lawyers for Evans wrote on Wednesday. "This court has been suggesting to the Florida Legislature for years that the Florida death penalty statutes need to be changed. The Legislature's unwillingness to act does not grant the courts the authority to write the laws."
–Dara Kam, News Service of Florida