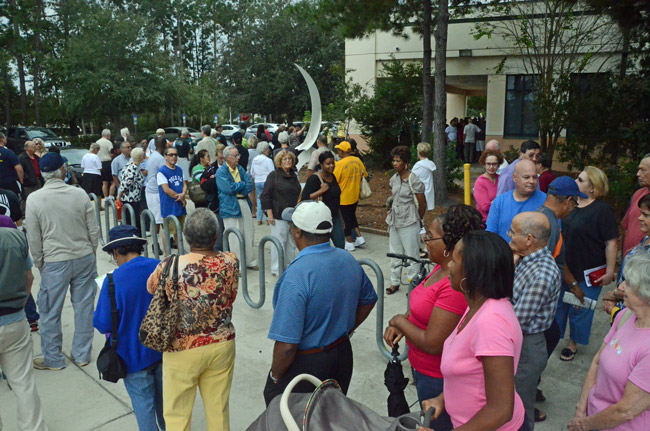 Democrats in the state Senate on Thursday filed the first legislation arising out of concerns over voting difficulties in Florida, seeking to expand early voting times and the places where early voting can occur.
The measures would also eliminate a requirement that people who have moved into a community from outside the county vote a provisional ballot on Election Day if they hadn't earlier changed their legal address.
The bills (SB 80, SB 82) were filed by Sen. Arthenia Joyner, D-Tampa and Sen. Gwen Margolis, D-Miami.
Democrats have complained that Republicans, who overwhelmingly control the Legislature, have tried to make it harder for people to vote, particularly those who are more transient, younger, and minorities, all of whom critics say are more likely to vote Democratic. Republicans have countered that measures aimed at making it more difficult to cast a ballot are intended to stop voter fraud.
Republicans in 2011 passed into law a bill that reduced the number of early voting hours, following anecdotal evidence that extended early voting in 2008 helped President Obama capture the White House.
Both bills filed this week would require early voting to begin 15 days before Election Day, up from 10 days before under current law. Early voting wouldn't end until the Sunday night before the election under the new measures. Current law ended early voting on the Saturday before Election Day.
African-American voters in 2008 had a major vote drive organized by churches on the Sunday before Election Day, a "souls to the polls" effort that was precluded from occurring on that particular Sunday this year, although Sunday early voting was available a week earlier.
More voting hours also could be available under the bills. Current law requires at least six hours of voting per day, while the bills would require 12 hours per weekday and 12 hours total on the weekend.
In another change proposed by Joyner and Margolis, local supervisors of elections could expand the types of places where early voting is allowed. Currently, supervisors must offer early voting in the supervisor's offices, and can allow voting in libraries and city halls. The bills would allow supervisors, if they want, to also offer early voting in other government facilities such as a courthouse, as well as colleges, churches, or community centers. The bills would also prevent counties from reducing the number of early voting sites from what they used in 2008.
Several voters in a few Florida locations, particularly in South Florida, complained this year of particularly long voting lines on Election Day – in some cases waiting several hours to vote – though it's not clear what caused those lines in some places. The ballot, loaded down with local issues in some places and several complex statewide constitutional amendment proposals, was particularly long, likely increasingly the amount of time each voter spent in a voting booth.
But some have also said that additional early voting would have helped – if more people would have voted early there would have been fewer people to vote on Election Day. Slightly more than half of voters cast a ballot early, either in person or by mail, in Florida in both 2012 and 2008.
New Senate President Don Gaetz, R-Niceville, and new House Speaker Will Weatherford, R-Wesley Chapel, have both promised that lawmakers will try to figure out what went wrong on Election Day that led to the long lines, and do something about it. Both have also vowed to correct a problem in reporting vote counts that led Florida to be the last state to declare the winner of its electoral votes. Weatherford has said that if it is determined that the reduction in early voting hours was part of the problem, backers of the law that reduced the hours – which included him – should own up to it and fix it.
Both Gaetz and Weatherford have said, however, that it's not clear yet, what the problems were. A local commission in Miami-Dade County is also looking into the issue there, and began its work this week. Gov. Rick Scott has ordered the state Division of Elections to also report on what may have caused the problem.
Gaetz created a free standing Ethics and Elections Committee that will be chaired by Sen. Jack Latvala, R-St. Petersburg, which will be tasked with getting to the bottom of the problem. The committee is likely to work on a committee bill on the issue, but also likely would have to hear the Margolis bill or the Joyner measure if either is to pass.
–David Royce, News Service of Florida