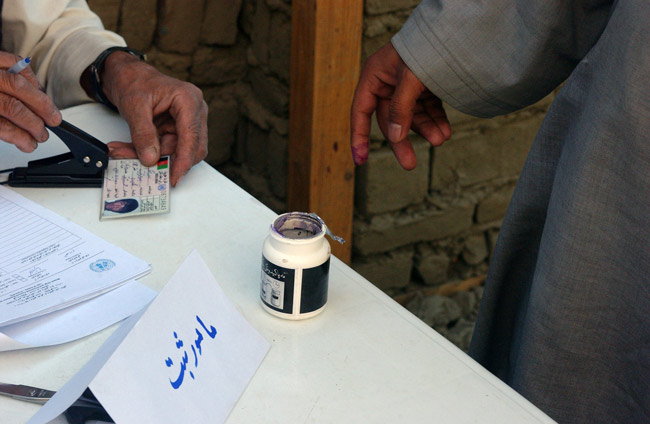 The organization that represents the state's elected county elections supervisors is recommending they hold off on removing anyone from the state's voter rolls in light of new concerns raised by the federal Department of Justice.
The department said late Thursday that Florida's controversial attempt to purge ineligible voters appears to violate federal laws and gave the state until June 6 to indicate whether it will halt the process.
T. Christian Herren, chief of the department's voting section, sent a letter to Florida Secretary of State Ken Detzner that said the state's actions appear to violate two federal voting laws. Florida has used a search of a driver's license database to try to identify non-citizens who are ineligible to vote.
On Friday, Ron Labasky, the legal counsel for the Florida State Association of Supervisors of Elections, sent elections supervisors around the state a memo suggesting they stop using the state list to remove people from voter rolls, at least for now.
"It suggested to them that … in light of the fact that the Department of Justice has some concerns about the 90-day window to remove voters that the supervisors just stop doing anything," Labasky told the News Service of Florida.
Labasky's advice is as the supervisors' lawyer and he said the group hadn't taken any formal decision on how to respond, meaning it remains up to individual supervisors to determine what to do with the information provided by the state in its efforts to remove voters.
State Division of Elections spokesman Chris Cate reiterated Friday that removing ineligible voters from the rolls is something the agency is committed to. But he noted the supervisors are ultimately the ones who will make the call.
"If supervisors have reliable information that someone is an ineligible voter, that voter needs to be removed from the voter rolls," Cate said. "But the process is very important to us, and the supervisors have the responsibility of making the ultimate determination of ineligibility and removing ineligible voters."
The Justice Department's Herren's letter said Florida's actions do not comply with part of the federal Voting Rights Act that requires Florida to get a sign-off from the Department of Justice or a federal court for actions that affect five counties with a history of discrimination.
"Our records do not reflect that these changes affecting voting have been submitted to the United State District Court for the District of Columbia for judicial review or to the attorney general for administrative review as required by Section 5 of the Voting Rights Act," the letter said. "Accordingly, it is necessary that they either be brought before that court or submitted to the attorney general for a determination that they neither have the purpose nor will have the effect of discriminating on account of race, color or membership in a language minority group under Section 5."
The letter also said Florida could be violating another law known as the National Voter Registration Act of 1993, which includes standards for how voter lists are maintained. Part of the law requires states to finish the systematic removal of ineligible voters 90 days before a primary or general election — a deadline that passed May 16 for Florida, which has a primary on Aug. 14.
The question over the 90-day issue arises because the law doesn't completely clearly define what is covered by the 90-day requirement. The law spells out that systematic voter removals should stop, but those typically include the removal of people believed to be felons, dead, or incapacitated – it's not clear whether the law intended to include "special" efforts to purge clearly ineligible voters, such as those who are non-citizens.
Labasky also said that the state was trying to improve its list anyway – with state officials having advised local supervisors earlier this week that it was planning to go back over the list of more than 2,500 people it has identified as potentially ineligible to further vet them before recommending that supervisors consider them for purging.
That also was a factor in his sense that it makes sense to hold off on any new purges, he said.
"To enable us to meet our responsibility to enforce federal law, please inform us by June 6 of the action that the state of Florida plans to take concerning the matters discussed in this letter," Herren wrote. "Specifically, please advise whether the state intends to cease the practice discussed above, so that the department can determine what further action, if any, is necessary."
Chris Cate, a spokesman for the Department of State, said in an e-mail Thursday night that state election officials had just received the letter and had not had time to thoroughly review it.
"Bottom line is we are firmly committed to doing the right thing and preventing ineligible voters from being able to cast a ballot," Cate said.
With Florida likely a key state in the November presidential election, the use of the driver's license database to identify ineligible voters has drawn national controversy. Critics contend that it is an attempt to unfairly target Democrats and Hispanics, though Gov. Rick Scott and elections officials have said they are attempting to make sure only eligible voters cast ballots.
Election officials said earlier this year as many as 180,000 names may be erroneously included on state voter rolls. So far, more than 2,600 names have been sent to local officials, who then have been notifying people on the list.
Earlier Thursday, Detzner sent a letter to U.S. Department of Homeland Security Secretary Janet Napolitano asking for help in identifying ineligible voters. Detzner is asking to use the department's Systematic Alien Verification for Entitlements database, a national registry that is updated more frequently than the state's database.
"As you may be aware, my department has received credible and reliable information from the Florida Department of Highway Safety and Motor Vehicles indicating non-citizens may be registered to vote in Florida," Detzner wrote. "While processing this new information, it became clear that our department's ability to validate a person's legal status as up-to-date was limited."
–News Service of Florida