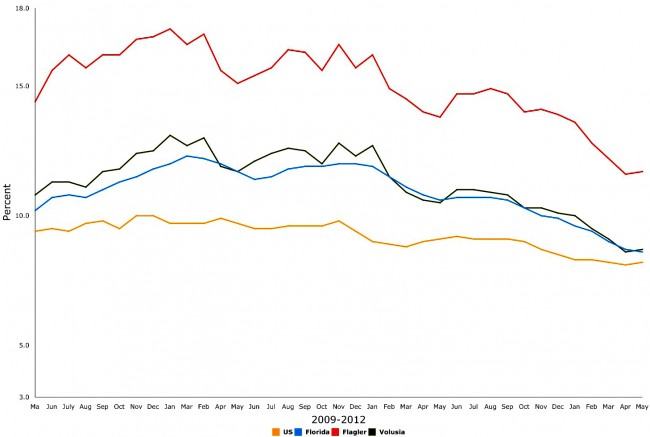 Last Updated: 11:06 a.m.
Florida added just 5,300 jobs in April, and the state unemployment rate would have risen back sharply had the labor department not revised its April figures to show a much higher unemployment rate than it announced last month.
May's official unemployment rate is 8.6 percent. Last month, the state had announced that the rate had fallen to 8.3 percent. But today, in its latest calculations, it readjusted the April rate to 8.7 percent, thus creating the impression that the unemployment rate had fallen again. In its news release today, the state was also able to repeat the claim, made last month, that May's unemployment rate is the lowest since December 2008.
Flagler County's unemployment rate rose a fraction, from 11.6 percent in April to 11.7 percent in May. Flagler is now tied with Hendry County for the highest unemployment rate in the state. In Flagler, the number of people with jobs increased by 438 people, but the labor force also grew by 529, which added to the unemployment rate slightly. The county's labor force remains smaller, by almost 400 people, than it was a year ago.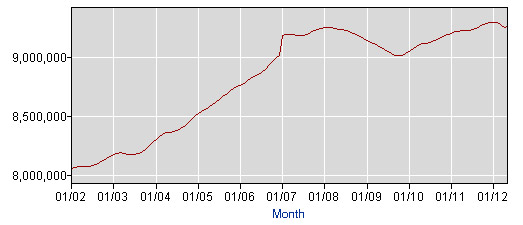 There were 794,000 jobless Floridians out of a labor force of 9.2 million. The size of the labor force is the same as in the summer of 2007. While the number of unemployed people has shrunk by 187,000 in the past 12 months, the labor force has shrunk by 31,000, and only 53,800 jobs were actually created, suggesting that working-age people are either dropping out of the labor force or moving out of the state, thus artificially shrinking the unemployment rate. Florida's job-growth rate of 0.7 percent since last May is half the national rate of 1.4 percent.
Nevertheless, Florida appears to be feeling the same effects of an economic slowdown affecting the national economy. Florida's unemployment rate has been higher than the national rate since April 2008. Prior to 2008, the last time Florida's rate was higher than the nation's was in March 2002 (Florida was 5.9 percent, United States was 5.7 percent).
Within sectors, both job gains and job losses were modest, with tourism, wholesale and retail trade posting the largest gains (combining for a little over 8,000 jobs between those industries), and federal and state government again posting losses (a combined 6,400 jobs). Local government payrolls grew by 2,500, but those numbers may not outlast the summer budget season as local governments, Flagler's among them, are again grappling with tighter budgets.
Here are jobs numbers for the past 12 months, as tabulated by the Florida labor department:
• Professional and business services gained 24,900 jobs ($49,185 avg. annual wage). Due to employment services.
• Trade, transportation, and utilities gained 21,300 jobs ($37,109 avg. annual wage). Due to clothing and accessory stores.
• Private education and health services gained 19,900 jobs ($43,686 avg. annual wage). Due to ambulatory health care services.
• Leisure and hospitality gained 16,100 jobs ($21,447 avg. annual wage). Due to accommodation and food services.
• Financial activities gained 5,700 jobs ($57,042 avg. annual wage). Due to real estate.
• Manufacturing gained 4,900 jobs ($51,848 avg. annual wage). Due to fabricated metal product manufacturing.
• Construction lost 22,200 jobs ($41,087 avg. annual wage). Due to specialty trade contractors.
• Total government declined by 13,100 jobs ($47,361 avg. annual wage). Due to state government.
• Other services declined by 3,900 jobs ($29,609 avg. annual wage). Due to repair and maintenance.