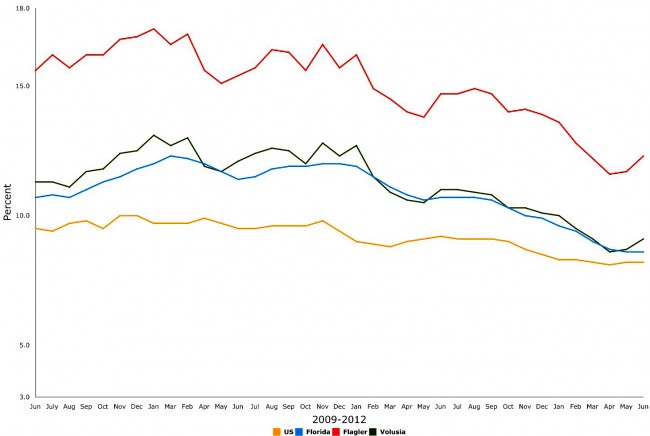 June unemployment numbers were discouraging in Florida as well as in Flagler and Volusia counties–stalling in the state at 8.6 percent, with just 9,000 jobs created last month, while the unemployment rate jumped again in Flagler to 12.3 percent, and to 9.1 percent in Volusia.
There were 795,000 jobless Floridians out of a labor force of 9.3 million.
The Florida labor department's disappointing report comes three days after state economists said that Florida's economic recovery is not as sunny as Gov. Rick Scott has been portraying it. The Legislative Office of Economic and Demographic Research released figures showing that nearly 70 percent of the drop in the state's unemployment rate since December was not produced by the addition of new jobs, but by the withdrawal from the workforce of discouraged workers: Once a worker stops collecting unemployment, that worker is no longer counted as unemployed, even though he or she remains so. Last year the Legislature implemented new, strict restrictions on how individuals may collect unemployment.
State economists estimated that Florida's unemployment rate of 8.6 percent would be 9.5 percent if workers who have stopped looking for jobs were added to the picture. The figures, first reported by the News Service of Florida, provide some analytical backup to anecdotal information that much of the state and national recovery is due to a smaller labor force and not to job growth.
In Flagler County, for example, the labor force shrank by about 200 workers between May and June, and the number of people holding jobs shrank by almost the same number, with a net loss in the labor force of some 400 people.
For the Deltona-Daytona Beach and Ormond Beach region, the unemployment rate was 9.5 percent, with Flagler's 12.3 percent rate second only to Hendry County. Total nonagricultural employment in the two county region is down 1,300 jobs, or 0.8 percent, over the past 12 months, according to the Center for Business Excellence. Education and health services gained 200 jobs over the year, manufacturing, leisure and hospitality, other services, and government gained about 100 jobs each (over the year), while professional and business services lost 900 jobs, trade, transportation, and utilities lost 600 jobs, and mining and construction lost 400 jobs.
In the Palm Coast metro area, employment was 18,500 in June, down 100 jobs over the year, with government's increase of 200 jobs the only sector showing improvement. Palm Coast had the second highest growth rate in government jobs, compared to the state's other metro areas, according to the Center for Business Excellence.
In their periodic report, state economists reiterated that the job market will take a long time to recover. About 751,800 jobs have been lost since the most recent peak in Florida. Rehiring, while necessary, will not be enough, the economists conclude. "Florida's prime working-age population (aged 25-54) is forecast to add over 2,600 people per month, so the hole is deeper than it looks," they reported. "It would take the creation of about 1 million jobs for the the same percentage of the total population to be same percentage of the total population to be working as was the case at the peak." The pace of job creation is nowhere near that required to return the state to such healthy figures.
Still holding back the economy: Almost 350,000 mortgages i foreclosure, a number that remains near historic highs, and a slow pace of home sales that would require 17 to 18 months to clear the current inventory of existing homes. Slightly less than half of all Florida homes are still underwater, meaning that homeowners owe more on their mortgage than their house is worth. Florida's home ownership rate, which peaked at 72.4 percent in 2006, is back down to 67.8 percent, a level last see in 1998-99.
Places like Palm Coast have relied on population growth to power their economy. That's no longer happening. "Population growth is forecast to remain relatively flat – averaging 0.85 percent between 2011 and 2014," state economists report. "However, growth is expected to recover in the future, averaging 1.1 percent between 2025 and 2030 with 86 percent of the growth coming from net migration."