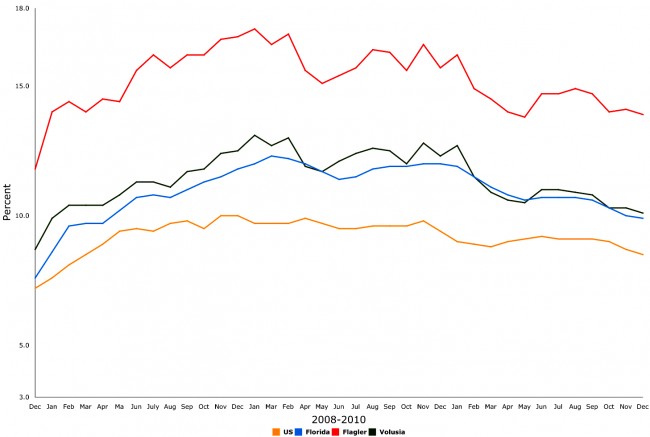 Last Updated: 12:54 p.m.
Numbers just released by Florida's labor department show the state's unemployment rate falling to 9.9 percent, the lowest level since April 2008, while Flagler's rate fell to 13.9 percent. Except for last May, when Flagler's rate briefly dipped to 13.8 percent, only to climb back up, December's local rate was the lowest in exactly three years: the unemployment rate was 13.8 percent in December 2008.
Ironically, Flagler again took over the state's top spot for its worst unemployment rate, exceeding that of Hendry County, which fell to 13.5 percent. Flagler and Hendry have been toggling over the top (or bottom) spot for the past three years.
The number of unemployed people in Flagler fell from 4,616 to 4,463, a drop of 153. But again in Flagler, the drop in unemployment was not led by local job creation, but by a sharp drop in the labor force. There were 28,073 people with jobs in Flagler in November. In December, the number fell by 483, to 27,590, a 1.7 percent drop, continuing a trend over the last several months.
Flagler County's overall labor force has shrunk in the past year by 1,201 people, or 3.6 percent. The number suggests a drop in the local population, especially when set alongside the school district's overall population (charter and traditional schools), which, as of this week, had dropped to 12,846. That's less than the 12,900 students the district had at the end of the last school year, or the 13,193 it had counted on the first day of school this year. Fewer children in school usually means fewer working families.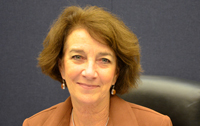 "Our total rate dropping is good news but when you add that footnote to it it's very disturbing," says Barbara Revels, the county commissioner who chairs the county's newly created jobs council.
"My first reaction with absolutely no statistical knowledge to back it up is that a number of people have given up in finding work and moved to other locals either where there's work or there's family or some other way to support themselves," Revels said. "In a way I hope it's not true that people had to move because there are no other alternatives but that is the reality of the unemployment rate that we have."
Revels noted that the overall unemployment figures may also not reflect an older segment of the population–retirees whose savings may have been wiped out or reduced by market drops, and who have found themselves competing for jobs again, though not necessarily applying for unemployment.
"People are leaving, mate," says Doug Baxter, president of the Flagler County Chamber of Commerce and Affiliates. "If they can't find a job, they're leaving. There's not a whole lot we can do about that at this point." But, Baxter said, the figures add up to a double-edged sword: the economy is improving. Local businesses are feeling better. Baxter cites one example, a local air conditioning company that's been at its busiest in three years. "The word has to get out regionally that things are getting better here," he said. "The doom and gloom is finally lifting."
Lou Paris, the marketing and communications manager at the Center for Business Excellence, said Flagler was obviously the county that got hit the hardest during the construction and real estate slump, with unemployment skyrocketing and creating the real sense that opportunities locally had dried up. "My understanding is that when it tanked, up until now, anyone who could leave to find other opportunities did so," Paris said. "There's a group of people in our workforce that have been discourages to continue looking for employment, they've exhausted their unemployment claims, so they're not counted as part of the unemployment figures."
It doesn't help to live in a county where the recurring mantra is synonymous with the state's highest unemployment rate. Living here without work, "you'd prob have an urge to go to a county where the outlook is a little better," Paris said. But that's not the whole story: the Center for Business Excellence has been retraining people in live with an overall strategy to diversify the workforce, and over the last two to three years people involved in, say, construction have redirected their careers to business management, found work in health industries (particularly CNAs, or certified nursing assistants). It's a slow but steady recalibration of the workforce. As unemployment figures fall, the bad publicity the numbers generate will presumably dissipate, and the job climate will improve.
Meanwhile, the number of jobless Floridians is down to 913,000, with some 113,900 jobs created in the last 12 months, the healthiest year-over-year job growth since January 2007. The state has posted net job increases for the past 15 consecutive months.
Statewide in November, only a few sectors saw job losses: Administrative and waste services lost 12,500 jobs, education and health services lost 2,300, retail trade lost 5,800, and professional and business services lost 5,200. But all other sectors were either flat or gained jobs, including government, which had been a perennial job loser in the past year. State and local governments combined for a gain of 2,100 jobs. Transportation and warehousing added 3,800 jobs, professional and technical services added 6,200, leisure and hospitality, or tourism industries, added 3,300.
The full unemployment report is below.