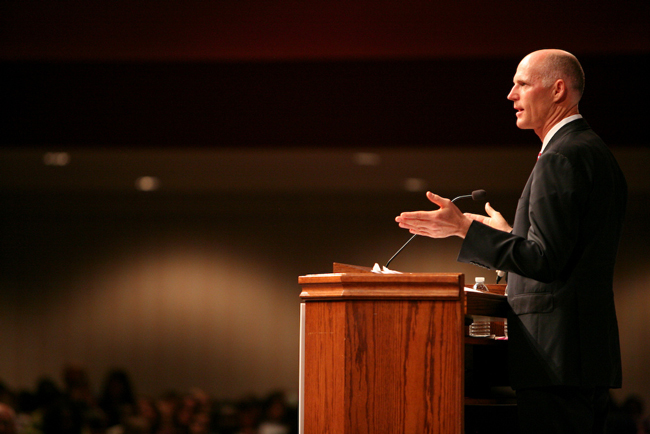 Gov. Rick Scott is proposing to wrap Florida's popular back-to-school sales-tax holiday around two weekends — more than triple its current length of time — as part of his re-election year proposal to cut taxes and fees by $500 million.
Scott announced Friday he wants lawmakers to approve a 10-day sales tax holiday in August. The extended tax-free period is the latest of the budget proposals Scott has rolled out in advance of the 2014 legislative session.
"We've done this before but this is a 10 day one, so it's longer," Scott said during an appearance at the Florida Chamber of Commerce Insurance Summit in Orlando.
The extended holiday would reduce state revenue by an estimated $60 million, Scott added.
During the holiday, shoppers would not have to pay state and local sales taxes on select clothing under $100, school items such as pens and notebooks that cost less than $15, and computers and related electronic equipment costing less than $750.
The back-to-school tax holiday has ranged from three to nine days since lawmakers introduced it in 1998. The discount wasn't provided during the recession in 2008 and 2009, and has been set at three-days the past four years.
With a budget surplus of about $1 billion and an election on the horizon, Scott is seeking about $500 million in tax and fee reductions, the bulk of which would come from rolling back a hike in vehicle registration fees approved by the GOP-dominated Legislature in 2009.
Business groups quickly praised Scott's latest proposal.
"An opportunity economy will allow people to keep more of their money and families will have more money to invest in their future," Florida Chamber of Commerce Executive Vice President David Hart said in a press release.
John Fleming, a spokesman for the Florida Retail Federation, said his group wants the tax-free time to become permanent instead of requiring legislative approval every year.
Shoppers often use the savings to make additional purchases that are not covered by the exemption, which helps cover any slowdown that can occur from people holding off on making purchases until the tax exemption begins, Fleming said.
"There might some shifting of spending, but it really does increase sales overall," he said.
The retail federation also supports a hurricane holiday measure (SB 362) that would lift sales tax on select storm-related gear at the beginning of hurricane season, and Agriculture Commissioner Adam Putnam's proposed tax break on Energy Star appliances that cost under $1,500.
The sales tax breaks are among a number of competing proposals from Scott and lawmakers looking to earn some election-year love from voters. The bulk of Scott's proposed $500 million in tax breaks would come by slashing most of a 2009 increase in vehicle registration fees from 2009.
Scott is using the rollback as a slap against Democratic challenger Charlie Crist, who as the Republican governor signed the 54 percent fee hike into law to help close a budget gap during the nation's economic downturn.
Scott wants the fees reduction to add up to $401 million in savings. But Senate Appropriations Chairman Joe Negron, a Stuart Republican shepherding the vehicle fee issue through the Legislature, has proposed a pared-back version (SB 156). State economists estimate that Negron's plan — an average savings of $12 per vehicle, or about half the 2009 hike —would equate to about $185 million in savings during the upcoming budget year and grow to $236.7 million the following year.
In December, state economic forecasters pushed the state's projected surplus toward $1.1 billion for the coming year. That number will be revised after lawmakers return for the regular 60-day session in March.
–News Service of Florida