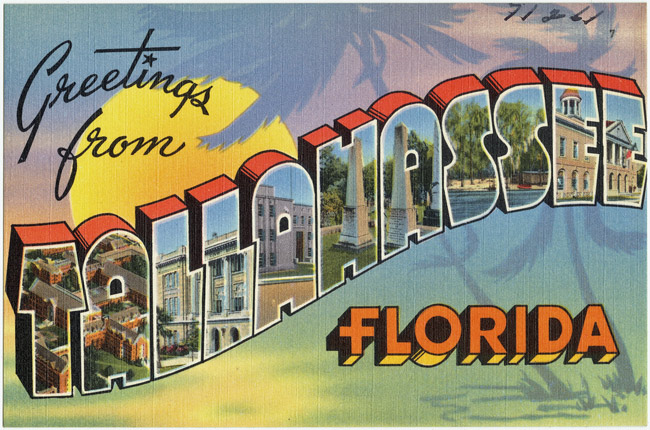 The Florida Legislature's $74 billion budget contains, as always, innumerable surprises in the fine print, from $240,000 to be spent on orange juice served visitors at highway stops to $500,000 to advertise stay-in-state vacations to Floridians. Here's a taste.
TASTES LIKE CHICKEN?: When Gov. Rick Scott ran for governor he repeatedly complained about how much fat was in the budget, and said it would be easy to find plenty of items in it that the state simply should quit doing. "We're not doing alligator marketing, things like that," Scott told the Wall Street Journal. Well that's not what the Legislature thinks. Appropriation 1435 in the budget passed by lawmakers last week includes $100,000 from the General Inspection Trust Fund for alligator marketing. Another line item calls for $150,000 from the State Game Trust Fund for alligator marketing. The money actually isn't paid by most taxpayers, it's money alligator farmers pay voluntarily to have the state market their products. But Scott doesn't like it. He vetoed the money in 2011 but left it in last year.
IF YOU BUY SUPERHERO CAPES, PLEASE BUY CHEAP ONES: Remember when Workforce Central Florida got in trouble for spending more than $14,000 on red capes as part of a "Cape-A-Bility Challenge," public relations campaign that also featured the character "Dr. Evil Unemployment." Well, lawmakers are putting the kibosh on that. Sort of. The budget says that "any expenditures by regional workforce boards for 'outreach,' 'advertising,' or 'public relations' must have a direct program benefit and must be spent in strict accordance with all applicable federal regulations and guidance. Costs of promotional items, including but not limited to capes, blankets, clothing, and memorabilia, … which exceed $5,000 for outreach purposes must be approved prior to purchase by the Department of Economic Opportunity." Our guess is capes may not be approved.
THIS FUND ISN'T FROZEN: That the state has a Citrus Advertising Trust Fund is probably not a surprise, given the importance of the industry to the state. But it may be a surprise to learn that $240,000 from the trust fund is set aside for the orange juice at the state's highway welcome centers along Interstates 10, 75 and 95 and on U.S. 231. Visit Florida even touts the juice as a draw for tourists. "Planning a visit to Florida? Be sure to stop by one of the state's Welcome Centers for information, maps and a free glass of Florida citrus juice," Visit Florida's website says. That's $240,000 worth of juice.
CERTIFIED AS A MATTER OF GREAT IMPORTANCE: The state's seven Supreme Court Justices spend their time mulling the weighty issues of the law only to see themselves attacked by lawmakers for being "too activist" and hounded during the merit retention process. On top of that, they work in a building with a leaky roof. Well, the budget gives them a little bit of love. The spending plan calls for $1,000 raises for the justices, taking their annual pay from $161,200 to $162,200. District, circuit, and county court judges also will get $1,000 raises, along with state's attorneys and public defenders. Oh, and the roof at the Supreme Court? There's money for fixing that, too. The budget includes $75,000 for roof replacement and repairs in the court system statewide. During final discussion of the budget on the Senate floor, Sen. Rob Bradley, R-Fleming Island, who chairs the committee that writes the justice budget, said he actually went up on the roof of the Supreme Court and checked it out. "We can confirm to the Senate that it is a true need that needs to be addressed," said Bradley.
BAY OF PIGS MUSEUM: If Gov. Scott vetoes the $1 million in the budget for the Bay of Pigs Museum in Miami, at least this year, he can't do it on the actual anniversary date of the failed invasion. In one of the worst coincidences in budget veto history, last year Scott axed $500,000 for the museum on the exact anniversary date of the Bay of Pigs Invasion on April 17, 1961. This year, that's not possible obviously, though one would expect not much has changed about his view of the worthiness of the line item.
NO MORE TAJ MAHALS, SERIOUSLY, DON'T DO IT: "The funds provided in Specific Appropriations 3156 through 3225 shall not be used to fund any facility study or architectural/engineering study to assist in planning for the current or future needs of the Second District Court of Appeal." So if anybody was thinking about building a new court building for the Lakeland appeals court, just forget about it.
UNLESS THERE ARE ADA OR SECURITY ISSUES: The Fourth District Court of Appeal, however, in West Palm Beach does get $50,000 in one-time money for an architectural and engineering study of its building to address possible compliance issues with the Americans with Disabilities Act and "court security issues."
STAYCATION: You could spend your next vacation in North Carolina – or you could stay home and help create jobs. You could also do nothing this weekend, stick around the house, maybe work on the garden. Or you could take a weekend trip to a Florida vacation spot and spend a couple nights in a hotel, helping out the economy. If lawmakers are successful, Florida residents may be persuaded to vacation in Florida. The budget earmarks $500,000 to be spent on a contract with the Florida Restaurant and Lodging Association to develop a marketing campaign to "promote Florida tourism by residents of the state." The money comes from the Hotel and Restaurant Trust Fund.
WANT TO BICYCLE ACROSS THE STATE? THERE'S MONEY FOR THAT: The budget includes $50 million for construction of "The Coast to Coast Connector," a trail for bicyclists or others that will go from St. Petersburg to Titusville. Technically it's not a new trail – it's construction of parts of a trail to connect already existing trails.
–David Royse, News Service of Florida