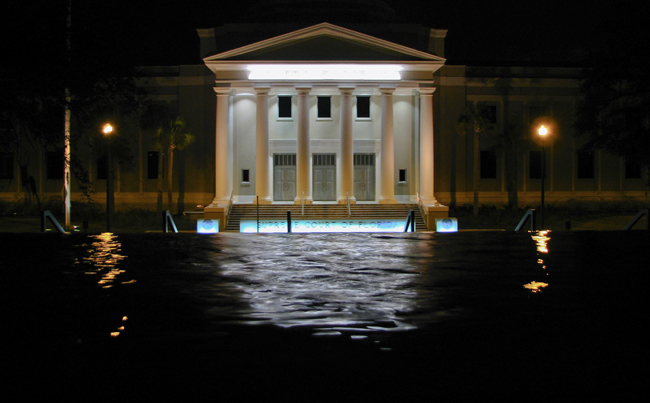 After its annual summer break, the Florida Supreme Court will get back into the routine this week.
Justices are expected to resume their weekly ritual of releasing opinions at 11 a.m. Thursday. And in September, they are scheduled to again start setting aside one week each month to hear oral arguments.
The court faces high-profile cases that deal with issues such as medical malpractice, utility rates and the death penalty. In some of the cases, justices have already heard arguments and could rule any week. In others, the cases still are percolating and have not gone to arguments.
But here are five cases to watch in the coming weeks and months:
MEDICAL MALPRACTICE RULING AWAITED: With medical and legal groups closely watching, the Supreme Court heard arguments in February 2012 in a challenge to a key part of a decade-old law that revamped the state's medical-malpractice system.
It's tricky, if not impossible, to guess what goes on during the justices' private deliberations — and why a decision might take so long. But the medical-malpractice case has huge stakes for doctors, injured patients, trial lawyers and insurers.
The estate of Michelle McCall, a Panhandle woman who died in 2006 from complications after giving birth, is challenging the 2003 law's limits on what are known as "non-economic damages." The law included limits of $500,000 or $1 million, depending on the circumstances and number of people involved in a malpractice case.
Physicians and medical-malpractice insurers say caps on the damages, which often are known as "pain and suffering" damages, are critical to holding down malpractice-insurance costs. But injured patients and their attorneys contend that the caps restrict malpractice victims' access to the courts.
McCall's estate sued the federal government because she was part of a military family and was treated by Air Force staff. A judge found that her survivors should receive $2 million in non-economic damages, but the award was reduced to $1 million because of the 2003 law.
The case is: Estate of Michelle Evette McCall, et al., v. United States of America.
RED-LIGHT CAMERAS: In one of the term's most high-profile cases–and one with a direct consequence for Palm Coast–the court on Oct. 8 will hear the case of Michael Udowychenko, who challenged Orlando's red-light cameras in 2009, when Orlando used those cameras the way Palm Coast did between 2008 and 2010–as code enforcement measures that levied stiff fines, but that were illegal, as Udowychenko claimed, because state law forbade them. A trial court and the Fifth Circuit Court of Appeal upheld Udowychenko's claim, which means Orlando would have to repay drivers penalized before July 2010.
But the Third Circuit Court of Appeal, taking a case from Aventura in South Florida, reversed a lower court's judgment for a driver and upheld the city's claim that using the cameras as code-enforcement devices was within the law. The Supreme Court will be settling the conflict.
Keep in mind that those cases relate to red-light camera laws before July 2010. That year, a new law went in effect standardizing and legalizing all red-light cameras, but also requiring all local governments using them to send more than half the proceeds from the $158 fines to the state. Palm Coast's cameras since July 2010 are not at issue. (See more details on the case here.)
FIRST OF ITS KIND PARENTAL-RIGHTS CASE: Florida lawmakers might have never contemplated such a situation when they passed a law dealing with sperm and egg donors.
Justices heard arguments in October 2012 in a Brevard County case that pits two women who were lesbian partners when they decided to have a child. One of the women provided an egg that was fertilized and implanted in the other woman, who later gave birth.
The legal began after the relationship ended, and the woman who gave birth blocked her former partner from having parental rights. A state appeals court ruled in favor of the woman who provided the egg, saying her constitutional rights had been violated — and pointing to the inadequacy of a state law aimed at people such as anonymous sperm and egg donors, who do not have parental rights.
Justices grappled with the issues during oral arguments, with, Justice Barbara Pariente raising the scenario of a man who impregnates a woman during a "one night stand" receiving parental rights. She questioned whether two women who decide to raise a child should have lesser rights.
But Chief Justice Ricky Polston appeared skeptical about finding that the woman's rights had been violated, telling an attorney, "You're asking us to make a constitutional ruling on social policy."
The case is: D.M.T. v. T.M.H.
FPL RATE FIGHT: When justices resume hearing oral arguments, they are scheduled Sept. 19 to take up a battle about a Florida Power & Light rate increase approved late last year by state regulators.
The state Office of Public Counsel, which represents consumers in utility issues, filed the challenge against the Florida Public Service Commission. FPL received a $350 million increase that took effect in January and also was allowed by the Public Service Commission to raise rates when new power plants start operating.
The case focuses on a settlement agreement that FPL reached with major power users in August 2012. The settlement did not include the Office of Public Counsel and, ultimately, was the basis for the rate increase approved by the Public Service Commission.
In part, the Office of Public Counsel argues that it could not be bypassed in such a settlement, as it is designated by state law to represent consumers. But the Public Service Commission argued in a brief that the public counsel had "every opportunity to urge positions that it deemed to be in the public interest" during the proceedings.
The case is: Citizens of the State of Florida, etc., v. Florida Public Service Commission.
UNDOCUMENTED IMMIGRANT SEEKS TO PRACTICE LAW: Jose Godinez-Samperio, came to the United States at age 9 from Mexico and went on to graduate from law school at Florida State University.
But as he has sought to practice law in Florida, there is one problem: He is an undocumented immigrant. The Supreme Court heard arguments in October 2012, after the Florida Board of Bar Examiners asked justices for guidance about whether an undocumented immigrant can be admitted to the Bar.
Godinez-Samperio has received support from many prominent lawyers in the state and is represented by Talbot "Sandy" D'Alemberte, a former president of the American Bar Association and Florida State University. Godinez-Samperio also was approved to stay and work in the country under a 2012 Obama administration policy — known as "deferred action" — aimed at helping young people.
But justices last year appeared to question whether federal law prohibits undocumented immigrants from getting licenses. Also, in May, the U.S. Department of Justice, dealt a blow to Godinez-Samperio by saying federal law bars the Florida Supreme Court from issuing a law license to an "unlawfully present alien," regardless of the deferred-action issue.
The case is: Florida Board of Bar Examiners Re: Question as to Whether Undocumented Immigrants Are Eligible for Admission to The Florida Bar.
DEATH PENALTY LAW CHALLENGED: It didn't take long for attorneys who represent Death Row inmates to challenge the constitutionality of a new law dubbed the "Timely Justice Act."
The law, approved by the Legislature and Gov. Rick Scott this year, is aimed at reducing delays in carrying out the death penalty. But less than two weeks after the measure was signed into law, attorneys went to the Supreme Court with a challenge to its constitutionality.
They have argued, in part, that the law would violate the separation of powers by imposing obligations on lawyers that conflict with judicially-determined rules. They also say it would alter the court's authority to govern capital post-conviction litigation and would violate due process and equal protection.
But Attorney General Pam Bondi's office contends the Supreme Court should dismiss the case, saying justices don't have "jurisdiction" to rule on it and that the challenge does not identify an impact of the law on any pending case. Justices have not scheduled arguments.
The case is: Dane P. Abdool, et al, v. Pam Bondi, etc., et al.
–Jim Saunders, News Service of Florida, and FlaglerLive