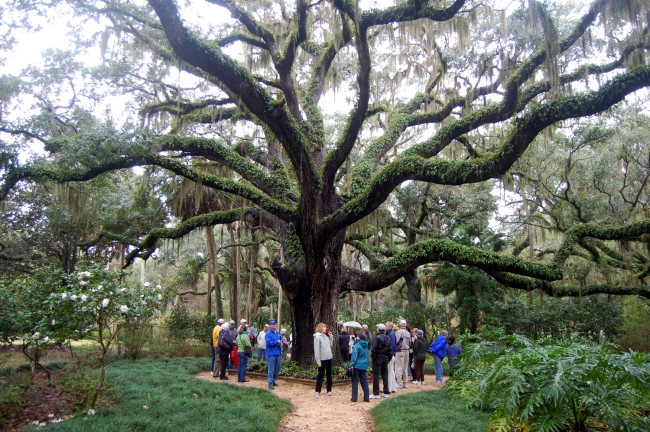 The skies were as gray and low-hanging as the reason behind the gathering. Some 65 friends and advocates of Washington Oaks Garden State Park turned out at the park this morning to ward off a possible attempt by lawmakers to close Washington Oaks and 52 other parks (out of 159), including Bulow Plantation ruins, as part of a budget-cutting spree unlike any in Florida's history.
The Florida Audubon Society chose Washington Oaks–and sent ex-Audubon President Clay Henderson–to kick off what's to be a 53-day campaign, visiting and highlighting each of the 53 parks facing closure through local constituencies, email blasts, press exposure and other means of rolling back state designs. The event at Washington Oaks coincided with Gov. Rick Scott's unveiling, in Eustice, a budget that calls for cutting $5 billion (or 7 percent) out of state spending while providing for $4 billion in tax cuts over the next two years, and the elimination of the corporate tax by 2018. (Read the full story here.)
Anticipating budget cuts of up to 15 percent, the Department of Environmental Protection drew up a list of 53 parks it would recommend for closure, based on lower attendance. Washington Oaks had 60,000 visitors last year.
Juxtaposed, the two events Monday sharply reflected how the notion of Florida as a place to live and Florida as a place to do business are being made incompatible by Scott's philosophy, which sees government services as an obstacle to private business. The divergence is new: Quality of life has been an inherent and indivisible part of why companies chose to do business in Florida. The message Henderson, Neil Davies (the Flagler Audubon president) and others repeated at Washington Oaks Monday is that the foundations of what defines Florida, among them its state parks, are in danger. Saving the parks, in sum, has a broader aim than saving trees and paths.
"We look at it as a campaign to save Florida's special places," Henderson said. "It's part of our fabric. Part of our quality of life. It's part of our best foot forward to the country and to the world." And just as parks such as Washington Oaks are Edens to the local flora and fauna, they are also part of larger environmental and economic hubs that make Flagler County a destination for hundreds of thousands of tourists every year: Washington Oaks is part of the Scenic A1A corridor, it's part of an environmental corridor that connects it to the Princess Place Preserve, the Malacompra Plantation, Bing's Landing, and further south the lush preserves of Bulow Plantation, also in danger of closure.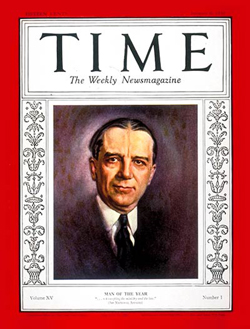 The group visiting Washington Oaks this morning was familiar with the history of the park. But it heard it again, the way people like to hear a favorite song connected to their personal memories: the way the grounds had been part of Joseph Marion Hernández's holdings in the early to mid-19th century, when Hernandez was Florida's first delegate to Congress, the way the property took the name of Hernandez's beau, George Lawrence Washington, who built a place there and turned it into his favorite recreational retreat, the way Owen Young, an industrialist and Time's Man of the Year in 1929, bought the place for his bride and used it to chuck his suits for overalls when he wanted to get away from his many businesses (he'd sell citrus along A1A), and the way his widow Louise deeded it to the state as a park after trying to outdo a friend further north who was trying to get Fort Matanzas turned into a national park (it's been a national monument since 1924).
That was the condition of her donation (she didn't take a dime for it): make it a state park, but preserve the gardens, too–those gardens of roses in all sorts of varieties and oak-shaded tranquility that are the park's crown jewel, and that would be the first to revert to wilderness should it go without the upkeep of some 10 state park personnel (who also work at Faver-Dykes State Park). The park provides To many in the audience Monday, the historic aspect of Washington Oaks, what it preserves of old Florida is also part of the ecology at risk.
"This is my legacy. I don't like people messing with it," Sisco Deen, the Flagler County Historical Society's archivist, said, describing how few places are left that reflect the state as it was was, as opposed to the sameness of suburban and strip-malled character it has taken on in places like Palm Coast and elsewhere. "We are losing our sense of place."
The Department of Environmental Protection has threatened to close parks before. It didn't happen. But Henderson said this year is different, given Scott's antipathy toward matters of nature or the environment. If a government service isn't cashing in, Scott isn't interested in it. Washington Oaks generates revenue, but it's not a money-maker. One of its most frequent uses is as the nearly weekly site of local weddings. "Maybe in the off-season we could do divorces," Robin Holman, a nearby resident and park advocate, said wryly.
At one point the congregation linked hands around Washington Oaks's oldest surviving gift, a 250-year-old oak that predates the Republic, but may not see its surroundings survive the Scott administration.

Take action: Contact your legislators.
In Flagler:
William "Bill" Proctor, R-St. Augustine, District 20: Parts of Clay, Flagler, St. Johns (904) 823-2550, (850) 488-2977 [email protected]
Sen. John Thrasher, R-Jacksonville, District 8: Parts of Nassau, Duval, St. Johns, Flagler and northeast Volusia. (904) 727-3600 and 850) 487-5030; [email protected]
Elsewhere:
Janet Adkins, R-Fernandina Beach District 12: Baker, Nassau, Union and parts of Bradford, Clay and Duval counties(904) 491-3664, (850) 488-6920 [email protected]
Daniel Davis, R-Jacksonville District 13: Parts of Clay, Duval, (904) 573-4994, (850) 488-5102 [email protected]
Audrey Gibson, D-Jacksonville District 15: Part of Duval, (904) 353-2180, (850) 488-7417 [email protected]
Mia Jones, D-Jacksonville District 14: Part of Duval, (904) 924-1615, (850) 488-6893 [email protected]
Charles McBurney, R-Jacksonville District 16: Part of Duval, (904) 359-6090, (850) 488-4171 [email protected]
Lake Ray, R-Jacksonville District 17: Part of Duval, (904) 536-0291, (850) 488-4388 [email protected]
Ronald "Doc" Renuart, R-Ponte Vedra Beach District 18: Parts of Duval, St. Johns(904) 270-2550, (850) 488-0001 [email protected]
Charles Van Zant, R-Palatka District 20: Putnam and parts of Bradford, Clay, Lake, Marion, Volusia(386) 312-2272, (850) 488-0665 [email protected]
Mike Weinstein, R-Jacksonville District 19: Parts of Clay, Duval, St. Johns(904) 213-3005, (850) 488-1304 [email protected]