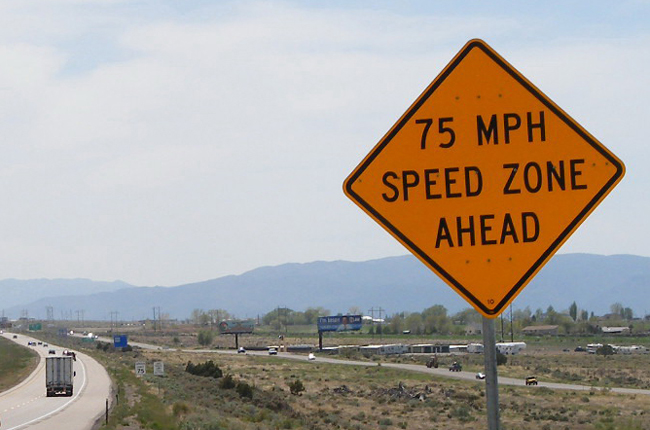 Speed limits of 75 mph on Interstate highways are common in the Great Plains and Mountain states, but nonexistent east of the Mississippi except in Maine. Florida may be about to change that.
A bipartisan measure filed in the Florida Legislature Tuesday could shorten the more than 800-mile drive from Pensacola to Key West to less than half a day of travel.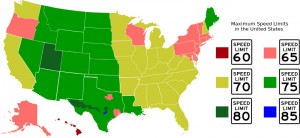 Sens. Jeff Brandes, R-St. Petersburg, and Jeff Clemens, D-Lake Worth, proposed a bill (SB 392) that would allow a 75 mph speed limit on some highways and also boost speeds on other roads. Brandes said the idea is to adjust speed limits on interstates and certain rural highway to accurately reflect what most motorists are already driving.
"If people are driving within rates they're comfortable with, we need to adjust the minimum and maximums speeds to what 85 percent of people are already driving," Brandes said. "That's what this bill would allow."
The proposal would direct the state Department of Transportation to determine the safe minimum and maximum speed limits on all divided highways that have least four lanes. In Flagler County, that includes I-95 and U.S. 1. On U.S. 1.
The DOT would then be able to increase travel on the state's "limited access highways" to 75 mph and raise the maximum posted limit on divided four-lane highways in sparsely populated rural areas from 65 mph to 70 mph. The DOT could also hike speeds by 5 mph, to 65 mph, on other roads they deem safe.
Florida's highways have had a 70 mph maximum since 1996, the last time the speed limit was reviewed.
In a news release from the senators, they pointed to National Highway Traffic Safety Administration numbers that indicate the fatality rate per 100 million vehicle miles traveled has consistently declined since 1996. The decline, however, has coincided with the propagation of air bags, which are now required in all vehicles.
The proposal will face safety questions.
Raising speed limits above 70 mph, as 16 states have done for select roads since the national speed limit was lifted in 1995, has led to more deaths from speeding accidents as reaction times are reduced and the severity of injuries is made greater, according to the Insurance Institute for Highway Safety in Arlington, Va.
"Higher speeds make crashes more likely because it takes longer to stop or slow down, and the crashes that happen are more likely to be deadly. It's physics 101," said Russ Rader, a spokesman for the Insurance Institute.
A 2009 study by the American Journal of Public Health found a 3 percent increase in road fatalities attributed to higher speeds after the 1995 repeal of the national speed limit, with the increase growing to 9 percent on rural interstates with higher limits, Rader said. In the 10 years after speed limits were increased, research concluded that 12,545 deaths and 36,583 injuries in fatal crashes were attributed to the higher speed limits.
This year, an analysis conducted by the Connecticut legislature's Office of Legislative Research that based its findings on a 2006 National Cooperative Highway Research Program, found that " higher speed limits were associated with an increased likelihood of deaths and incapacitating injuries. It found that increasing a speed limit from 55 to 65 mph on an "average" section of high speed road resulted in about a 3 percent increase in the total number of crashes and a 24 percent increase in the likelihood that a vehicle occupant would be fatally injured. This increased crash rate would yield a 28% increase in the number of fatalities following the speed limit increase. The study also found a similar, but lesser, impact when speed limits were raised from 65 to 75 mph. In those cases, the total number of crashes increased by 0.64 percent, increasing the probability of a fatality by 12%, with an overall increase of 13 percent in total fatalities. Although the analysis did not explain why a smaller increase occurred at the higher speeds, the study suggested that people may drive more cautiously when driving faster, or that roads deemed appropriate for a 75 mph limit are safer." (See the full findings below.)
More importantly for those questioning the increases, motorists have continued to go above the posted limits as other states have raised the minimum and maximum limits.
In the decade after the speed limit was raised in Nevada and New Mexico from 65 mph to 75 mph on rural interstates, the proportion of passenger vehicles exceeding 80 mph tripled in Nevada and nearly tripled in New Mexico, according to the Insurance Institute.
The Journal of Public Health study was conducted before Maine increased the speed limit to 75 mph for the northern end of Interstate 95 in 2011. The increase made that section of road — between Old Town and Houlton — the first to top 70 mph east of the Mississippi River.
Louisiana allows 75 mph on sections of Interstate 49, which is west of the Mississippi River.
Brandes admitted he had some early reservations about adjusting the limits, but the senators said they are comfortable allowing state engineers to determine if any increase is warranted.
"Allowing professionals to determine safe speeds based on the engineering standards of individual highways is simply common sense," Clemens said in the news release. "A five mile per hour increase is unlikely to have an impact on road safety, but we'll let the experts do their job."
The proposal will be considered during the 2014 legislative session. Currently, there is no House sponsor for the proposal.
–News Service of Florida and FlaglerLive

Safety Impacts and Other Implications of Raised Speed Limits on High-Speed Roads: Final Report (2006)