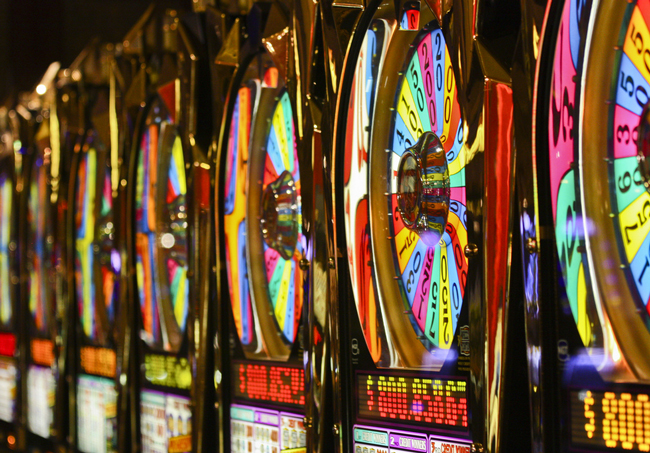 In a ruling likely to raise the stakes in the discussion over expansion of gambling in Florida, the 1st District Court of Appeal on Thursday said state lawmakers hold the cards when it comes to decisions about new venues.
In a closely watched opinion, a three judge panel of the court unanimously ruled that a 2004 constitutional amendment allowing Miami-Dade and Broward county voters to approve slot machines didn't preclude lawmakers from later further expanding the scope of gambling around the state.
The opinion was a victory for Miami-Dade County's historic Hialeah Park, which wasn't allowed to add slots after passage of the amendment, because it wasn't offering live racing at the time. Hialeah later began holding quarter horse races and lawmakers passed a law last year to add Hialeah to the list of venues allowed to offer slot gambling under the 2004 constitutional amendment.
But two competitors in the county, Miami Jai-Alai and Calder Casino and Race Course , challenged the law, seeking to prevent the amendment from applying to the Hialeah facility. The court on Thursday upheld that 2010 law.
Though likely to be appealed, the ruling may also open the door for a list of companies that want to expand gambling options in several other places in a cash-strapped state where new gaming tax revenue might be welcome – though backers of gaming say they're still focused on the two South Florida counties.
"Malaysia-based Genting Group spent almost $300 million in downtown Miami to secure some 30 acres for what it calls Resorts World Miami, a proposed $3 billion project," Howard Stutz, who writes a gambling-industry column for the Las Vegas Review-Journal, wrote this week. "The company operates Resorts World Sentosa in Singapore and is expected to open a slot machine casino at New York's Aqueduct Race Track this month."
The appeal court's seven-page ruling made it clear that state lawmakers are within their authority to expand gambling where they see fit, beyond the seven venues originally approved by Broward and Miami-Dade voters following the 2004 change to the constitution.
"This ruling puts the authority to regulate gaming squarely in the lap of the Legislature," said Marc Dunbar, a Tallahassee attorney who represents a number of gambling interests and teaches gaming law at Florida State University.
The constitution "provides no indication that Florida voters intended to forever prohibit the Legislature from exercising its authority to expand slot machine gaming beyond those facilities in Miami-Dade and Broward Counties meeting the specified criteria," Judge Marguerite Davis wrote. "Nor is there any indication that Florida voters intended to grant the seven entities who met the criteria a constitutionally-protected monopoly over slot machine gaming in the state."
While voters may not have thought so, it clearly was a selling point for lawmakers back when the initiative was put on the ballot. Some conservative lawmakers in other parts of the state went along with it because they believed that the language of the amendment would isolate new gaming in the two southern counties.
Thursday's ruling was applauded by supporters of several proposals to allow new gaming in the state.
"It helps," said Rep. Erik Fresen, R-Miami, the House sponsor of a yet-to-be-filed bill in the Legislature that he says will allow "destination resorts" that include gambling. "It is one less obstacle for us to hop over. It sends a very declarative judicial message."
Fresen's proposal, which will also be sponsored by Sen. Ellyn Bogdanoff, R-Fort Lauderdale, is a second attempt at permitting destination resorts that include casinos after a similar effort failed last year.
While the bill hasn't been filed, details began to emerge Thursday, such as a plan to allow three permits for casinos in just Broward and Miami-Dade counties and the inclusion of a strict regulatory gaming commission. Last year's bill had additional venues located in other parts of the state. Backers say this year that's not the intent.
The bill will also include a new gaming commission, modeled after similar groups in Nevada and New Jersey, intended to bring stricter regulation of gaming in Florida, Fresen said. The bill will also likely become a vehicle to eliminate the Internet cafes that offer sweepstakes gaming throughout Florida, he said.
With a session next year that will be dominated by redistricting and another budget shortfall, observers say it's unlikely there will be more than one gaming bill passed. Fresen agrees and said the destination resorts bill may become the vehicle for anything gaming-related.
"We are going to look at all the gaming that is occurring in Florida and see what is working, what isn't working and what should or should not be here," Fresen said.
The destination resorts bill will likely be one of the hardest fought issues of the upcoming legislative session, with several powerful groups either staunchly opposed to gambling expansions, or interested in carving out their own piece of the pie from the bill.
Fresen said he'll push to keep the destination portion limited to South Florida.
"This bill is going to have every single belt and suspender on it to make sure it is limited only to Miami-Dade and Broward," Fresen said. "We have every attorney imaginable looking at it to make sure it is not some Trojan horse for any county to be able to do it."
But already there's an indication of interest outside the two counties. The Naples Daily News reported on Thursday that brochures and petitions are circulating in Lee County in southwest Florida where a developer is testing the waters for a possible move to allow gambling there.
In addition to dog and horse tracks, the Seminole Tribe – which has a 20-year agreement with Florida to pay the state in exchange for the exclusive rights to offer certain casino games – and groups that criticize gambling expansions on moral grounds also have a stake in the bill.
"You're going to see an up or down vote on the Senate floor on this," said Sen. Mike Fasano, R-New Port Richey. "We are a gambling state."
–Michael Peltier and Lilly Rockwell, News Service of Florida