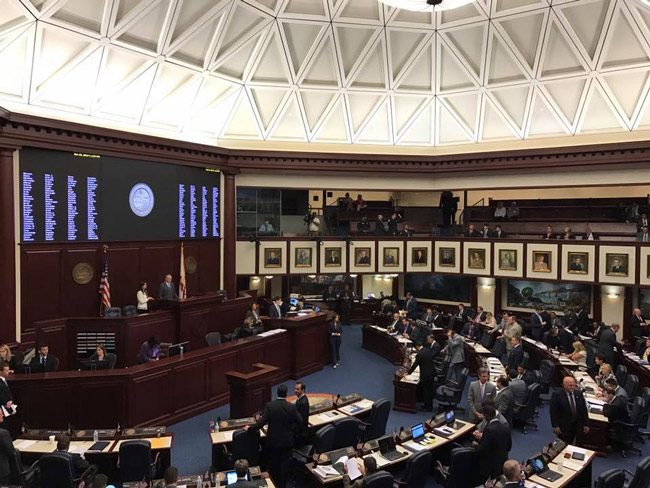 Halfway through Florida's 60-day legislative session, almost all major issues remain unresolved.
That's not unusual: Lawmakers always leave tough stuff to the end. But the House and Senate will have to resolve key differences if they hope to end the session as scheduled May 5.
Here is an update on 10 big issues:
BUDGET: The House and Senate next week will pass budget proposals that top $80 billion, setting the stage for negotiations on a final spending plan. But with the two chambers at least $2 billion apart on their proposals — and disagreeing about crucial details — even Republican leaders are publicly raising the possibility that a special session will be necessary to pass a budget. The House and Senate need to come to agreement before the new fiscal year starts July 1.
DEATH PENALTY: With Florida's death penalty on hold since January 2016 because of a thicket of court rulings, the House and Senate quickly passed a bill last month to resolve one of the most-important issues. The bill, signed by Gov. Rick Scott, requires unanimous jury recommendations before defendants can be sentenced to death. The Florida Supreme Court in October struck down a law that required only 10 of 12 jurors to agree on recommending death sentences.
ECONOMIC DEVELOPMENT: Scott and House Speaker Richard Corcoran, R-Land O' Lakes, have been locked in a battle about the economic-development agency Enterprise Florida and tourism-marketer Visit Florida. The Corcoran-led House has voted to abolish Enterprise Florida and to cut funding for Visit Florida. Scott has barnstormed the state to try to build support for the agencies, which he says are important to job creation. Senate leaders have largely sided with Scott, and the dispute could play out in the budget negotiations.
EDUCATION: With Senate President Joe Negron, R-Stuart, making the issue one of his top priorities, the Senate has passed a bill that would lead to wide-ranging changes in the higher-education system, including revamping parts of the Bright Futures scholarship program, tightening performance standards for state colleges and universities and encouraging more students to graduate on time. Meanwhile, Corcoran has targeted low-performing public schools that he calls "failure factories" and is pushing for expanded school choice.
GAMBLING: The House and Senate have taken vastly different positions as they head toward negotiations on a gambling bill. The Senate passed a measure that focuses on changes in the pari-mutuel industry, including allow slot machines in eight counties where voters have approved them and allowing nearly all tracks and jai alai frontons to do away with live racing or jai alai games, a process known as "decoupling." The House plan, meanwhile, focuses on reaching a new gambling agreement with the Seminole Tribe of Florida and seeks to prevent an expansion of gambling.
GUNS: Lawmakers appear likely to reach agreement on a bill that would shift a key burden of proof in "stand your ground" self-defense cases, a priority of the National Rifle Association. But some other high-profile bills are stuck in the Senate. Those bills include proposals that would allow people with concealed-weapons licenses to carry guns on college and university campuses or to openly carrying firearms in public.
HEALTH CARE: House leaders have renewed efforts to reduce regulations in the health-care industry. The House, for example, has passed a bill that would allow patients to stay longer at ambulatory-surgical centers and allow the creation of what are known as "recovery care centers" for additional post-surgical care. The Senate has scuttled such proposals in the past, and it remains unclear whether it will go along this year. Health care also will be key in budget negotiations, with both chambers proposing cuts in hospital funding.
MEDICAL MARIJUANA: After voters overwhelmingly approved a constitutional amendment in November, lawmakers are grappling with how to move forward with a broad expansion of the state's medical-marijuana laws. A heavily lobbied issue focuses on the number of businesses that will receive potentially lucrative licenses to grow, process and sell cannabis. Under current law, seven businesses have such licenses, and the House and Senate disagree about issues related to adding more licenses.
WATER: Negron has made a priority of a plan to create a reservoir south of Lake Okeechobee to alleviate discharges of polluted lake water into the St. Lucie and Caloosahatchee estuaries. But the plan has faced heavy opposition from farmers, including the politically powerful sugar industry, and local officials south of the lake. Negron this week took steps to try to make the plan more palatable to opponents and House leaders, and the issue likely will play a part in budget negotiations.
WORKERS' COMPENSATION INSURANCE: After a 14.5 percent rate increase began taking effect in December, business and insurance groups came into the legislative session lobbying for changes to reduce workers' compensation insurance costs. But those groups, at least at this point, are not happy with House and Senate bills. The most-controversial issue in the debate stems from a Florida Supreme Court ruling last year that rejected strict limits on attorney fees in workers' compensation cases. Lawmakers are considering allowing fees up to $250 an hour for workers' attorneys — an idea opposed by business and insurance groups.
–Jim Saunders, News Service of Florida