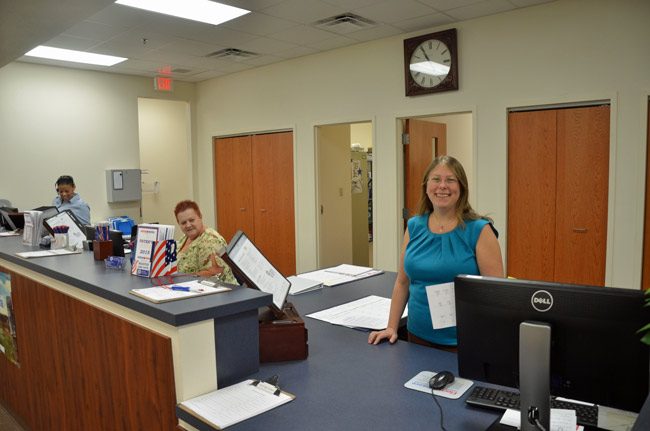 Get your voter registration application here.
Saying that "no right is more precious than having a voice in our elections," a federal judge this morning ordered Florida's voter-registration deadline extended a full week, to Tuesday, Oct. 18 at 5 p.m., to compensate for the disruptions and evacuations caused by Hurricane Matthew.
The extension is a victory for the Florida Democratic Party, which had filed suit to counter what had been a decision by Gov. Rick Scott not to extend the deadline. The governor, who had urged Floridians up and down the east coast to "evacuate, evacuate, evacuate" last week, said the very same day that Floridians had had enough time to register to vote.
Today, attorneys for Scott and Secretary of State Ken Detzner appeared before federal District Judge Mark Walker, but did not argue his ruling. Walker had granted an emergency order on Monday to extend the deadline through today, but had scheduled today's hearing to give the parties further opportunity to argue their case for or against a full-week extension.
Supervisor of Elections Kaiti Lenhart this morning, immediately after the ruling, cheered Walker's decision.
"I think it's wonderful for people to have an extra opportunity to vote," Lenhart said. "I've talked to a lot of people in the county who were forced to evacuate, and had planned to register to vote and then their plans changed suddenly because of the hurricane so this gives everyone an opportunity and that's good."
Lenhart had already extended the Supervisor of Elections' office hours by an hour each day, with the office opening at 8 a.m. and closing at 5 p.m. (instead of 8:30 to 4:30). She said that will continue through next Tuesday's extension.
Lenhart said her office received about 120 additional voter registrations on Tuesday. "We've been very busy," she said, as people have downloaded voter-registration applications or picked them up at her office, and turned them in. People have also been dropping off the application in the after-hour drop-box outside the supervisor's office.
About 200 people registered to vote in Flagler County have already cast their ballots. Those are mostly military absentee ballots. But thousands more are expected starting this week, now that the vote-by-mail ballots have actually been mailed. Those ballots were supposed to have been mailed last Friday. But that was the height of Hurricane Matthew in Northeast Florida. The U.S. Post Office had suspended all operations Friday. It has since resumed them, so the more than 13,000 Flagler County voters who requested vote-by-mail ballots have started receiving them–and sending them back in.
Lenhart urges voters to make sure their mailboxes are dry: at least one voter's ballot was ruined because of moisture in the mailbox. For those who cannot access their mailboxes, their vote-by-mail ballots are waiting for them at their local post office.