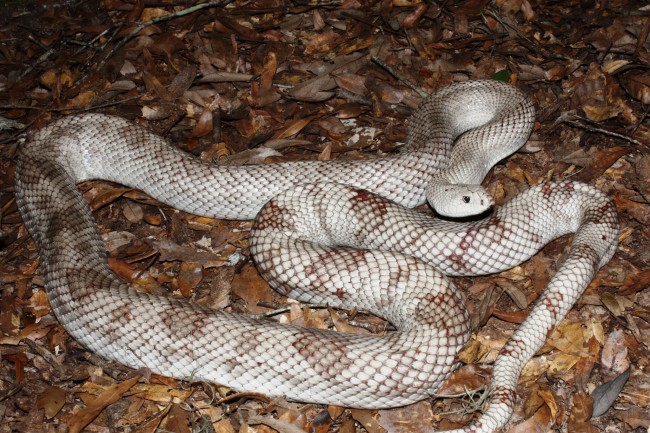 Florida Fish and Wildlife Conservation Commission biologists are asking the public to report sightings of three rare snake species: Florida pine snake, southern hognose snake and short-tailed snake. Residents or visitors can help with research on these species by reporting sightings online.
"Reports from the public will aid us in determining where these snakes live and their status," said Kevin Enge, a Fish and Wildlife research biologist.
All of these snake species have been petitioned for federal listing. The three species are found in dry, upland habitats and spend most of their time underground. They are only occasionally seen moving along the surface or crossing a road.
For each report, those filling it out are asked to provide the location where they saw the snake and the month and year the observation occurred. Researchers are also requesting citizens to submit photos of the snakes, when possible, to verify identification.
Reports can include live or dead animals.
Although these species are nonvenomous, people should avoid handling or disturbing them. For more information about living with snakes and to submit sightings to the FWC, go here.
The snakes:
Southern Hognose Snake (Heterodon simus):
Short (less than 2 ft) and stout with round dark spots on a lighter ground color; sharply upturned snout.
The more common eastern hognose (Heterodon platirhinos) gets larger and has a less upturned snout and more variable pattern (the spots are usually not as well defined, and some snakes are plain gray or black) than the southern hognose. The underside of the tail of the southern is usually the same light color as the belly, whereas the eastern usually has a darker belly and light tail.
Both the southern and eastern hognose will hiss, spread their necks, gape, and roll over and play dead when disturbed, but the eastern can flatten its neck much wider.
Florida Pine Snake (Pituophis melanoleucus mugitus):
Large (up to 7 ft) and heavy bodied with a white, tan, or rusty ground color and dark blotches that are more distinct towards the rear of the body (occasionally patternless).
The snout is pointed and has a large scale on the nose, and a pronounced ridge above the eyes makes pine snakes look "mean."
This species often hisses very loudly when disturbed.
Most people can't tell the difference between a southern and an eastern hognose, so submission of a photo is necessary to verify the identification.
Short-Tailed Snake (Lampropeltis extenuata):
Short (less than 26 inches) with a small head and slender (the largest ones are skinnier than a pencil) body.
The body color is gray with many small dark blotches separated by red, orange, or yellow coloration (sometimes absent) along the midline of the back.
How to Participate:
FWC is interested in ANY sightings of the Southern Hognose Snake including animals killed on the road. Please upload a photograph, if available, so that identification can be confirmed. By uploading a photo, you agree to have your photo deposited in the Florida Museum of Natural History's Herpetology Collection in your name as a permanent record (voucher).
More recent sightings (2000-present) are preferred, but older sightings are appreciated. Please remember to put the correct year and month, if possible.
Additional comments, questions or pictures can be sent to Kevin Enge ([email protected]) or Anna Farmer ([email protected]). You may also call Kevin (352-334-4209) or Anna (352-334-4220).