Hundreds of state agencies nationwide have never told the federal government about health professionals they disciplined, undermining a central database meant to weed out dangerous caregivers.
The federal database is supposed to contain disciplinary actions taken against doctors, nurses, therapists and other health practitioners around the country so that hospitals and select others can run background checks before they hire new employees.
Federal officials discovered the missing reports after a ProPublica investigation in February found widespread gaps in the data, including hundreds of nurses and pharmacists who had been sanctioned for serious wrongdoing.
Since then, regulators nationwide — prodded by federal health officials — have submitted 72,000 new records to the database, nearly double the total submitted for all of 2009.
All states are required by law to report the licensed health workers they've sanctioned to databases run by the U.S. Health Resources and Services Administration (HRSA). But ProPublica found that many state agencies either didn't know about the requirement or simply weren't complying.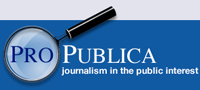 The failure to report means frontline health workers who have a record of on-the-job misconduct, incompetence or criminal acts aren't flagged to hospitals or other potential employers, who pay a fee to run checks on job applicants.
Wisconsin, for example, has not reported sanctions against emergency medical technicians. The state's Department of Health Services website, however, shows that more than two dozen EMTs have been disciplined, including several for criminal convictions and one for stealing drugs from an ambulance.
An agency spokeswoman said officials are working to submit the missing information.
HRSA's analysis of 13 nursing boards flagged by ProPublica as missing records shows the depth of the problem. Since being contacted by HRSA, those boards collectively have reported more than 2,000 missing cases, including 147 in California and 66 in Illinois. Florida alone had 972.
Despite the important public safety role of the database, federal officials have little power to enforce compliance. Earlier this month, they took what they said is the strongest action allowed against scofflaws: They put a checkmark next to state names indicating they were "noncompliant" and posted the information on the HRSA website.
"That's the tool we've been given by Congress," said Mary Wakefield, administrator of HRSA, noting that no prior administration had even used that before.
Twenty-one states and Puerto Rico were thus chastised for not reporting on at least one category of health professional or ignoring the government's requests for information. Kentucky was flagged for 10 professions; Louisiana, six; and Alabama and New Mexico, five each.
Many states were listed as "working toward compliance," meaning they were in the process of submitting missing information, or "under review" by the federal government.
Congress ordered the government to create a database of disciplinary actions against all health providers more than two decades ago; information about doctors and dentists was first made available in the National Practitioner Data Bank in 1990. But hospitals could begin searching other professions only in March of this year. The database is not open to the public.
The completeness of the database is important because health professionals often have licenses in multiple states. If a hospital checks just one state's oversight board, disciplinary actions elsewhere may not turn up.
California, for example, recently discovered that 3,500 registered nurses with clean records there had been disciplined in other states.
ProPublica's report in February found that no sanctioned pharmacists had been reported by South Dakota or New Hampshire and only one each in Alabama, Delaware, Ohio and Tennessee. But a search of those states' websites showed hundreds of sanctions, including a pharmacist in Ohio who ran an Internet pill mill that dispensed nearly 1.5 million drug doses without valid prescriptions.
Wakefield acknowledged that her agency is just beginning to assess the completeness of the information. After ProPublica detailed the gaps in the data, federal officials sent letters to the nation's governors requesting help and held numerous training sessions.
HRSA is still trying to sort out the compliance status of 450 licensing boards and agencies that appear to never have reported discipline for some of the professions they oversee. The agency plans to report additional information in October.
Officials are in the process of comparing disciplinary actions reported to the federal database to what states have listed on the states' own public websites. "This is a work in progress," Wakefield said.
The review did not examine state agencies overseeing doctors and dentists because they have been reporting actions for nearly a decade more than others.
Some state officials said they were surprised to be labeled noncompliant.
David Potters, executive director and general counsel of West Virginia's pharmacy board, acknowledged that his board had not submitted all of its disciplinary actions, but said he had turned in a plan to catch up.
Consumer advocate Dr. Sidney Wolfe, who has pushed for a more accurate databank, said the agency's work in recent months is a huge step forward.
"HRSA is at least making some moves in directions that it hasn't made for a while — and hopefully there will be many more moves," said Wolfe, of Public Citizen, a Washington, D.C., nonprofit that advocates for patient safety.