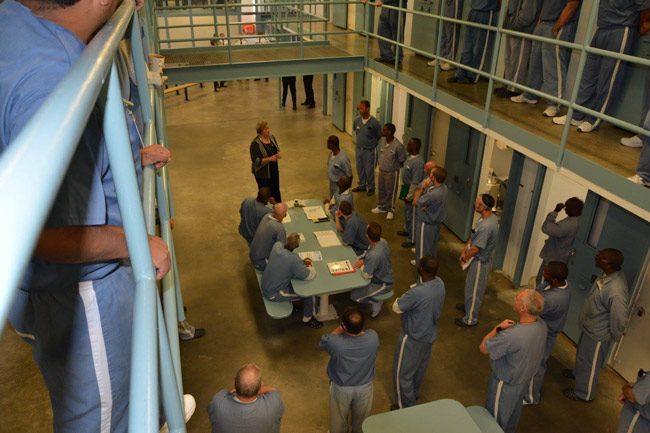 Tearful, angry and resentful family members of Florida inmates pleaded Thursday with state corrections officials to abandon proposed changes to visitation rules that could cut in half the amount of time they are able to spend with locked-up loved ones.
The Department of Corrections is proposing a change that would allow the agency to limit prison visits — which can now take place on Saturday and Sunday, in addition to holidays — to every other weekend. Under the proposed rule, changes to the "standard" visitation schedule would be implemented on a prison-by-prison basis and would be based on a variety of factors, such as staffing shortages and the amount of contraband being sneaked into the institutions.
The proposal eased off an original plan, floated last month, which could have allowed corrections officials to impose the reduced visitation schedule throughout the prison system and reduce the current six-hour daily visitation period to two hours.
But the modifications did not eliminate the concerns of dozens of people who urged corrections officials to drop the plan during a hearing about the proposed rule Thursday,
"I really don't want my visits or anyone's visits to be taken," 11-year-old Cody Calhoun told prison officials, saying he "will be devastated" if the change goes into effect. "Why would you even take them away? I mean, they're already having a bad enough time in prison. Why would you make it worse? Please. I need to see my dad on the weekends. … I love playing with him and it brings me closer to him."
Families and prison-reform experts pointed to research showing that face-to-face visits play a significant role in reducing recidivism and assisting ex-inmates to re-enter society when they are released. The critics also relied on studies showing that visitors are responsible for just a fraction of the illicit items, such as cigarettes and cell phones, brought into prisons.
But Richard Comerford, assistant deputy secretary of institutions for the Department of Corrections, said those concerns, and others, were taken into consideration when corrections officials modified the proposed visitation changes, which would only go into effect if needed.
"We'll evaluate that visitation schedule based on institutional security, staffing, safety and security of the inmates, visitors and staff, the maximum capacity of these parks, the numbers of visitors and the frequency of contraband that's introduced into our facilities," he said.
Lawmakers placed such a value on visitation that it is included in a state law, which says that "maintaining an inmate's family and community relationships through enhancing visitor services and programs and increasing the frequency and quality of the visits is an underutilized correctional resource that can improve an inmate's behavior in the correctional facility and, upon an inmate's release from a correctional facility, will help to reduce recidivism."
If there are barriers or deficiencies regarding visitation, the law also requires the corrections secretary to submit budget requests "identifying capital improvements, staffing, and programmatic needs necessary to improve the quality and frequency of family visits and the visitation program and services."
Prison officials are also responsible for "protecting society and citizens at large," Department of Corrections lawyer Gregory Hill said at the onset of Thursday's hearing.
"It's with these two competing goals that the department has to compose these rules, and that's what the department's strived to do in revising and revamping the rule that's been presented and will be presented here today," he said.
But sharply reducing the time inmates can spend with their loved ones could put the public at risk, many of the speakers warned. Apart from committing more crimes when they are released, the reduction in visitation could lead inmates to riot, some cautioned.
Heather Walker said her "baby brother" has served five years of a life sentence.
"These visits are all that he has to look forward to. Decreasing them, taking them away, is no way going to help him," a tearful Walker, who said she has another brother who is a corrections officer, said. "If this was your brother, this was your child, would you put these same standards into the law?"
About 100 people showed up for the hearing, including several who said they were traveling more than 16 hours round-trip to be able to speak.
Jodi Chambers-Wilson, whose son is in prison, said even more family members would have appeared but for the reason she kept silent on prison-related matters for seven years.
"Fear of retaliation. Period. Point blank," an angry Chambers-Wilson said, reminding prison officials that the law requires them to encourage visitation.
"I birthed him, and I am allowed to visit him because the state Legislature says it is your responsibility to facilitate it. Let me be a mother to my son," she said, receiving a standing ovation from the audience members.
The corrections agency — which houses 90,000 inmates — has been chronically underfunded and is currently running a budget deficit of nearly $80 million. Agency officials attribute about a third of the deficit to spending on contracts with private health-care companies and increases in the costs of prescription drugs.
The agency also is struggling with staffing shortages.
The corrections department is offering $1,000 hiring bonuses at 18 of Florida's 50 state-run institutions, according to the department's website. The bonuses are being offered at facilities that are at least 10 percent below desired staffing levels, agency spokeswoman Michelle Glady said in an interview.
But until the proposed rule is finalized, Glady said it's impossible to know what the staffing standards would be to spark the "modified" visitation schedule.
"No one would argue that visitation isn't valuable, that the family connections aren't important, that having those connections contributes to the reduction of recidivism," Glady said. "In-person visitation is very important, but we have to balance the security of the institution, and that's why the rule outlines when we would have to go to a more modified schedule."
Beth Gammie, a lawyer who has spent two decades representing people seeking clemency or parole, warned that the rule could be challenged because it fails to specify that the schedule would be modified if the frequency of contraband brought into a facility increases is due to visitors, "because that is apparently what you are trying to get at."
After the meeting, Gammie said the biggest issue with the proposed rule is the modified visitation schedule.
"That's clearly what they've been wanting all along," Gammie said, referring to the corrections department. "They know that visitation is positive. So this whole rulemaking effort, which they would only do if they want to change the present practice, they're either ignoring that or it's not mattering that much to them."
–Dara Kam, News Service of Florida