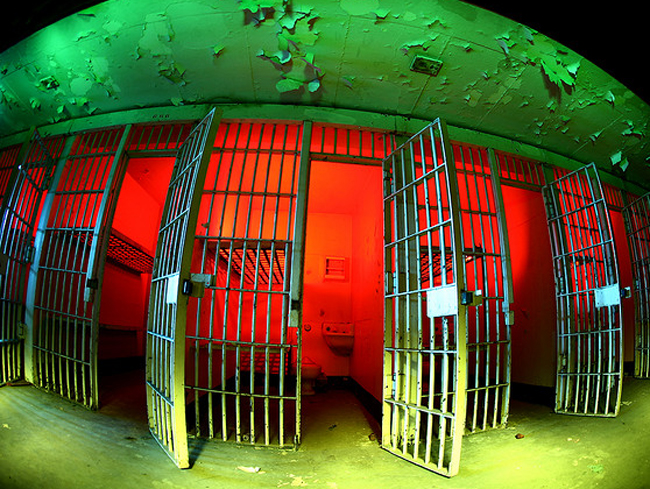 The Department of Corrections announced plans this week to close three prisons, two boot camp programs and another facility as a way of saving $30 million that agency officials say can be done without releasing any inmates early. Meanwhile, a preliminary cut of the Senate budget for prisons and courts banks heavily on privatization to help slice more than $270 million from the spending plan for the coming fiscal year, particularly through privatization of inmate health care.
Prisons officials claim they can close the prisons and boot camps without many layoffs. A statement from the department said "the bulk" of the cost savings would be generated through employee attrition.
Corrections Secretary Edwin Buss said last week that with about 350 jobs a month turning over in the system, not filling them could give the agency almost all the cuts it needs.
The agency announced plans to close Brevard Correctional Institution near Cocoa, Hendry Correctional Institution in Immokalee and Hillsborough Correctional Institution in Riverview. Also on the block for closure will be the Tallahassee Road Prison, the Lowell Correctional Institution Boot Camp and the Sumter Boot Camp.
Staff at the facilities slated for closure will be offered jobs at other institutions, prisons officials said.
"This plan is the right thing to do because it will save Florida taxpayers millions of dollars," Buss said in a release. "The facilities to be closed are older and require more resources to operate than newer institutions. Additionally, this initiative will provide the department with an opportunity to consolidate program resources which will allow for seamless delivery of evidence based programs aimed to reduce recidivism."
The state prison system currently has a surplus of beds, according to prison officials.
An agency statement said the phase out of the facilities would begin immediately with an eye toward completion at the end of June.
While the administration of Gov. Rick Scott has clashed with legislators over the authority to make certain moves without legislative approval, the chairman of the Senate committee that writes the criminal justice budget said Tuesday that Buss is within his authority to close and consolidate prisons without legislative approval.
Criminal and Civil Justice Appropriations Chairman Mike Fasano, R-New Port Richey, however, is working on a draft criminal justice budget that contemplates far fewer reductions, cutting 85 positions for a savings of just $5.5 million.
Closure of the facility in Brevard County, which has about 350 employees, may be particularly difficult – the area has been hit hard by the slowdown in the space industry and the end of the space shuttle program. Florida Today newspaper in Melbourne reported that prison officials said only 238 of those workers at the Brevard facility would be offered jobs elsewhere, though many of those jobs may be made empty by attrition.
The department said shuttering the facilities would save $30.8 million this year, and $25 million in out years.
From the Senate's perspective, handing a private company control of all inmate health care — including medical, dental, pharmacy and mental-health plans — would save almost $75 million, according to a draft of the budget released by Fasano.
The measure would also cut 5 percent from salaries for wardens and assistant wardens and slice hundreds of positions — many of them vacant. More recent estimates already whacked more than $41 million from how much the state was expected to spend on criminal justice.
The plan also plugs a $90.4 million shortfall for the state courts and the clerks of court.
But the biggest proposed cost reduction came from the privatization proposal, which supporters say will save money and still provide inmates with adequate care.
"We have already privatized one of the regions in mental health-care services, and it's working fine," Fasano said. "And I believe we can expand that to other regions."
But some Democrats — rarely fans of privatization to begin with — still worry that rolling out an across-the-board privatization push on a statewide basis could endanger inmates' health.
"This is a massive undertaking of a lot of people at one time," Sen. Arthenia Joyner, D-Tampa.
"I just think we need to tread lightly and do it in an organized manner, as opposed to, in one fell swoop, privatizing the entire medical services. Because all you need is for one death to occur or one serious injury."
But Sen. John Thrasher, R-St. Augustine, asked whether pushing more employees into the $70 million building might be throwing good money after bad.
"I know the First DCA has issues, and we've discussed those ad nauseam," Thrasher said. "Are we complicating or stacking on top of a problem that has already been created with something that's not necessary?"
Fasano said the change would ultimately save an estimated $300,000 a year by getting rid of the leasing costs for the current headquarters for the Office of the State Courts Administrator and moving them into the extravagant and roomy courthouse.
"We have a little over 100 people that are using that facility in a building that could house a lot more people and save the taxpayer money in years to come," he said.
The Legislature is looking to cut $3.6 billion from the current year budget to close a gap between revenue and spending. Lawmakers will get an update Friday on how much revenue is expected to be available, which will be the basis for the budget they'll write this month and next.
–David Royce and Brandon Larrabee, News Service of Florida