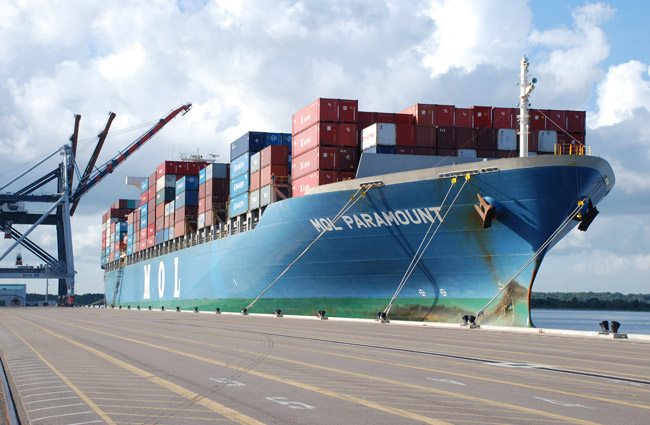 Gov. Rick Scott and executives of Florida's largest ports Thursday called on negotiators to avert a strike that could cripple the majority of container shipments along the eastern and gulf coasts as early as this weekend.
Barring an agreement between longshoremen and shippers, the group urged President Barack Obama to use his authority to keep containerized cargo moving while talks continue, saying any interruption would have a ripple effect throughout Florida and across the country.
The International Longshoremen's Association union and the U.S. Maritime Alliance, a group of shipping companies, have been negotiating since March for an agreement covering cargo handling at 15 ports on the U.S. gulf and eastern coasts.
The most recent contract expired in October, but the parties agreed to a 90 day extension that ends Dec. 29.
"Our message to President Obama is simple; a shutdown of Florida ports is not an option for Florida families," Scott told reporters during a conference call Thursday.
The dispute threatens to have a significant effect at a handful of Florida's 15 ports that handle the lion's share of the 3 million container shipments entering and leaving the state.
Port Miami, Port Everglades and the Port of Jacksonville will feel the brunt of any strike, but other ports and myriad industries that support the transportation of containerized cargo will also feel the effects.
Petroleum imports, the cruise industry and the movement of military, perishable cargo and most automobiles will be allowed to continue if a strike begins. But port officials warn that Florida's economy remains inextricably linked to its ability to ship goods by sea.
Overall, port activities account for 550,000 direct and indirect jobs and $66 billion in economic activity, according to figures compiled by the Florida Ports Council.
"It's hard to try to nail down the full impact… but you can point to some ripple effects that will reach all Floridians," said Doug Wheeler, Florida Ports Council president and CEO.
Scott has made maritime trade a key to his economic development efforts. Since taking office in 2011, Scott has spearheaded efforts that have resulted in $421 million in port investments the governor says are critical for the state to take advantage of Latin American trade and the widening of the Panama Canal in 2014.
The governor sent a letter to Obama last week, asking the president to invoke the Taft-Hartley Act if talks fail. The governor said Thursday he has yet to receive a response.
Passed in 1947, the federal law allows the president to order employees to work as negotiations continue if national interests are at stake. It was last used in 2002 by then President George W. Bush to end an 11-day longshoremen's strike at 29 west coast ports.
Port officials urged Obama not to wait even 11 days to invoke the federal law, saying a strike would only add to consumer uncertainty at a time when the economy is already facing a shaky recovery.
"A strike this Saturday combined with the ongoing negotiations between Congress and President Obama regarding the so called 'fiscal cliff' could be a one-two combination, knock-out punch to our nation's economy," said Paul Anderson, CEO of the Tampa Port Authority.
–Michael Peltier, News Service of Florida