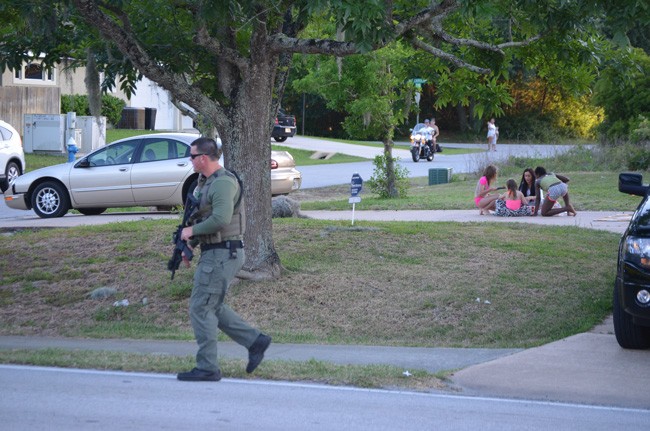 A standoff on Florida Park Drive shut down a segment of the road in the heart of Palm Coast shortly after 6 p.m. Saturday evening as the SWAT team was called out and residents from Foster Lane to Forest Hill Drive were ordered to stay indoors.
A Flagler County Sheriff's spokeswoman confirmed that the situation entailed an attempted suicide by a person who had been Baker Acted last year, when he had threatened to kill himself then. Authorities had secured an individual by 7:30 p.m., the spokesperson said, but it was unclear whether the individual was the one involved in the suicide attempt.
The situation was unfolding in the house at 106 Florida Park Drive, which is occupied by renters.
Neighbors near the situation heard a small-caliber firearm go off at about 7:20 p.m. But the discharge could also have been that of non-lethal weaponry Swat team members carry and are trained to use in such situations–and have on at least two occasions in the last two years, once with an armed offender, and once in the case of a man who had a gun and was threatening to kill himself.
At about 7:30 p.m., a Flagler County Fire Rescue ambulance drove past the southern checkpoint on Florida Park Drive, toward the house where the standoff was taking place.
The road opened at 7:45 p.m. and traffic immediately began flowing normally even as several units of the sheriff's office remained at the house at the center of the standoff.
Sheriff's spokeswoman Paula Priester confirmed at 7:30 p.m. that the individual was in custody, with no injuries reported. Suicidal individuals, once secured, are committed under the Baker Act to the psychiatric unit at Halifax hospital in Daytona Beach (a secure facility), where they may be held against their will if necessary for up to 72 hours for evaluation. Priester said the individual was, in fact, Baker Acted.