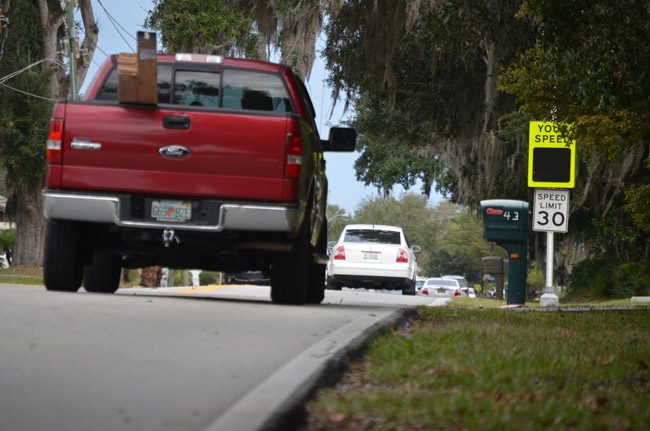 Florida Park Drive, the busiest residential street in Palm Coast, is again baffling city council members, who are searching for solutions to reduce traffic, noise and pollution along the two-mile road in the heart of the city's F and C Sections.
One of the problems is actually not a lack of ideas, but resistance over the years from the city administration to implement some of the ideas presented previously: three years ago Council member Heidi Shipley proposed that the road be resurfaced with a kind of asphalt that absorbs noise. City Manager Jim Landon, who doesn't like Shipley—the feeling is mutual—ignored her. She also proposed a form of vegetative beautification along the road that could help with noise and pollution. That, too, got ignored until it ended up on a goal-setting list the council discussed today.
At a workshop today, Shipley floated yet another proposal: stop signs along Florida Park Drive to reduce "cut-throughs," meaning traffic from drivers who use Florida Park Drive as a short-cut across town.
"When I was up in Massachusetts we had a road we did the same thing, we cut down this road, everyone used to cut down the road," Shipley said. "Last time I was up there it was stop signs put up, so I made a conscious decision not to go down that road anymore because I knew I had to stop at every stop sign. I think the same thing would work there. It's the first time that a group of people actually agreed that this was something they thought would work, with the stop signs." She proposed piloting the idea with one or two stop signs.
After some discussion, Landon put up his own stop sign to the proposal, saying such signs call for technical requirements just as traffic lights do. Studies must be conducted. If stop signs are put up without being warranted and crashes result, then the city would be liable, he said. "Putting up stop signs where they don't belong actually creates other issues as far as safety too," Landon said. "People don't anticipate it—the car or pedestrian that's expecting that car to stop but they don't, that's where you get t-bones and those types of things. There has to be some consistency and some ways of doing this correctly so you don't create unintended consequences, and that's why you have traffic engineers that would have to look at it."
To council members Nick Klufas and Bob Cuff, adding stop signs would increase stop-and-go traffic, which increases pollution.
"I like the concept but I think Nick's concerns are well-placed," Cuff said, though he said he wouldn't be opposed to try it. But two stop signs wouldn't be enough to deter traffic, he said. "IT's a long thru-road that connects two other thru-roads, and serves a lot of residential property in Palm Coast, and I think we do need to be careful that if we put up enough stop signs on it, to have the impact on the traffic numbers, the 8,600 cars a day that the DOT says uses that, that we are going to find—and we need to be sensitive to and measure periodically—the levels of pollution from emissions, which is the other thing that we keep hearing, that if we don't do something, we're killing the people who live on Florida Park Drive."
The traffic data was actually collected by the city three years ago. That data went a long way to de-mystify a lot of misconceptions about the road, including perceptions that many people break the speed limit there. They don't: the study found that while heaviest average daily traffic peaks at 8,200 vehicles in the stretch from Farragut Drive to Palm Coast Parkway, truck traffic tops off at 2 percent, and between 50 to 64 percent of vehicles go the speed limit. Almost 6 percent of traffic goes 40 mph or faster on the Farragut Drive-Palm Coast Parkway stretch, but overall, fewer than 5 percent of drivers exceed 40 mph.
The traffic study also showed one other thing that residents along the road don't agree with: that there's no traffic issue on the road. It's not anywhere near capacity. An air-quality study had concluded there is no pollution problem along the road.
That study dampened the council's eagerness for any major changes in 2015. That year the council also could have a approved a more in-depth study of traffic patterns, but it would have cost about $42,000.
Landon today said the council went against approval. That was not at all accurate. (An earlier version of this story was also inaccurate: it incorrectly reported that the vote for a further study had failed.)
What he didn't say is that he had explicitly discouraged the council to spend the money in 2015: "We're saying spending an additional $40,000, we don't think you're going to solve the problem with that," he told the council in a workshop at the time, when Shipley and Steven Nobile were part of the board.
But when it came time for the council to vote on whether to approve a so-called "phase two study" at a June 16, 2015 council meeting, the council explicitly voted to consider that once three other infrastructure projects were completed. In other words, the council intended only to postpone the Lassiter study, not scrap it. Those projects (the Island Walk Shopping Center, the Holland Park renovation and the Matanzas Woods Interchange projects) were all completed by last year. But the phase two study was never reconsidered in accordance with the council's wishes.
Not only did Landon inaccurately reflect the vote from 2015, he did not follow through on the council's vote, which was unanimous. It is only the latest of numerous mis-characterizations and false recollections by the manager of past council votes, direction and discussions.
The memory of repeated proposals that went nowhere seemed to rankle Nobile today. "We've come up with more things than I can shake a stick at, and none of them get done, and it appears that it doesn't get done because we don't want to do it, not because it can't, or it shouldn't," Nobile said, leaving no doubt as to who in his view was to blame: "These items were passed up to administration and never came back with any options that said we can do this, or we can't do this."
After a few testy exchanges with Mayor Milissa Holland—whom Nobile interrupted almost every time she spoke on the matter—Nobile and Holland agreed they were on the same page: they want proposals presented, analyzed and at least tried. "I'm not opposed to ideas of anybody," the mayor said, as long as the proposals are carefully studied.
But it was Cuff who, taking a more assertive role on the issue and clearly leaving no room for doubt as to where the greater majority of the council stood on the matter, something had to be done. "We do have to look at a comprehensive approach, I think we have to do something," Cuff said, "at least make an honest evaluation and decide if that's something we can do, if it does, we need to measure it and see if it makes the problem better or if it makes it worse."
To which Landon provided a lukewarm concession: "We can dust off the proposal we've presented to city council a few years ago," he said of the $42,000 study proposed at the time by Lassiter Transportation Group. "City council at the time rejected the proposal and said they would not want to pursue that because of the cost. So if you want to, I have to go back to that engineering firm, make sure they'd still honor that cost, but we've actually had that type of proposal in the past. That's what you want to do, then we could dust that off. I don't know, we may have to go back out and get requests for proposal if they won't honor it, I'm not sure."
"I don't want something that's old and rejected," Nobile said.
The council will vote next week on a refreshed proposal to try various options along the road.