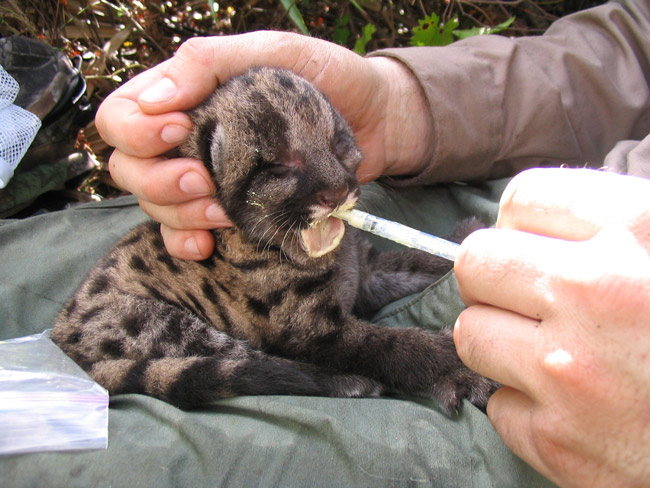 The Florida Fish and Wildlife Conservation Commission (FWC), working in partnership with the U.S. Fish and Wildlife Service, plans to document where panthers are roaming beyond south Florida and develop the best practices to help people and panthers coexist.
The efforts described in last week's staff report at the FWC's Commission meeting in Tampa would aid a potential northward expansion of the range of breeding panthers as part of the next steps in panther population recovery.
"Panther expansion northward is going to be, in large part, due to cooperation with private landowners," said Commission Chairman Kenneth Wright. The panther needs a large area to roam, as much as 200 square miles for an adult male. In south Florida, panthers have access to federally managed public lands such as Everglades National Park, Big Cypress National Preserve and the Panther National Wildlife Refuge in addition to state and privately owned lands. In the southern part of central Florida, a key area for potential expansion of the large cat, more panther habitat is privately owned.
"We have room for more panther population growth as long as we manage areas successfully," said Commissioner Ronald Bergeron, who suggested it should be a priority both to conserve the core population in south Florida and prepare for expansion north of the Caloosahatchee River. "We have to target the heart of where the panthers are, and continue to move forward with good habitat and with underpasses to protect panthers crossing highways."
In the coming months, staff said the FWC will be collaborating closely with stakeholders, including private landowners in central Florida, about what information and resources they need to feel prepared for an increased presence of panthers. The Commissioners supported this approach, particularly an exploration of what panther-related conservation incentives should be made available to landowners.
"For expansion, I think we have to see some version of good wildlife corridors or good unfragmented habitat," said Commissioner Aliese "Liesa" Priddy. "We need to get realistic about what our goals should be and what habitat is available."
Priddy said continuing the FWC's strong partnership with USFWS to update panther management goals and enhance resources would be critical. She added that building public support for panther expansion also was an important goal. "We've come a long way,' said Priddy. "But we want to achieve more."
Panthers once ranged across Florida and into seven other southern states. Today most of the panther population is concentrated in south Florida. Adult male panthers, however, have been documented to range throughout central and north Florida. FWC staff has not been able to officially document since the 1970s that adult female panthers live north of the Caloosahatchee River or Lake Okeechobee.
The panther population is estimated to be only 100 to 160 adults and sub-adults. Sub-adults have left their mothers but not yet reached sexual maturity. The ultimate goal, stated in the recovery plan developed by USFWS in conjunction with the FWC and other partners, is long-term viability of the Florida panther so it no longer is listed as endangered. Currently the FWC's panther management team uses evidence gathered from the capture and tracking of radio-collared panthers, the causes of panther mortalities, and documentation of denning mothers to monitor population trends, changes in occupied range, and threats to the population.
For example, the panther staff was able to detect the outbreak of feline-leukemia virus and control the disease before it had major population impacts. Capturing the cats also has been useful for measuring genetic diversity and detecting inbreeding problems.
Future research will address:
Understanding and responding to the challenges of how people react to panther range expansion.
Partnering with private landowners to study panthers' food habits and use of ranch lands.
Refining methods to estimate panther numbers and population trends.
The FWC also is enlisting the help of Florida citizens in collecting more information about the panther's range. A new website developed by the FWC allows people to easily upload photos of panthers and their tracks and link them to a specific location on a geographic database.
Since use of motion-activated game cameras has become commonplace, "People are getting incredible photos of all kinds of wildlife by day and night," said Kipp Frohlich, who leads the FWC's Imperiled Species Management Section. "We are really hoping that someone will step up and be the first person who can show real proof of a female or kittens in central or north Florida. That would be really exciting news."
The panther is Florida's official state animal. All funding for state research and conservation of panthers comes from Florida residents' voluntary purchase of the panther specialty license plate. For more information, please go to www.buyaplate.com and click on the panther "Cat Tag."
The panther report is available here.
Panther kitten vet exam.