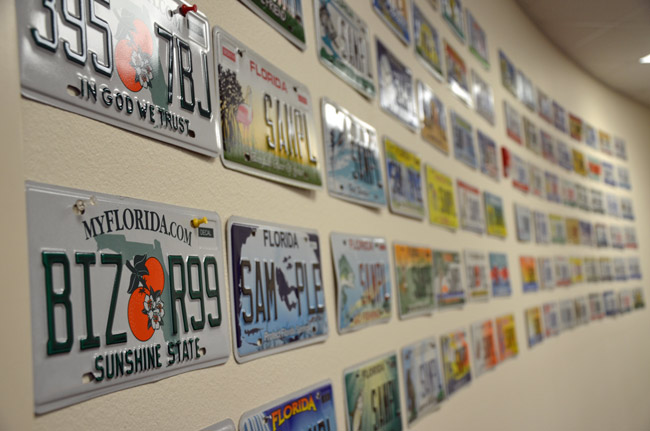 State highway safety officials are putting on hold for at least a short time a plan to redesign state license plates, and to privatize their distribution,  following objections from tax collectors.
The proposal to redesign the state's license plate to make it more legible by toll booth cameras and police was originally scheduled for a vote by Gov. Rick Scott and the Cabinet on Tuesday, but the Department of Highway Safety and Motor Vehicles pulled the proposal from the agenda.
Another part of the overall plan – to bid out the distribution of the new plates to a private vendor rather than using the current process for distributing tags through county tax collectors, also is on hold. The tax collectors objected to the proposed change, saying they're worried that customer service would suffer – and they would be blamed by voters.
Col. Julie Jones, executive director of the Department of Highway Safety and Motor Vehicles, said Tuesday that she was caught off guard a bit by the opposition and planned to come back to the Cabinet later with a more detailed proposal.
Tax collectors, who have pushed back against the proposal to bid out the distribution of the new plate, "are very passionate about customer service," Jones said.
"I can see why they are a little nervous," she said. "That's why I need to be a little more specific. I did not anticipate the level of resistance I got."
The agency proposed privatizing and centralizing distribution of the new license plates, saying it would save money. Jones acknowledged she may not have fully made the case for the savings, but said she would.
"All I'm doing is looking for ways to maintain service with reduced cost," Jones said.
She also acknowledged that having one central location from which to send motorists license plates – part of the original proposal – might not work well in such a big state.
"Centralization is a good idea in some states, but not in Florida," she said.
"I'm glad she pulled it back, we're not ready," said Attorney General Pam Bondi after the Cabinet meeting. Bondi said her office had been contacted by several tax collectors about their concerns over whether changing the distribution method for plates would be efficient, and was listening to them.
"That's why I want to make sure," Bondi said. "We don't need to move fast on this."
Flagler County Tax Collector Suzanne Johnston was among the collectors raising questions about the state's plans, particularly the matter of centralization, which she said would diminish customer service.
Jones also said that she plans to weight any bid for making the new plates toward PRIDE, the prison industry organization that currently runs the production of license plates by prisoners. She said prisoners would have the ability to manufacture the new plates, and she would like for PRIDE to be involved, though it may be by working in cooperation with a new vendor.
Jones also said, however, that the agency has heard from several vendors that are interested in manufacturing or distributing the new plates.
Among the companies interested is 3M. Officials from the technology company known for Scotch Tape and Post-it Notes have exchanged several emails with the agency about the possibility of a new plate design and the concept of centralizing its distribution.
–David Royse, News Service of Florida