Last Updated: Oct. 10, 10:32 a.m.
When drivers renew their vehicle tags at Suzanne Johnston's Tax Collector office in Bunnell, it takes about a couple of minutes. If drivers need a new license plate—a regular plate or one of the state's 120 specialty license plates—it's handed over then and there, unless it's a vanity plate, which has to be special-ordered. In the year ending on June 30, Johnston's office handled 91,445 vehicle registrations, three-quarters of them by walk-in traffic: Flagler County residents prefer to get their registration matters done with a live human being, Johnston says, and sometimes get the help the office provides. Many an elderly driver has his or her tags installed by one of Johnston's employees.
Johnston fears much of that is about to change, and she is not pleased about it. But state motor vehicle officials say the fear is unfounded.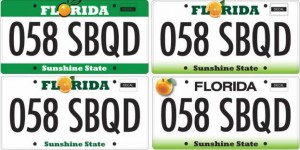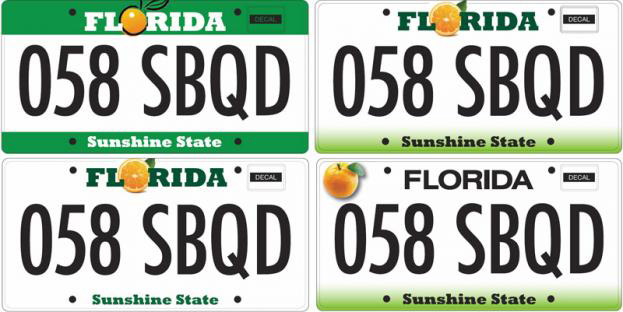 Florida's Department of Highway Safety and Motor Vehicles is redesigning the state's license plates. Johnston, citing talking points from an email circulated by the state's tax collectors' association, said the motor vehicle department was changing the distribution model of license plates, so that drivers would no longer be able to get them at local tax collectors' offices. Drivers may still do their paperwork in those offices, but they'll have to wait a week or two to receive their license plates from Tallahassee, by mail.
That's not the case, Matt Montgomery, the department's legislative affairs director, said Wednesday morning. "This whole concept of taking the license plate out of the tax collectors' offices," Montgomery said, "the buzzword is full centralization is what it's been called, we tossed that idea around because other states have done it. We considered it, in addition to other types of distribution methods. But at the end of the day we came to the conclusion that more than half of our business is done in person with our tax collectors, and there wasn't a case to be made to take that in-person service away from the tax collectors."
Any suggestion that the in-person distribution of license plates will go away–as originally reported here on Tuesday–is "patently false," Montgomery said. But the state does hope to increase its mail and online business, what it terms its "convenience method," to around 35 percent. It sees the switch-over to the redesigned license plates as one way to "bolster" the department's online presence, thus "creating economies of scale in storage, packaging and shipping and savings in efficiency and cost to taxpayers," according to the department's list of recommendations.
"Frankly, there's been some confusion on these issues," Kirsten Olsen-Doolan, a spokesperson for the department, said. "There's been a lot of misunderstanding out there."
The state also says it'll save money and improve service to the point of ultimately being able to reduce costs to taxpayers.
Johnston has her doubts. She's joined tax collectors across the state to criticize the motor vehicle department's plans and warn that costs may eventually rise while localized customer service will suffer.
"We can do it just as cost-effectively and nicer for our residents, and they would have it right away," Johnston said. "If it takes two or three weeks to get your plate in the mail, that's really going to cause a lot of hardship for a lot of people. I don't know how it would save them money. If they're mailing the plate from Tallahassee, they're going to have to add those mail fees to everybody." And if residents don't get their plates in the mail for whatever reason, Johnston says, they'll be banging the counters and complaining at her office, and her staff will be powerless to do anything about it: local tax collectors won't even have the records to trace the plate's whereabouts.
The current Florida license plate design was first issued in 2003. In February, a committee made up largely of police agencies, the motor vehicle department, Florida Turnpike officials and tax collectors met to plan for a redesigned plate. The reason: too many current plates are being misread by red-light spy-cams, such as those spreading around Palm Coast, and by automatic readers at toll booths, as on the Florida Turnpike.  That's causing big losses for state and local governments. The Florida Turnpike, for example, captures around 7 million images of license plates every month at toll facilities. Some 15 percent are rejected. The average toll is 0.91 cents. The Turnpike estimates that between January and March 2012, it lost $1.8 million in revenue because of badly read license plates. Police agencies, too, are having trouble running plates.
The committee decided to design new plates with bolder fonts and larger characters. Most of the 15 million license plates in use would have to be replaced, beginning  in January 2014. But policing and efficiency matters aside, there is little question that the redesign is driven by money.
"While designing our new plate and looking to modernize distribution methods," the committee's summary review and recommendations reads, "we discovered a potential return on investment which was impossible to ignore; issuing the new plates over a two-year period would generate a one-time revenue impact of $34-$56 million for the State of Florida, and a revenue increase to toll authorities of at least $44 million over 10 years."
The plan, however, must first be approved by the Florida Cabinet, which takes up the issue in two weeks.
With that in mind, the Florida Tax Collectors Association, who count Johnston among their members, are mobilizing to oppose some of the changes. The redesign isn't the issue, they say, but the state's claims about saving money or improving service is. "I know that if they're doing part of this work, they're going to want part of the money," Johnston said. That means either reducing the fees that are channeled through local offices (and sending more of that money to Tallahassee) or increasing the cost for drivers.
The state claims costs will remain what they are today, even though it concedes that the new plates will cost the state more money. The state wants to outsource the job to a new vendor. Currently, a plate costs $1.72 to produce. It's made by prisoners. "Estimates from our vendor and others indicate that this price could increase to a price between $2.10 and $2.29 per plate," a 40-page motor vehicle department document on the redesign, issued in September, concludes. However, the state estimates, postage fees would decrease slightly for the new, flat plates.
That may be the case, but most customers in Flagler don't pay postage for their plates, since they get them directly at the tax collector's office.
By Florida law, drivers are entitled to their license plate for 10 years, with annual or bi-annual tag renewals. The motor vehicle department wants to change the law to expedite the replacement schedule over two years, instead of 10. It acknowledges doing so to maximize profit: "Quickly replacing all license plates with an easily-distinguishable new design will prompt a higher percentage of drivers to renew their tag in order to avoid non-compliance fines," the state says in its recommendation review.
The recommendations conclude: "Transferring the responsibility of mail processing from the tax collectors will allow for additional resources dedicated to personal service and face-to-face transactions." Johnston doesn't buy that, either, saying the transfer will reduce interaction and take away from local residents the choice to transact their business locally. "I just don't want our residents to be inconvenienced," Johnston said.