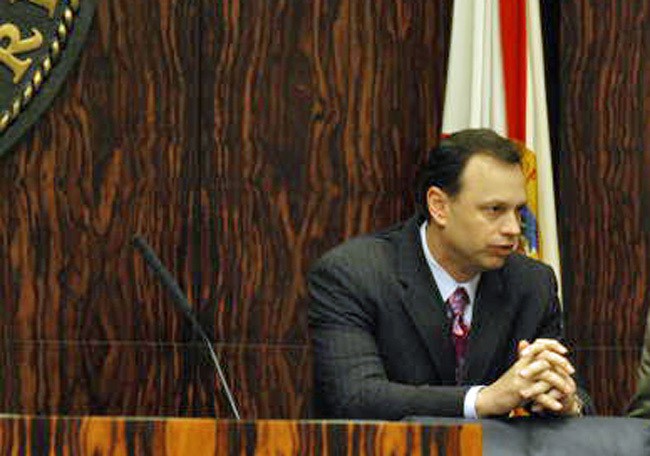 Even as a flare-up in negotiations on economic-development spending demonstrated simmering tensions between the House and Senate, lawmakers continued Monday to try to come to agreement in two areas that helped spark an ongoing special session: funding for health care and environmental projects.
Disagreements in those areas led Senate Appropriations Chairman Tom Lee, R-Brandon, to label the House as "hypocritical" for rejecting federal Medicaid expansion funding while being willing to issue bonds to pay for environmental projects.
House Republicans voted last week to reject a proposal from the Senate that would have relied on Medicaid expansion money to help low-income Floridians purchase private health insurance, deploring it as part of the Affordable Care Act, commonly known as "Obamacare."
And while House negotiators on Sunday removed from their environmental budget $33 million for new bonding — which would have generated more than $300 million — they have indicated the issue likely will be revisited.
Lee said that was contradictory.
"A lot of the policy we've advanced in this Legislature has been around appealing to the base of the Republican Party, how conservative we are. Well, this is an opportunity to put your money where your mouth is," Lee said. "And so I think it's been our perspective that it's somewhat hypocritical and perhaps inconsistent for us to not want to address our budget problems when olive branches are available to us, but all of a sudden want to whip out the credit card and start charging it up."
House Speaker Steve Crisafulli, R-Merritt Island, said in a statement Monday that Lee's attempt to draw a parallel between the two issues was flawed and said the state can get "record low rates" on bonds in the current market. He also pointed to a land and water conservation amendment that won overwhelming support from voters in the November elections.
"There's a big difference between bonding when you have a dedicated revenue source so you can purchase land or buildings owned by the state versus borrowing billions and billions of dollars to expand an entitlement program with a record of failure," Crisafulli said. "Furthermore, Florida voters authorized bonding for land and water conservation projects in Amendment 1. I am not sure why we would reject bonding that was specifically authorized in a constitutional amendment passed by 75 percent of Florida voters."
At the same time, House and Senate negotiators had yet to exchange offers on a new formula for the Low Income Pool, or LIP, program. A stalemate over Medicaid expansion and LIP, which provides funding for hospitals and other medical providers that care for large numbers of low-income patients, helped derail the spring regular legislative session.
The U.S. Department of Health and Human Services says the state can depend on about $1 billion for LIP in the budget year that begins July 1, down from $2.2 billion in the current year. To help make up the difference, lawmakers agreed to put $400 million in state funding into an increase in Medicaid reimbursements to hospitals — drawing down almost $610.9 million in federal money — and $50 million into other facilities that would be affected by the reduction in LIP.
But they have yet to agree to a new formula for divvying up the $1 billion in LIP, a process that could prove particularly sensitive because of the way it would affect hospitals and the fact that the state must respond to the federal government's concerns about its current formula.
House Health Care Appropriations Chairman Matt Hudson, a Naples Republican leading House negotiators on health issues, said Monday that he and Senate Health and Human Services Appropriations Chairman Rene Garcia, R-Hialeah, were trying to get through the line-by-line funding decisions on the overall health-care budget first.
"Frankly, from the House perspective and I think the Senate perspective, we wanted to focus on the spreadsheet, because that really deals with an awful lot of our state agencies and those types of things, to make sure that their budgets are solid and secure and we can address those things up front," Hudson said.
After getting those funding decisions and some budget-related bills done, "then we can really dig into the details of the LIP structure."
Conference committees began negotiating the various parts of the budget Saturday. Part of the negotiations involving economic development temporarily broke down Monday because of a disagreement about funding for business incentives.
If lawmakers on the House-Senate conference committees that work on individual parts of the budget aren't done by Tuesday, the remaining issues will "bump" up to Lee and House Appropriations Chairman Richard Corcoran, R-Land O' Lakes.
Lee said Monday it was too early to tell whether he and Corcoran would have to tackle the thorny issue of LIP payments. Speaking to reporters after a brief House floor session, Crisafulli said answers would come soon.
"It'll probably continue to evolve throughout this process, and I would certainly imagine within the next few days we'll have an understanding of what that looks like," he said.
Meanwhile, as the Legislature continued moving forward with the assurances the state has already received from the federal government, Gov. Rick Scott's administration pushed for a judge in Pensacola to order even more ironclad guarantees from the U.S. Department of Health and Human Services. Scott has filed a lawsuit alleging that the Obama administration has unconstitutionally tried to link LIP funding with an expansion of the Medicaid program.
"The state cannot possibly anticipate at this point whether any semblance of its LIP program will continue to exist or how it will be funded if it exists at all," said a filing Monday in federal court. "Yet although defendants are well aware that the special legislative session is set to end on June 20, and each day that passes without a resolution to this matter heightens the tension at the state Capitol, defendants appear determined to leave the fate of the LIP program in limbo until long after that date — presumably in an effort to coerce the state into expanding Medicaid or to punish the state for failing ultimately to do so."
The federal government has until noon Tuesday to file a response.
–Brandon Larrabee, News Service of Florida