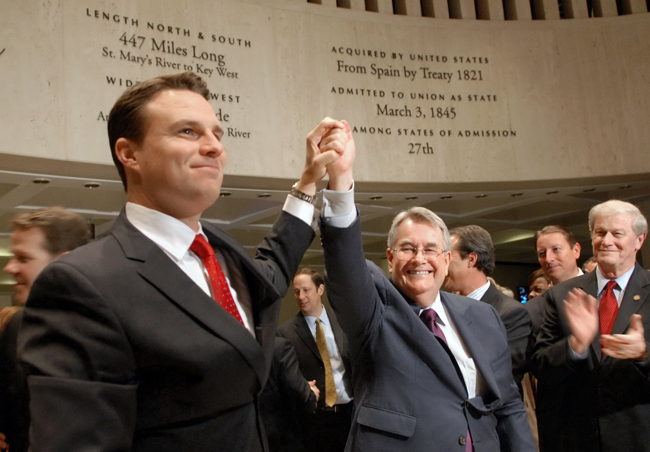 Florida lawmakers ended the 2014 legislative session late Friday after passing a budget and a flurry of other bills dealing with issues such as child welfare and school vouchers. But hundreds of bills died as lawmakers headed home to gear up for re-election campaigns. Here are 10 issues that passed during the session and 10 issues that failed.
PASSED
— BUDGET: Buoyed by a surplus topping $1 billion, lawmakers passed a $77.1 billion budget for the fiscal year starting July 1. The spending plan is the largest in state history and includes additional money for public schools, child-protective investigators and protecting and restoring the Everglades and other waterways.
— CHILD WELFARE: Lawmakers approved a package of changes to the child-welfare system after highly critical reports about children dying because of abuse and neglect. The bill includes steps such as trying to bolster investigations of child deaths and increasing transparency and accountability at the state Department of Children and Families and at privatized community-based care agencies.
— GUNS: The Republican-dominated Legislature passed a series of bills backed by gun-rights advocates, including a measure — dubbed the "warning shot" bill — that would allow people to threaten to use force, including showing guns or firing warning shots, in self defense. Another bill seeks to prevent schoolchildren from being disciplined for simulating guns while playing or for wearing clothes that depict firearms.
— JUVENILE JUSTICE: After struggling in the past to reach agreement on the issue, lawmakers approved a bill that seeks to bring Florida in line with two U.S. Supreme Court rulings about life sentences for juveniles who commit murders and other serious felonies. The bill calls, in part, for judicial hearings and sentencing standards that would vary depending on the nature of the crimes.
— MEDICAL MARIJUANA: In an issue that quickly gained support during the session, lawmakers approved a bill that would allow a strain of marijuana that backers say would help children who suffer from a rare form of epilepsy that causes severe seizures. The substance, known as "Charlotte's Web," is low in euphoria-inducing tetrahydrocannabinol (THC), so users do not get high.
Rep. Travis Hutson, whose district includes all of Flagler County, was influential in passing a bill critical to county regulation of vacation rentals, though Hutson introduced several amendments that watered down the bill. [/caption]— SCHOOL VOUCHERS: After the issue earlier appeared dead in the Senate, lawmakers Friday approved a plan to expand eligibility in the state's de facto school-voucher system. Under the bill, additional families would be eligible to take part in the Tax Credit Scholarship Program, which provides tax breaks to companies that donate money to nonprofit entities that pay for children to go to private schools.
— SEXUAL PREDATORS: Lawmakers hurried at the start of the session to pass a package of bills aimed at keeping sexually violent predators locked up so they cannot attack again. The package, already signed into law by Gov. Rick Scott, came after an investigative report by the South Florida Sun Sentinel found that hundreds of sexually violent predators had been released only to be convicted of new sex offenses.
— TAX AND FEE CUTS: Gov. Rick Scott and Republican legislative leaders made a priority of cutting $500 million in taxes and fees. The bulk of the cuts, ultimately totaling nearly $400 million, will come from rolling back vehicle-registration fees that were increased in 2009. Lawmakers also approved smaller proposals, such as holding a back-to-school tax holiday in August.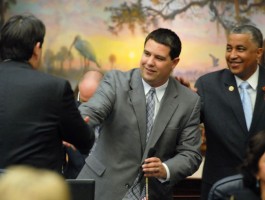 — TUITION: Lawmakers largely went along with Gov. Rick Scott's calls to hold down higher-education costs, including by dramatically scaling back a "differential tuition" law that has allowed universities to request annual tuition hikes of up to 15 percent from the Florida Board of Governors without legislative approval. Also, lawmakers approved changes that will hold down costs for families in the Florida Prepaid College Program.
— UNDOCUMENTED IMMIGRANTS: In one of the most closely watched issues of the session, lawmakers approved allowing undocumented immigrant students to qualify for in-state tuition rates at Florida colleges and universities. Also, lawmakers approved a bill that will allow an undocumented immigrant to be admitted to The Florida Bar. The immigrant, Jose Godinez-Samperio, was brought to the country by his parents at age 9 from Mexico and later graduated from law school.
FAILED:
— GAMBLING: Lawmakers spent months studying potential changes in Florida's gambling laws, including the possibility of allowing resort casinos in South Florida. But the heavily lobbied issue did not advance during the session, in part because lawmakers said the state needs to resolve negotiations on a gambling deal with the Seminole Tribe of Florida.
— GROWLERS: One of the most talked-about issues of the session dealt with regulation of Florida's growing craft-brewing industry. The issue became known as the "growler" bill after the name of 64-ounce beer containers, but it died after what was more like a food fight in the beer industry.
— LAWSUIT LIMITS: Lawmakers took a timeout this year from the annual fights about limiting lawsuits, an issue commonly known as "tort reform." Proposals were floated on issues such as trying to rein in so-called "bad faith" lawsuits and revamping the medical-malpractice system, but they did not move far. One exception was a bill that passed about nursing-home lawsuits, though that bill was negotiated by the nursing-home industry and plaintiffs' attorneys.
— MEDICAID EXPANSION: Democrats railed throughout the session about the state's refusal to accept tens of billions of dollars from the federal government to expand access to health coverage through Medicaid or a similar program. But House Republican leaders made clear in 2013 they wouldn't accept the money, which would be available under the federal Affordable Care Act, and they largely ignored the issue this year.
— NURSE PRACTITIONERS: After years of debate about the idea, the House backed a plan that would allow advanced registered nurse practitioners to provide care without physician supervision. But the proposal faced heavy opposition from groups such as the Florida Medical Association, and it died in the Senate.
— PENSIONS: House Speaker Will Weatherford, R-Wesley Chapel, spent two years trying to overhaul the state employees' retirement system. He wanted to spur employees to move from the traditional pension plan to 401(k)-style investment plans. But Weatherford could not gain enough support in the Senate, where a coalition of Democrats and Republicans joined to block the proposed changes.
— RED LIGHT CAMERAS: Senate Transportation Chairman Jeff Brandes, R-St. Petersburg, and Rep. Frank Artiles, R-Miami, made a splash early this year when they called for repealing the state's red-light camera law or at least making substantial changes in the local programs. But motorists should still be prepared to come to a complete stop, after those ideas stalled during the session.
— SPRINGS PROTECTION: Pointing to concerns about the health of Florida's natural springs, a coalition of senators proposed an ambitious plan aimed at reducing pollutants going into spring systems. But while funding for springs was increased in the new budget, the House did not address the broader policy issues.
— STAND YOUR GROUND: Like Medicaid expansion, Democrats called repeatedly for changes in Florida's controversial "stand your ground" self-defense law. But Republican leaders rejected the idea, with House Criminal Justice Chairman Matt Gaetz, R-Fort Walton Beach, somewhat famously saying before the session started that "not one comma" in the law should be changed.
— TRAUMA CARE: Parts of the hospital industry have battled for three years about the Department of Health's approval of new trauma centers. The House and Senate appeared to support proposals that would have ensured the continued operation of three disputed trauma centers in Manatee, Pasco and Marion counties. But the proposals died Friday after becoming tangled in broader health-care bills.
–News Service of Florida